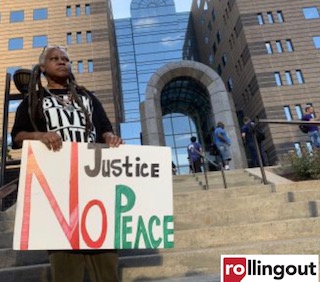 Black Lives Matter is inching perilously close to insolvency after thriving during the apex of the pandemic and rise of racial reckoning in 2020, a new report states.
The value of Black Lives Matter Global Network's investment portfolio shrank significantly by approximately $10 million, according to its latest tax filing that was obtained by The Washington Free Beacon and Newsweek.
BLM, which became the most well-known and best-funded of the organizations devoted "to the larger movement," according to Newsweek, was founded after the killing of Trayvon Martin in 2012 by George Zimmerman in Sanford, Florida. BLM later reached its summit of national influence following the on-camera execution of George Floyd by then-police officer and now-convicted murderer Derek Chauvin on Memorial Day 2020 in Minneapolis.
During the period between July 1, 2020, and June 30, 2021, the publications stated that the organization reported donations of nearly $77 million and listed assets of $42 million. Those numbers dropped precipitously to about $9.3 million for the period between July 1, 2021, and June 30, 2022, and the net assets stood at about $30 million.
Black Lives Matter co-founder Patrisse Cullors admitted that the organization was ill-equipped to facilitate the tidal wave of donations that flooded them in the summer of 2020. Cullors, however, denied to the Associated Press that she and her co-founders misappropriated public funds that the organization received. 
However, the organization that represents the BLM chapters nationwide, called Black Lives Matter Grassroots, filed a lawsuit against board secretary Shalomyah Bowers charging that it was his "personal piggy bank." He was paid $1.7 million for management and consulting services.
The lawsuit claims that Bowers' actions have prompted "multiple investigations by the Internal Revenue Service and various state attorney generals, blazing a path of irreparable harm to BLM in less than eighteen months."
Inquiries to the BLM have not been responded to, according to Newsweek.