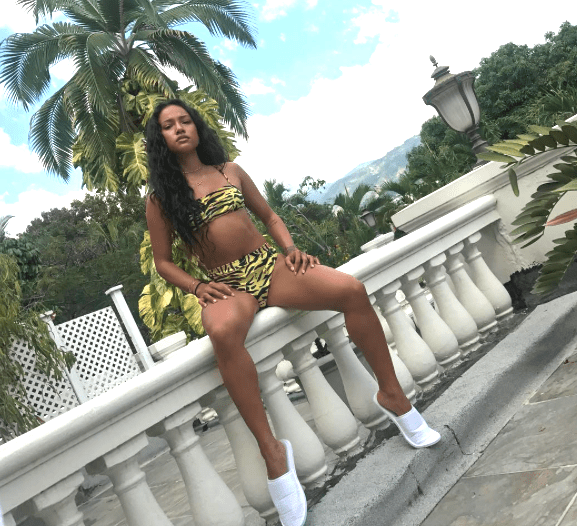 The first celebrity feud of 2017 occurred due to a picture on Instagram. On Jan. 2, Karrueche posted a photo on Instagram which featured her wearing a bikini and sitting on a wall in Jamaica. Soulja Boy responded to the picture and placed several "heart eyes" emojis under the pic.
Moments later, Soulja Boy created an Instagram post claiming that Chris Brown called him and threatened him for liking Karrueche's photo.
"Chris Brown you a b—, n—-," Soulja Boy said. "You think you're hard because you beat Rihanna. Dude that sh— to me! He called me FaceTime talking about, 'Why you liking Karrueche picture on Instagram?' When I see you, I'm going to beat your a—. Karrueche don't want you. Stop snorting so much coke!"
Brown responded by posting a screen shot of Soulja Boy attempting to call him on FaceTime. Brown went on Instagram and challenged Soulja Boy to a boxing match with all proceeds going to charity. Soulja Boy responded by claiming that Brown snorts coke around his daughter.
The two continued to go back and forth and Brown said that he commented on her pictures so that she would "feel popping.'"
Karrueche decided to weigh-in on the beef by writing, "First off, this drama between the both of these two is so ridiculous it makes no sense. We just brought in a new year and this what we doing? There's so much more to life than 'Twitter beefs.' Second off, trying to make me feel popping'? You talking about your old song 'Poppin'? You know what makes me feel poppin? Getting up and going to set, walking in my apartment and seeing my Emmy. Giving away shoes and feeding the less fortunate. That's what makes me feel good about myself."
Although Karrueche attempted to put an end to the fued, Chris Brown didn't take long to blast Karrueche for chiming in on his beef with Soulja Boy. "No one asked for this opinion," Brown wrote. "It ain't over you. Keep the fame you got and stay classy. This man randomly started this, now you gassed. Plugging what you got going on. How do we know you again? Karrueche is two years famous. She wanna  chime in, nobody gives a f—. All your friends are your friends because you was Chris Brown's girl. And the other friends you still talk to, I f—. You're welcome for this pub."
Soulja Boy responded to Brown's attack on Karreuche by stating that the fued started because Brown dissed him over a girl that doesn't like him.
As the world turns at "Instagram High School," it's likely that the first celebrity fued of 2017 is far from being over.