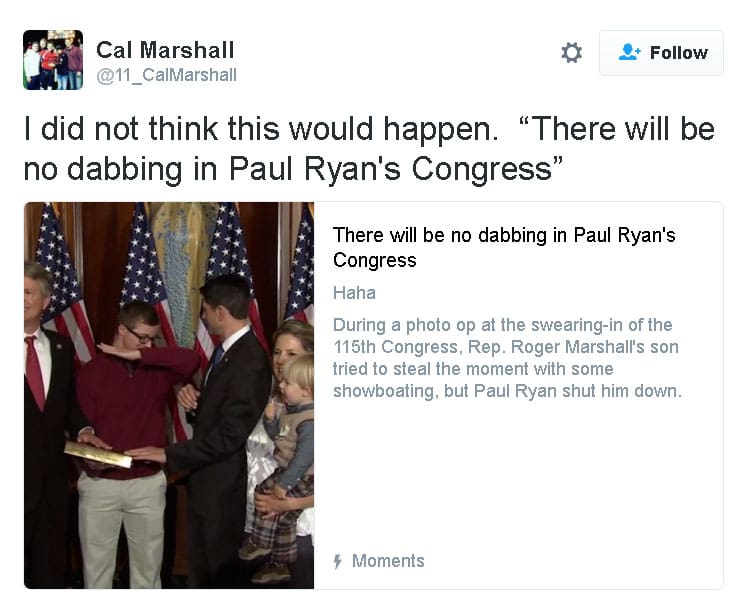 The popular Black cultural phenomenon known as dabbing has reached the highest parts of Washington, D.C. power. During a special Republican party swearing in of new congressmen by Republican House Speaker Paul Ryan, he came face to face with the dab. The move was performed by Cal Marshall, the son of newly elected Congressman Roger Marshall of Kansas.
The group stood around a Bible being held by Speaker Ryan, Rep. Marshall and his son Cal. When everyone was told to hold for a still shot, Cal Marshall dabbed. His move caught the eye of Speaker Ryan, who stated, "You wanna — can you put your hand down?" Congressman Marshall tried to nervously cover for his son and said he was about to sneeze. The prankster finally stated, "Okay, okay, I'm sorry" and put his hand down.
The image soon went viral and Cal Marshall took to social media to garner his new found fame. He posted the following on Twitter: "I did not think this would happen.There will be no dabbing in Paul Ryan's Congress."
House Speaker Paul Ryan also posted the following to his Twitter page:
Just finished swearing-in photos. Nearly 300 members. Countless cute kids. Still don't get what dabbing is, though. pic.twitter.com/E2hFgyPYZT

— Paul Ryan (@SpeakerRyan) January 3, 2017
The dab move was popularized by Carolina Panther quarterback Cam Newton after scoring a touchdown against Tennessee in 2015. Since then, popular athletes and celebrities have been seen dabbing in photos. But Rep. Marshall apparently has had the last word on the matter and announced that his son will be grounded for his camera antics. His son is a student at Great Bend High School and is a player on the Panthers football team.
Rep. Marshall tweeted, "Just so you know @SpeakerRyan: He's grounded."
House Speaker Ryan presided over the swearing in of nearly 300 members of a Republican-controlled Congress.