[jwplatform J5klXPVY]
A video captures four Black Chicago teens torturing a special needs white man. Originally posted on Facebook Live by Brittany Herring it has since been deleted from her social media page but has landed two men and two women in the custody of Chicago police on Wednesday, Jan. 5, 2017. The man was kidnapped and held captive at an apartment on the 3400 block of West Lexington on Chicago's West Side on Tuesday.
Graphic video: Chicago teens kidnap, torturing special needs man
The video is heartbreaking. The man is seen cowering in the corner with his arms tied and mouth taped shut. He's kicked. He's punched. His hair is cut until his scalp bled. You can hear one of the assailants yelling, "f*** Donald Trump. F*** white people."
We're not sure how long he was tortured by the teens, believed to all be aged 18,  but the video obtained by police was 30-minutes.
"It's sickening," Chicago Police Supt. Eddie Johnson said on Wednesday night during a press conference.
"It makes you wonder what would make individuals treat somebody like that. I've been a cop for 28 years, and I've seen things that you shouldn't see in a lifetime, but it still amazes me how you still see things that you just shouldn't.
"I'm not going to say it shocked me, but it was sickening."
The victim was found walking distressed and disoriented on the street by police on Tuesday night.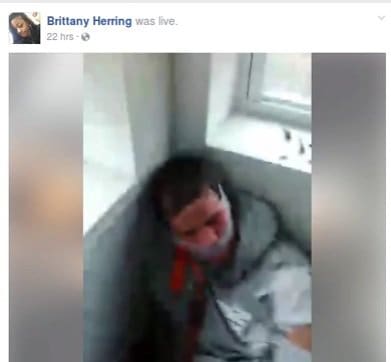 Chicago Police Cmdr. Kevin Duffin said the victim was an acquaintance of one of the offenders and they had attended school together.
"Apparently, they met out in the suburbs. These subjects then stole a van out in the suburbs and then brought him into Chicago," he said.
"It is quite possible it is a kidnapping. (The victim) is traumatized by the incident and it is a little tough to communicate with him."
Police said the victim was treated and released from hospital into the care of his parents.
Formal charges are forthcoming, likely in the next 24 hours.