Beyoncé is offering support for the Women's March on Washington.
With President-elect Donald Trump's inauguration looming, the megastar singer took a stance in favor of the Women's March on Washington, D.C.
Taking to Facebook, the 35-year-old wrote of the event, which takes place on January 21, "Together with Chime for Change, we raise our voices as mothers, as artists, and as activists. As #GlobalCitizens, we can make our voices heard and turn awareness into meaningful action and positive change. #WomensMarch."
According to the Huffington Post, the Lemonade singer joins celebrities like Uzo Aduba, Zendaya, Cher, America Ferrera, Katy Perry, Scarlett Johansson, Olivia Wilde, and funny lady Amy Schumer in supporting the cause.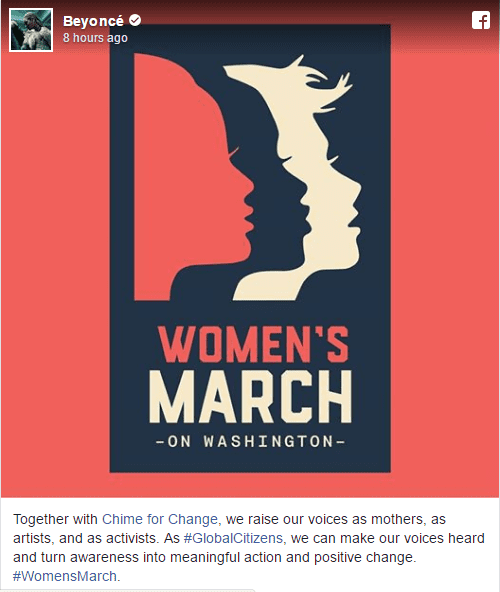 Of course, this isn't the first time Bey has used her platform to empower women. As fans know, Jay Z's leading lady supported Hillary Clinton during the 2016 election.
It's important to note that while 'Yoncé has voiced her support, there have been no confirmed reports stating whether she'll be performing at the event. Of course, one can wish to see the superstar march with her girl squad in tow putting their Black girl magic on mega blast.
Beyoncé's stand comes at the height of the controversy surrounding the march, which some have dubbed a protest of Trump. Meanwhile, the organizers touched on a broader goal, namely sending a "bold message to our new government on their first day in office, and to the world, that women's rights are human rights. We stand together, recognizing that defending the most marginalized among us is defending all of us," the website reads.
Terry O'Neill, president of the National Organization for Women added, "It's not a march about Trump the man," PBS reports. "It's a march about women's rights that are very much imperiled by the policies President-elect Trump appears headed for," O'Neill continued.