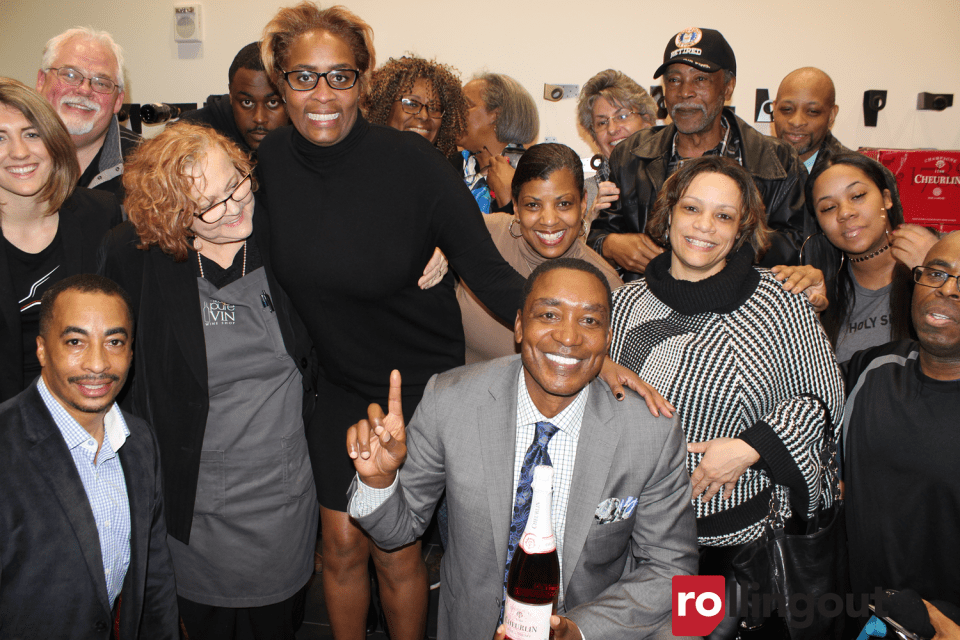 Detroit Pistons NBA legend and Hall of Famer Isiah Thomas hosted a celebrity wine tasting launching his line of champagne at the signature House of Pure Vin located in downtown Detroit. Cheurlin Thomas made its Detroit debut to an excited crowd who enjoyed several selections, including Brute Speciale, Rose de Saignee, Celebrite (Blanc de Blanc) and Le Champion (Blanc de Noir). Thomas was as magnetic as ever as he mingled through the crowd, took pictures and signed autographs as he sold bottle after bottle of his new champagne.
Rolling out caught up with Thomas to get an exclusive interview on what this exciting project is all about. Check out what he had to say about his newest endeavor below.
How does it feel to be back in the D?
It is awesome. It's such an amazing feeling when it seems like every person you meet, even if you've never met them before, I feel like I know them. And they feel like they know me. I have this type of connection nowhere else. It's just all love.
We're here for your champagne launch celebration. Tell us what you have going on with it. 
When you talk about Cheurlin champagne, the champagne makers have been making champagne since 1788. So, we are fortunate to import the family champagne. And once I tasted it I was like 'I gotta let my people know about this.' So, the first thing I wanted to do was bring it back to Detroit and expose it to everyone and let them taste the quality and the freshness that I taste in the champagne. It's the official champagne of the French government, so you'll get the highest and purest quality of champagne.
So, what made you do a champagne, as opposed to some of the more popular spirits such as vodka or Moscato?
Because there's a new vodka that comes out every other month, there's a new wine that comes out every other month, and tequila and so on and so forth. But when you talk about champagne, and the uniqueness of the taste, there just aren't a lot of champagne's that have come into the market. So, the uniquness of it, the family story, and me understanding that there's a business here that we can possibly introduce to everyone across the world. We wanted everyone to know what the family had and we're just trying to expose it. So, when you say why champagne, there's not too many champagnes that come to market.
How many selections do you have and what is your favorite?
You know, it all depends on what night it is. That's real talk. But you know, I do like them all. I like the Blanc de Blanc, I like the Blanc de Noir, the Rose is perfect and the Brut Speciale, so it depends on what night it is. They all go for different occasions, with the right music. So, you get the right music, with the right champagne, with the right atmosphere, and you make memories. And that's what we do at Cheurlin; we make memories.