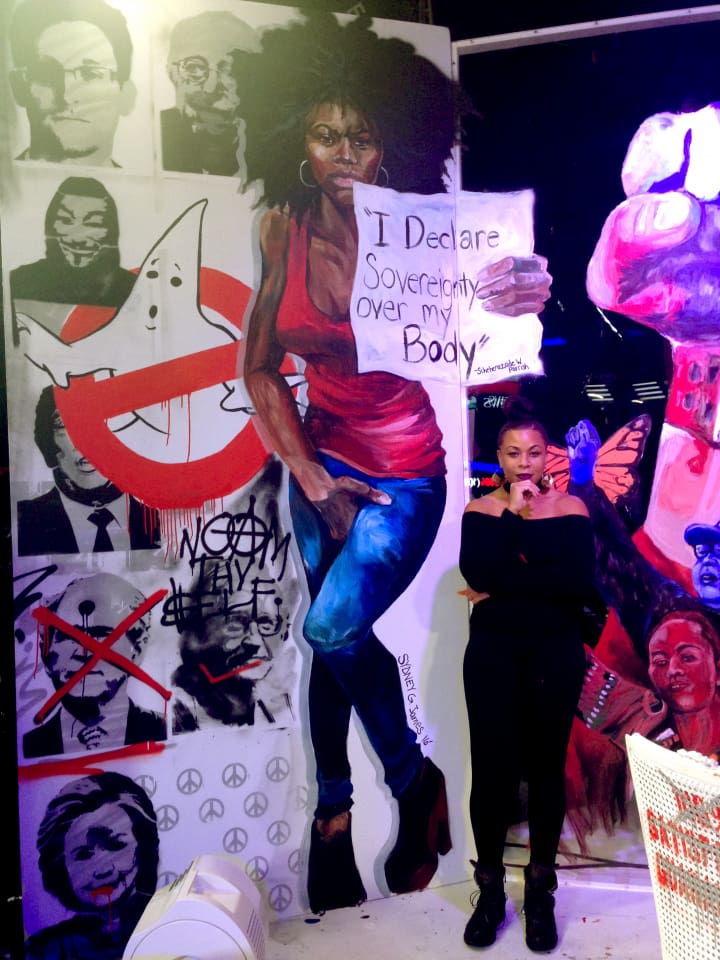 Chances are, if you drive down any given street in Detroit, it's very likely that you may see the amazingly beautiful, larger-than-life artwork of Sydney James. Perhaps you may see her work in mural form on several buildings in the city's historic Eastern Market area, or maybe at an intersection while driving through the city, or maybe in what appears to have been a vacant lot, turned into a field of dreams and beauty with the help of James' magic touch. One thing is for sure, once you spot a James masterpiece, you'll be in awe of her remarkable gifts.
A classically trained illustrator, James started her career in 2001 as an art director for GlobalHue advertising agency in Detroit after earning her bachelor's from the College of Creative Studies. She then moved to Los Angeles in 2004 to expand her career where she was able to showcase her talents on a much larger scale via the ABC Family Network TV show, "Lincoln Heights." James returned to her native hometown in 2011 to join in the creative movement to revitalize her beloved city.
James brings her art to life in the most nontraditional, innovative and awe-inspiring of backdrops, that include high school hallways, historic buildings, vacant lots, loading docks, and even an assembly plant. Aside from what James has contributed to Detroit, you can also find her work spread across the nation in numerous venues throughout Los Angeles, San Francisco, Atlanta, Houston, Washington D.C., New Orleans and New York, and in several private collections.
Rolling out caught up with James to learn more about who she is, and what inspires her #BlackGirlMagic. Check out the interview below and let us know what you think in the comments. To see more of James' super dope artwork come to life, check out her IG page @SydneyGJames.
Do you most often actively seek inspiration or does it find you? Or is it a combination of the two?
I think inspiration actively seeks me. When I made the transition from a commercial artist to a fine artist 13 or so years ago, I actively sought ideas and people to paint. I was finding my way. Or better yet, my way was finding me.
What led you to art in general and to your art form(s) in particular?
I've been an artist since I was able to control a crayon. I've been drawing since I was 3. My teachers at a young age encouraged my parents to embrace my natural talent, which they happily did. My education and exposure to many facets of art led me to figurative painting.
In addition to mastering their art, what other skill sets do you recommend that artists develop if they want to be successful? 
In addition to mastering their art skills, artists need to develop business and marketing skills to become successful and to sustain their success. In many ways, artists are comparable to athletes. Just as athletes love to play sports, artists love to create and are immersed in their crafts. Being good at something doesn't guarantee proper compensation or any for a good product. We have to be business minded and aware of our brands just as any other business that provides goods and services.
How do you stay at the leading edge of your craft?
I don't know if I'm at the leading edge of my craft as I feel like I'm still climbing to reach the top. I do, however, remain at a steady climb because my work ethic is strong. My motto that I repeat to myself constantly is "be dope every day." Part of that involves my work being and staying visible in the public. The more I work, the more opportunities come to me.
Do you think that there are any widely held misconceptions about art or artists? If so, what are they and how do you work to dispel them?
There are many misconceptions about art and artists. I think some major misconception is that artists are broke and starving and that there are no careers in art. Even though every person, place and thing that we see and use in our day-to-day lives were designed, crafted and built, people don't think about the "designed" part. I work to dispel the misconceptions simply by working. Painting murals and working in the public's eye helps convey the message as well.
How do you measure your success?
I used to measure my success based on finance and how much money I would make doing my art. When I developed a following and a yearning for my work, I realized my true success comes in my being able to pick and choose the projects and commissions that are reflective of me and true to the brand that I've built.
Who do you consider to be your peers in your field? Who do you view as examples to emulate?
I consider artists like Tylonn Sawyer, Rashaun Rucker, Dubelyoo, Mario Moore, Christopher Batten, Tiff Massey, Roy Sprouls and Michelle Tanguay my peers. Artists like Sebastian Kruger, Gustav Klimt, Barkley Hendricks, Diego Rivera and Hubert Massey are artists that I respect and have been my examples.
Name two of your top role models: one in the art world and one from outside of it.
My top role models are Lyndon Barrois (animation director) and my mother, Deidre James.
Name three books, works, performances or exhibits that changed how you view life and/or yourself.
American Gods by Neil Gaiman, "Sleep" painting by Kehinde Wiley and the "30 Americans" exhibit changed my views on life and how I treat my craft.
What role does art have in the community? What role would you like to see art play in the community?
I think art can help greatly improve communities. Public art can create a desire for improvement within a community. It can act as a catalyst fort better social behavior in communities and individual behaviors within communities. Art encourages and evokes dreams and create dreamers that can transcend into something or someone much greater.
What software, app or other technological innovation has made the biggest difference in your life and/or career?
I think Instagram has made a large difference in my career. People from all over the world looking for specific art needs can find me via the simplest of hashtags. I think it was an app created with artists in mind.
Please define your personal brand.
My personal brand is a strong willed, sassy Black woman artist who delivers a dope product.
What is your favorite vacation destination and why?
My favorite vacation destination is Rome, Italy. I love Rome because the city itself is a museum. I can wander around the city with my sketchbook, draw public sculptures, eat street food and be merry.
If you could change one thing about the world, what would it be?
If I could change one thing about the world, it would be how black women are branded, viewed and treated. I believe that once black women (specifically) are empowered, all women can be empowered. Change has to start with the source.
If you could change one thing about yourself, what would it be?
I wouldn't change one thing about myself. I accept my faults, imperfections, bad decisions, pain, sorrow, loss, along with the great things. Everything that has been and will be is the recipe for me. And I like me so I wouldn't change a thing,
What does it take to be iconic? In your estimation, who has achieved that status?
I think to be iconic, a person has to be the best or one of the best and known as the best amongst their peers and in the eye of the public at whatever it is they do. Their images have to be recognizable even when their name is not present. In my estimation, Ernie Barnes and Kara Walker achieved iconic status.