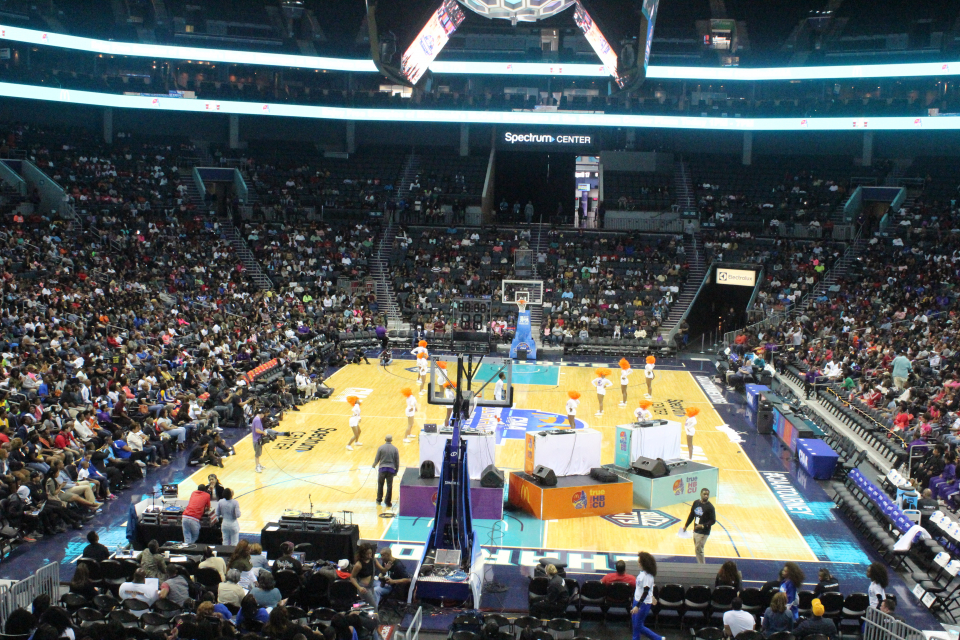 Another successful CIAA weekend is in the record books, and while celebrities and parties rounded out a spectacular week, the story of this year's tournament was education, scholarship and community. Early in the week, CIAA's "Shoes of Hope" event, in partnership with Coca-Cola, provided 500 pairs of shoes to Merry Oaks Elementary school children. Then there was the diversity town hall forum that took aim at issues of race, LGBTQ, inclusion, and gender — a fitting address to the well-publicized issues of House Bill 2 that have beleaguered the state of North Carolina.
The CIAA has become such a dominant tournament over the years because of the pride instilled in its students, many of whom continue to come back and support as dedicated alumni. One such alum, iconic sportscaster Stephen A. Smith, was in town to be inducted into the "CIAA Hall of Fame." As a graduate of Winston-Salem State University, Smith stated that his basketball career was cut short due to a knee injury, forcing him to spend his time writing for the school newspaper. His quick wit combined with his incisive social commentary propelled him to the very top of his industry. The ESPN "First Take" reporter said, "I feel I'm the absolute best. I've never been nervous in front a camera." Smith credits a lot of his grit and determination to Winston-Salem State coach and his father figure, Clarence Gains.
Speaking of being the absolute best, the brothers of Phi Beta Sigma Fraternity Incorporated repeated as champions of the McDonald's Greek Step Show. A packed audience showed up at the Charlotte Convention Center to cheer on members of the Divine Nine as they hopped and strolled across stage showing off incredible synchronization, choreography, and slick dance moves. Following the step show, BJ The Chicago Kid entertained the crowd in another convention center ballroom.
Even those who stayed out late and partied hard made sure they were up for McDonald's Super Saturday. The crowd favorite event featured cheer exhibitions, dance routines, old school vs. new school dance offs, and plenty more. The kings and queens from the various CIAA universities filled a special section of the bleachers, and rolling out chatted with young scholars, like Johnson C. Smith University's Andronica Klaas, an eloquent young scholar from South Africa, who is also an alum of Oprah Winfrey's Leadership Academy for Girls. The senior computer science major was this year's Miss Black and Gold winner and she'll hang around Charlotte after graduation for an IT job at Bank of America.
As brand activations with the likes of Nationwide Insurance, The Marines, Novant Health, Lowes, House Autry, Toyota, and countless other brands filled the Charlotte Convention Center, a massive crowd gathered at the Spectrum Arena to see the tournament's grand finale — the women's and men's championship games.
In the women's final, Johnson C. Smith's Lady Golden Bulls clinched the tournament championship with a 68-59 victory over the Lady Spartans of Virginia. JCSU's journey to the championship was not an easy one. They fought hard from start to finish. First up was an intense match-up against Bowie State University where the Golden Bulls won 71-59. They then defeated the defending Women's CIAA 2016 Champs Virginia Union University, pouring in a team effort to defeat the Lady Panthers 81-75 to lead them to the championship round.
The men's final was equally intriguing with Bowie State University pulling out a hard-fought victory over Fayetteville State University by a final score of 62 – 54. Bowie State head coach Darrell Brooks expressed a deep pride in his team's ability to fight stay focused and play hard all season despite some early adversity in the season.
In all, the CIAA under the leadership of commissioner Jacqie McWilliams continues to shine a light on the excellence of CIAA's students by harnessing the talents of alumni, community members, major brands, and celebrities for the purpose of generating scholarship funds and support for her students. While the day parties and entertainment attractions are a welcome addition to the tournament, McWilliams takes a tireless approach to reminding us true reason for the week of festivities is to generate money and support for the next generation of leaders.
Check out video highlights and photos after the jump.