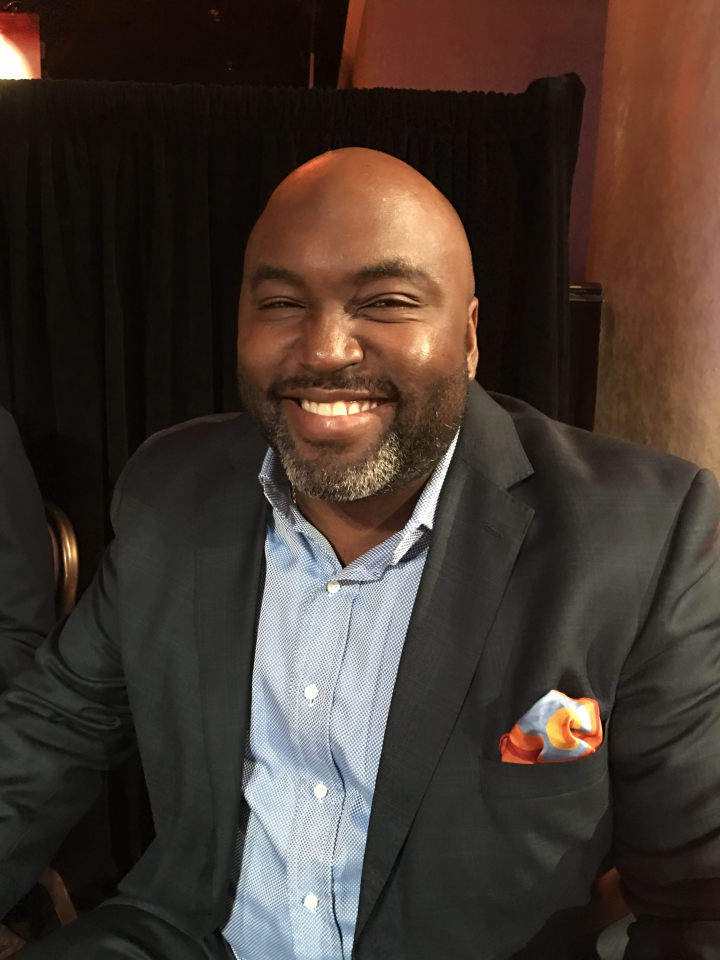 Randy Huggins is quickly becoming one of the best-known writers and producers in Hollywood. He's been building his career for well over the last decade as a writer, producer and currently as an executive producer. He started off as a writer in the early 2000s for shows such as "The Shield," "Crash," "The Unit," "Trauma," "Criminal Minds" and "Prime Suspect" before landing on STARZ's hit drama series "Power," staring Omari Hardwick. He was with "Power" for the first three seasons and wrote several episodes as well as served as the co-executive producer.
Fast-forward to the current day, Huggins is now the executive producer and showrunner for the new BET series "Rebel," which makes its debut on Tuesday, March 28, at 9 p.m. EST. "Rebel" is a John Singleton drama series, which stars Danielle Moné Truitt as Rebecca "Rebel" Knight. The series will center around Truitt's character, an Oakland, California, police officer, who struggles with life and career after her brother is killed by police. It will also tackle some of the complexities that officers of color encounter on a regular basis and the conflicts they have with their jobs, such as scrutiny over misconduct and police brutality.
Rolling out sat down with Huggins to get an exclusive interview regarding the new show. Huggins told us what we can expect with the new series, and also discussed his journey of being a writer to becoming an executive producer.  He even touched on how his HBCU alma mater Grambling State University helped prepare him for Hollywood. Check out the interview below and let us know what you think in the comments section. Will you be watching?
How did the concept for the show "Rebel" come about?
I didn't come up with the concept … Amani Walker did and sold it to BET. John Singleton brought me into MarVista Entertainment for what I thought was a meet and greet. They asked me to pitch my idea of the series, which meant I had to come up with a story on the fly. I did and they approved me, then we all walked into BET to do the same. We were blessed to get the green light.
It debuts Tuesday, March 28, on BET at 9 p.m. EST. What can we expect to see in the debut episode?
The premiere is a dope episode because it's a universal theme that everyone can relate to: grief. John Singleton shot it and Danielle Moné Truitt, Angela Ko, Brandon Quinn, Mykelti Williamson, and Giancarlo Esposito are all dynamic.
Truitt, the lead character, is a detective with the Oakland [California] Police Department when she sees her brother get shot to death by other cops she works with. She winds up quitting the PD to become a private investigator and bust the cops responsible. In a nutshell, she's a Black female Shaft.
Hollywood has been good to you. Previously, you were a writer for the popular Starz TV series "Power." Now you're the executive producer/show runner for the new show "Rebel." Tell us about your journey to get you from being a writer to being an executive producer.
Being a staff writer and executive producer/showrunner is a difficult transition because you go from being only responsible for yourself to being responsible for the whole on everything from actors to budget to network and studio execs. And it's never enough time or money to do it effectively, so there's always pressure.
You attended Grambling State University, an HBCU (Historically Black College or University) – "Where everybody is somebody" – and you most certainly have proven to be "somebody." How has attending an HBCU prepared you for where you are today?
The only reason I became a writer was because of GSU [Grambling State University]. I took a theater class as an elective and one of my classmates (Erica Wright, now affectionately known as Erykah Badu) told me I should start writing down stuff because she's never heard such crazy stories. Twenty-five years later, here I am.
Where can our readers find you on social media?
I'm on Twitter: @TVsrandyhuggins