Philadelphia born best-selling author Mya Kay Douglas will make history by releasing three books on April 4, 2017. Her history-making books include The Clover Chronicles: Battling Brelyn, S.E.A.L.: Sex, Entertainment and Lies and Before Empire: Raising Bryshere "Yazz The Greatest" Gray.
Douglas' novel The Clover Chronicles: Battling Brelyn is the first in a new young adult series that can be described as Gossip Girl meets The Fault in Our Stars. Douglas was also positioned to write the book Before Empire: Raising Bryshere "Yazz The Greatest" Gray with Bryshere Gray's mother Andria Mayberry. Gray is best-known for his role as Hakeem Lyon's on Fox's hit drama series "Empire." The third book to be released on April 4 is a collaboration with Londell "Niko London" Smith of "Love & Hip Hop Atlanta" on his book S.E.A.L.: Sex, Entertainment and Lies.
Douglas is a phenomenal writer who has published five books in seven months, one of which was number one worldwide for two weeks on Amazon. In addition to writing novels, Douglas writes screenplays and runs a writing business in Philadelphia.
Rolling out sat down with this dynamic eight-time author to find out what makes her a female success factor. Read the exclusive interview below.
How does it feel to release three books in one day?
It feels great to be making history. I look up to so many authors and to think that my career is advancing so quickly and can be named among people who have already made history is humbling and rewarding. I'm also honored to do it with literature. So many people make history in sports or Hollywood, but to see it in literature is priceless.
How did you come up with the idea to publish three books in one day?
I actually didn't come up with the idea to have three books come out on the same day. My novel was already submitted after my publisher, SD Green, signed me. Then, about a month later, he approached me about working with Nikko from Love & Hip Hop Atlanta, to help him tell his story. A few months after that, he asked me to help Andria Mayberry write her book about how she raised her son, Yazz from the hit show, Empire. Because of the way scheduling works and how bookstores order their books, my publisher decided that they all would come out on the first schedule of books, which was April 4th. It took several months to complete each collaboration, so because we worked hard, it just made it easier.
Tell us the premise for each book
Here is the premise for each book:
The Clover Chronicles: Battling Brelyn: In this new young adult series where every family member has a secret, the four Clover siblings along with their parents conquer fame and betrayal while fighting to keep their family bond strong. Fifteen-year-old Brelyn Clover, who suffers from lupus, has her love, self-acceptance and family expectations collide when she and her new neighbor, paralytic athlete Saith Richards, follow their hearts against opposition and the physical challenges of their conditions.
S.E.A.L.: Sex, Entertainment and Lies: Londell "Nikko London" Smith opens up about his life in this tell-all that touches on his time before and after Love & Hip Hop: Atlanta. A singer-songwriter, reality television personality and fitness enthusiast, Nikko holds no punches as he finally gives the world what they've been wanting–the truth.
Before Empire: Raising Bryshere "Yazz The Greatest" Gray: Single mother Andria Mayberry discusses the trials and tribulations of raising her television star son, Bryshere "Yazz The Greatest" Gray, in rough Philadelphia as she faces challenges once he is diagnosed with ADHD at the tender age of six. Taking you on an emotional journey through her life, mothers everywhere will find inspiration and courage to raise their children to be fearless, regardless of the statistics.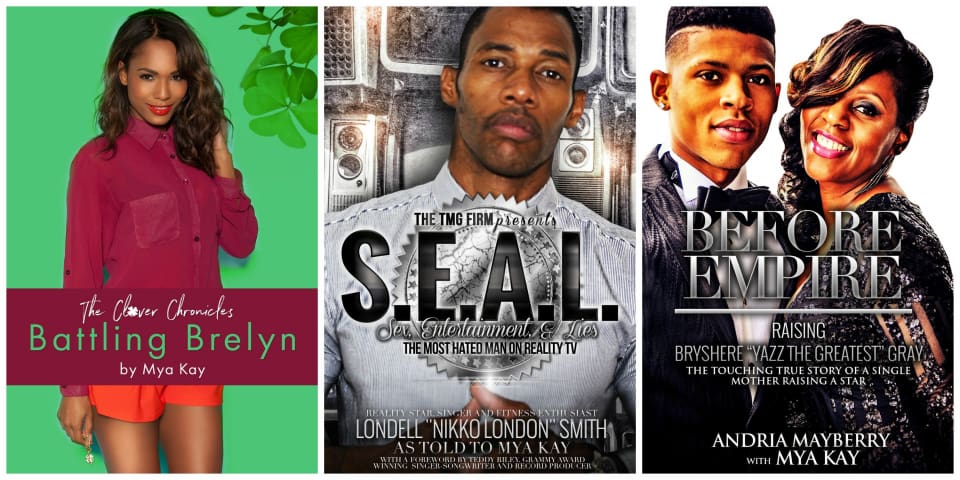 What inspires you to show up at work every day?
I'm inspired to create stories for people of color that truly captures their pain, joy and strength. I show up every day because I know there are children counting on me to tell their stories and give them a voice.
Describe the skill sets that will be essential to future writers.
The two skills every writer needs is a sense of humor and the ability to write through rejection.
How do you set goals and how do you evaluate your success?
I set three top goals every year. For example, this year my goals were to release the three books and make the New York Times Bestseller's list with at least two; launch my lip gloss line on Black Friday and become a millionaire before the year is out. I measure the success of those goals by what I'm doing every day. For the books, it's about writing, editing and making sure they are ready; getting reviews, doing interviews and making sure I'm promoting my behind off. For the lip gloss line, it's about researching, finding the best manufacturer, setting up the logistics, etc. For the millionaire part, it's all about making sure everyone is buying into these two streams of income I have set up – books and cosmetics. So, every day I do at least one thing toward each goal and that's how I measure my success.
What are the three most important factors of being a successful woman?
Three most important factors of being a successful woman for me are:
Keeping God first. Christ sits at the center of my life and I don't start my day without spending at least an hour in the morning praying and waiting to see what He says to me. I knew I needed to signed with my publisher because I fasted and prayed about it.
Being self-assured. You can't walk through this life looking for validation or needing it from anyone, not even your parents. If you want to work in entertainment, you definitely have to be self-assured.
A work ethic that puts Beyoncé to shame. Honestly. You have to want this more than you want anything and you have to work at it. Don't use the word slay if you aren't slaying in every area of your life on a regular basis.
What are the do's and don'ts for young women in business?
Do make sure you show up every day, ready to give your all, even when you don't feel like it.
Do know your industry inside and out and always be thinking about what's next. Stay ahead of the game.
Do network, but do it in your own way. Networking can sometimes be a little overrated because people think they have to dress up and go out and hand out business cards, but I've made some of my greatest connections online.
Do be fearless.
Do go out of your way to under promise and over deliver.
Don't sleep with anyone to get ahead.
Don't doubt your journey.
Don't give up on the vision God gave you.
Don't stray from your path watching others conquer theirs (trust me, theirs has bumps in the road too).
Don't worry and pray. Do one or the other.
Name three successful female role models and explain why you admire them.
Kandi Burruss hands down is my business crush. She literally worked her way from the bottom up. She learned how to create multiple streams of income, continues to grow her brand and she is frugal. She knows how to be smart with her money.
Karen Civil is my other business crush. I think she mastered the art of being a woman who works in the industry, but did it the right way. She carries herself with class and has mastered the digital stratosphere like a pro.
Yolanda Keels-Walker is a phenomenal businesswoman who started the Business Babes organization. I love how she started a business, got women from different industries and built a brand. They are killing the business world and continue to give back daily. She has helped plenty of women create six figure businesses and I love that she's become like a big sister to me.
How do you successfully grow from business failure?
You have to fail. Don't even think for a minute it won't happen. To successfully grow from that, you need to take down notes on what happened and learn from it. You'll always make mistakes in life, the objective is not to make the same mistakes twice. So, make sure you're always keeping a journal of your process, your successes and failures. For writers, keep note of what agents, publishers or literary managers are looking for. Know what the industry wants and learn from what went wrong the last time you submitted to agents or publishers. And know that trends never end. They always come back around. Don't ever throwaway a manuscript or movie script because it got rejected. You have no idea if it'll get picked up next year.
To find out more information on Mya Douglas, please visit her website at  www.writermya.com.