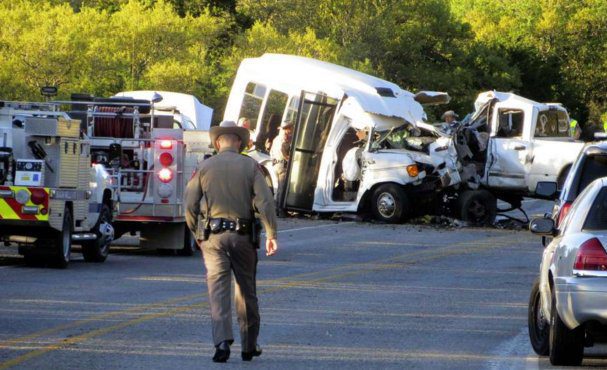 On Wednesday, members of First Baptist Church of New Braunfels in Texas were reportedly returning from a three-day retreat in Leakey when their church bus collided with a pickup truck in a fatal car accident.
Jack Dillon Young, 20, admitted to texting on his phone during the accident. Young was driving 65 MPH when he crossed over the center line into the bus. The state of Texas does not have a statewide ban on texting.
Twelve people on the bus died at the scene and another died at the hospital. Young is also severely injured and remains hospitalized, according to Fox.
Witness Jody Kuchler, 55, told local reporters that he and his girlfriend witnessed Young driving carelessly 15 minutes before the crash. "He kept going off the road and into oncoming traffic … and he just kept doing that," Kuchler said.
Fox also reported, in the aftermath of the crash, Kuchler spoke to Young. "He said, 'I'm sorry, I'm sorry. I was texting.' I said, 'Son, do you know what you just did?' He said, 'I'm sorry. I'm sorry,'" Kuchler added.