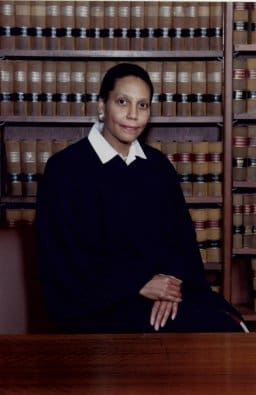 The first African American woman and Muslim to serve on the New York State Court of Appeals, Sheila Abdus-Salaam, 65, dedicated her entire career to public service. According to a spokesperson for the department, a 911 caller reported seeing a female unconscious and fully clothed floating in the Hudson near 132nd Street at 1:45 p.m. on Wednesday, April 12, 2017.
According to her bio on NYCourts.gov, the Washington, D.C. native was born to working-class parents, she grew up with six siblings. She has said that she became interested in the law after watching TV shows like "East Side, West Side" and "Perry Mason." In the late 1960s, lawyer and civil rights activist Frankie Muse Freeman visited Abdus-Salaam's high school and made quite an impression on the young girl. Years later, Abdus-Salaam said of Freeman, "She was riveting . . . she was doing what I wanted to do: using the law to help people," Judge Abdus-Salaam tells Strong Foundations, Columbia Law School Magazine in Spring 2012.
After graduation from Barnard College in 1974, Judge Abdus-Salaam received a Juris Doctor from Columbia Law School in 1977, where she was a Charles Evans Hughes Fellow. She is admitted to several state and federal bars. She is also a member of several bar and professional associations.
Associate Judge of the Court of Appeals, Judge Abdus-Salaam was appointed to this position by Governor Andrew M. Cuomo and confirmed by the State Senate on May 6, 2013, citing… Rising from working class roots to serve for decades on the bench of the New York State Supreme Court, Justice Abdus-Salaam has a deep understanding of the everyday issues facing New Yorkers, as well as the complex legal issues that come before the state's highest court." Before her appointment to the Court of Appeals, Judge Abdus-Salaam served for four years as a Justice of the Supreme Court of the State of New York, Appellate Division, First Department. She had been appointed to that position by Governor David A. Paterson on March 25, 2009.Then U.S. Attorney General Eric Holder Jr. attended Abdus-Salaam's investiture in June 2013.
Abdus-Salaam was removed from the water and was pronounced dead at a pier at 125th Street.
Update: "Justice Sheila Abdus-Salaam was a trailblazing jurist whose life in public service was in pursuit of a more fair and more just New York for all," Gov. Cuomo wrote in a statement Wednesday night.
"She was a pioneer. Through her writings, her wisdom, and her unshakable moral compass, she was a force for good whose legacy will be felt for years to come. I was proud to appoint her to the state's highest court and am deeply saddened by her passing."