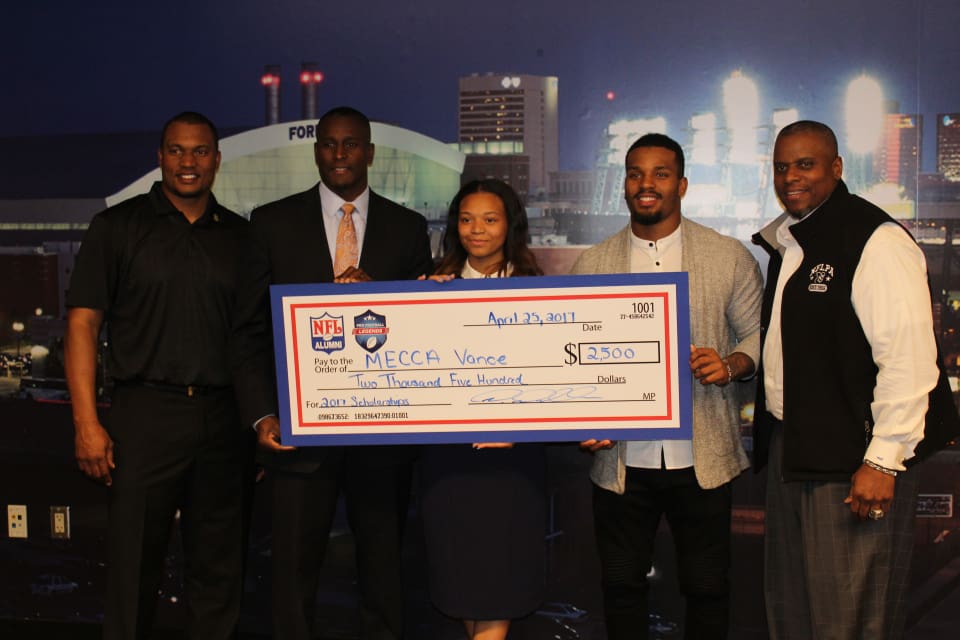 On April 25 at Ford Field in the heart of downtown Detroit, the NFL Alumni Detroit Chapter along with Detroit Lions running back Ameer Abdullah presented six athletic scholarships to high school students who live in Wayne County, Michigan, for golf, track, baseball, basketball, volleyball, and football. While believing in students furthering their education beyond athletics, the Alumni gave each student $2,500 and with the support of Title Sponsor, Microsoft, gifted them a brand-new Microsoft Surface tablet. Ameer Abdullah was seen signing checks and explaining the importance of education for college athletes.
Rolling out chatted with Abdullah about his thoughts on education, athletic scholarships, and his college experience.
How is college football different from that of the pros?
There's a lot more accountability; they treat you more like a man. They're not going to tell you where to be and when to be there; you should know where you should be and when to there. That's the biggest change other than the physical change. People are faster. People are stronger and the players are smarter. I would say the mental curve is a lot tougher because every day you have to bring your all; everyone is a lot better. Mentally you could be drained if the next guy is beating you out one day, but you have to go home, lick your wounds, and come back the next day and give your all.
How important was education to you during your college experience?
It was extremely important. I was faced with a very tough decision my junior year. I contemplated coming out early to enter the NFL draft, but I made a promise to my mom and dad that I would go all four years and receive my degree at the University of Nebraska and I did so. I feel like that was the best decision I made.
What was your favorite thing about playing college football?
The fans! The fans are a little better in the NFL because they're a little bit more passionate. You kind of understand you have more alumni of colleges with a stronger fan base as opposed to the NFL because people move in and out of cities so it's harder to keep a solid corporate fan base sometimes.
How important are athletic scholarships as it relates to college, especially in the African American community? How were you directly impacted by receiving college scholarship(s)?
I think it's very important. We advocate a lot for our young African Americans in the community to get more involved and study to be doctors and this and that and that's great, but sports are a huge part of our community. For a lot of the inner city areas such as Detroit and Birmingham, where I'm from, I can speak for, sports keep a lot of kids off of the streets. Even with the statistics there, a lot of kids don't play collegiately or they don't make it to the professionals, those statistics are there, but if they keep sports in their upbringing and high school, it can allow them to at least stay out of the bad habits and keep them from hanging with the wrong people and give them structure in life to later find out what they want to do. I feel like sports for me kept me out of certain situations. Birmingham is very similar to Detroit in a lot of ways. Sports kept me on the straight and narrow and I know my parents are glad that I chose that route.
How important do you think providing African American students scholarships is in today's society?
I believe scholarships are very important for African American students. As far as scholarships, that's how I made it. For me, college would have been a struggle if I didn't have a scholarship. We didn't have a lot of money going around in my family to pay for college. I would have had to take out loans and I'm glad I didn't have to take that route. Sports [was] something I leaned on. I knew I had the opportunity to make my future a lot easier if I were able to get an athletic scholarship. That's something I press for and I feel a lot of young men and women in the African American community can look at that as an example, as an outlet for scholarships.
Today you presented 6 athletic scholarships to deserving young men and women heading off to college. Tell me what this is like for you. Does it take you back to your younger days?
It was amazing and surreal at the same time because I know when I was in school, a lot of kids weren't going out and applying for scholarships. They didn't know that that was an opportunity. To see these kids take an initiative, it made me believe in this country a little bit more because I saw a little progression. When I was in high school years ago and I know a lot of my classmates who didn't get athletic scholarships and didn't go out and apply and write the essays to get any kind of scholarships. There [are] tons of funds available, but you have to be willing to put in the work if you really want and aspire to be a college student. You have to go and find it and that's what those kids did. I'm really proud of those 6 students and I encourage them to continue to build their student body along with them.
As it relates to community outreach, what has been your footprint in metro Detroit so far? What are you looking forward to doing in the community?
As it relates to community outreach in Detroit, I'm still putting more and more footprints in the sand as the years go by. Our community relations guy, Brandon Scott is doing a really good job reaching out to me asking me what my interests are. I'd like to see people reach their full potential. I've been going to alternative schools to speak to students who've had some trouble in their past. A lot of people gave up on them, didn't see their potential, and didn't see the light of where they could be at the end of the tunnel. It allowed me to be in front of them and use my influence to share my wisdom with them and help them any way I can.
Photos credit: Treasure Smith for Steed Media