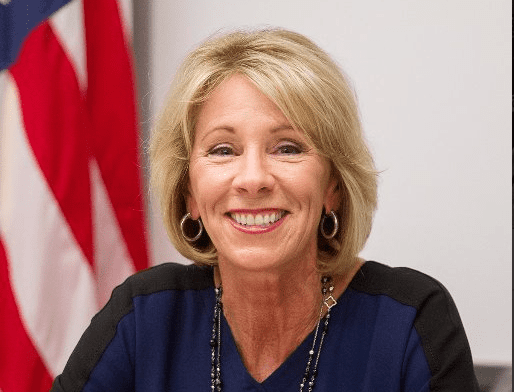 Administrators at Bethune-Cookman thought that it would be a good idea to hire Betsy DeVos to serve as the school's 2017 commencement speaker. However, graduates and attendees of the school let it be known that DeVos was the worse possible choice.
During the ceremony, DeVos, U.S. Education Secretary, received an honorary doctorate degree from the school and was scheduled to speak for an hour as the official commencement speaker. But within minutes of speaking, DeVos was booed furiously by graduates and attendees of the commencement ceremony. Some students turned their backs to DeVos to protest silently.
After several minutes of non-stop heckling, Bethune-Cookman's President, Edison Jackson, interrupted DeVos to issue a stern warning to students. "If this behavior continues, your degrees will be mailed to you," he said. Some students sat down and stopped booing, but those who were in attendance continued to voice their displeasure. Several people were dismissed from the ceremony before DeVos stopped talking after 20 minutes.
But the entire incident could have been avoided. It was announced that Devos was picked as the  commencement speaker during the time when students were taking final exams. As a result, students did not have time to properly share their displeasure with the school before the day of graduation.
Furthermore, DeVos ideas on education will have a vast affect on urban communities. She's also shown a lack of intelligence when it comes to the education system and history. During her confirmation hearing, she claimed that schools may need to allow guns in order to "protect against grizzly bears." DeVos did not have an understanding of the Individuals with Disabilities Education Act which is a federal law that requires public schools to provide appropriate education to students with disabilities.
But the most troubling statement by DeVos was her claim that HBCUs were "real pioneers when it comes to school choice." The statement proved that she didn't have an idea of the history of HBCUs because those institutions were created because Blacks weren't allowed to attend school with White students. DeVos would eventually recant her statement, but she had already proven that she was unqualified to be the U.S. Education Secretary.
Bethune-Cookman's President, Edison Jackson, should have also known that she was unqualified to be the commencement speaker at an HBCU. For that alone, DeVos and Bethune-Cookman's administrators deserved everything that they received from angry students.