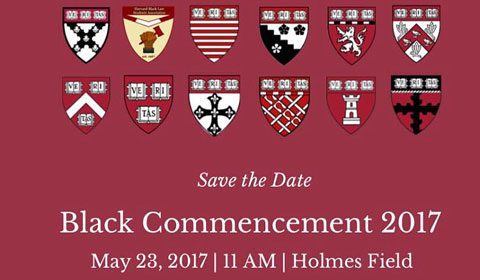 In a sign of changing times, Harvard University has announced that the school is holding a separate commencement ceremony for Black graduate students. This is not the first time that Harvard has had a separate graduation ceremony for Black graduate students; however, this time it will include graduate students from across the different colleges of the school.
The graduates will be wearing kente cloth stoles over their robes to celebrate their African ancestry and specific struggles that Black students have endured in America and even on the campus. Last year, the university changed its seal responding to complaints that it was based on the family crest of the slave owning founder of the nation's oldest university.
The event called Black Commencement 2017 was organized by students and supported by the faculty and administration of Harvard University.
Michael Huggins, president of the Harvard Black Graduate Student Alliance, which is organizing the event, stated to media, "The primary reason we wanted to do this is we really wanted to come together to celebrate Harvard Black excellence and brilliance." Huggins will be receiving his master's degree in public policy from Harvard's John F. Kennedy School of Government.
Harvard University is not the first Predominantly White Institution (PWI) to hold separate graduation ceremonies for Black students. Other PWIs including Columbia, Stanford, Berkeley and Temple have held separate and requested Black commencement ceremonies. At Harvard, approximately 14 percent of its undergraduates are Black, while five percent of all students, including graduate schools, are Black.
Organizers say the Harvard event is open to students and guests of any race or ethnicity, and that 170 students and 530 guests have signed up to attend. For some, however, separate ceremonies can also take away from the accomplishments of the Black student graduating with their White peers. But since the rise of the Black Lives Matter movement, issues of race and diversity have taken center stage on many campuses across the United States. Black students have been subjected to more racial insults and threatening situations by white students on campus, especially during the election of President Donald Trump. Strangely, in what has been called a post-racial America, we see a mindset by some Blacks that brings a new twist to separate but equal.