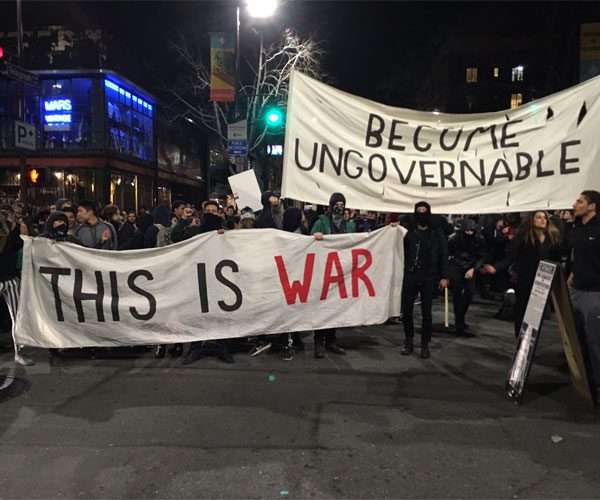 Violent protests erupted overnight on the campus of the University of California at Berkeley. The protests began when Breitbart editor Milo Yiannopoulos was scheduled to speak at the college last night. Yiannopoulos is a known racist and has made inflammatory remarks against the Black Lives Matter movement and has used racist, xenophobic and anti-gay statements in his speeches and writings for the alt-right website Breitbart. The website was founded by now White House Chief Strategist Steve Bannon and is well known for its racist views and support of White supremacy. Yiannopoulos was invited to campus by the student organization Young Republicans that had sold out the event, selling 500 tickets. According to Yiannopoulos, he was on campus to kick off his campaign against the "Safe Sanctuary" movement spreading to many college campuses nationwide after Trump's immigration announcement.
Students confronted Yiannopoulos as he attempted to deliver an expected hate-filled speech at the entrance of the Martin Luther King, Jr. Student Union building. The activists had been gathering for several hours before the Breitbart editor arrived and there was a heavy police presence. The gathering was peaceful until about 6 p.m. when self-described anarchists wearing black began to knock down barriers and rushing towards the building. The anarchists then began throwing objects into the building windows, shattering glass everywhere. No one was able to get inside the building where Yiannopoulos was waiting and watching the violence spread. At about 6:20 p.m., UC Berkeley campus police announced that the event had been canceled. Officers ordered the crowd to disperse, calling it an unlawful assembly.
Twitter reacted: Trump supporter sprayed in the face during UC Berkeley riots!
Trump supporter sprayed in the face during UC Berkeley riots!
PLEASE RETWEET and if you know him contact @UCPD_Cal.#MiloYiannopoulos #Milo pic.twitter.com/uGkJ8oZExn
— Tennessee (@TEN_GOP) February 2, 2017
WOAH. Protestors blocked car in Berkeley. Driver ran them over. Sped off. #Milo pic.twitter.com/GeVVphFxjd

— Michael Bodley (@michael_bodley) February 2, 2017
The activists then began to set bonfires as police clad in riot gear went into action deploying pepper balls, paint rounds and other non-lethal crowd control devices. Yiannopoulos was evacuated from the campus and the crowd soon spread to the nearby streets. Police called in support from nine of the 10 UC campuses and the Oakland Police Department and Alameda County Sheriff's Department. In response to the protest and the action of the university in canceling the event, President Donald Trump weighed in with a threat on Twitter. He tweeted early this morning:
If U.C. Berkeley does not allow free speech and practices violence on innocent people with a different point of view – NO FEDERAL FUNDS?

— Donald J. Trump (@realDonaldTrump) February 2, 2017