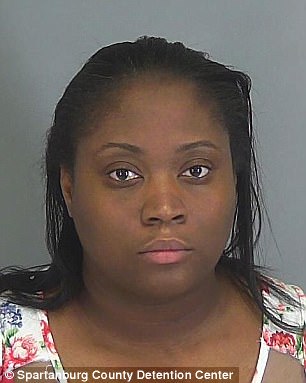 Shontrell Murphy, 30, was fighting mad. Today, she's facing a child cruelty charge in Spartanburg, South Carolina. The irate mother was arrested for hitting her son multiple times on Thursday, May 11, 2017. Her son, 6, was slapped on the front, side and back of his head, repeatedly. According to his sister, Murphy became angry when she learned the boy made a Mother's Day card for his grandmother and not her. She tore it up and the head-slapping commenced. He was hit in the head,"really hard a few times."
Spartanburg Police Department officers say they saw a handwritten card torn to pieces at the scene where the grandmother was there with the two children.
In the police report, Murphy says she "does not believe it was in a hard or violent manner" and when she was asked why she beat him, the mother says "because I could."
The 6-year-old was taken to the hospital for evaluation. He was released because there was no trauma detected.
The children reportedly told the police their mother hits them all the time in a violent manner and they are afraid of her. Murphy told police the boy had behavioral problems in school and she wants to discipline him.