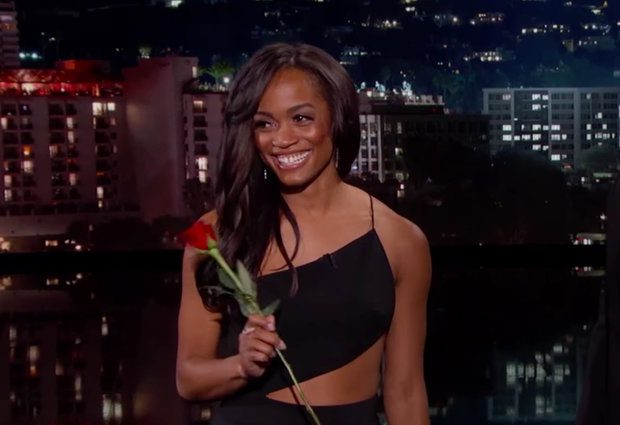 "The Bachelorette's" Rachel Lindsay has revealed she's getting her happy ending.
Though the new season of the popular the reality series doesn't premiere until next week, on Thursday, May 18, the Dallas attorney announced that her show will end with Mr. Right getting down on bended knee. I'm "very much so in love and very much so engaged," she said during a press call. "If I had a list, he would check everything off."
As fans of the show may already know, it's not customary for either the Bachelor or Bachelorette to disclose the show's outcome — viewers are often left on the edge of their seats with anticipation. So, it's somewhat shocking that Lindsay would break the news before the show's premiere. Some would say the move is also pretty genius. After all, host Chris Harrison did promise "the most dramatic one [season] yet."
Last season on "The Bachelor," Lindsay was ready to accept another man's proposal, from Nick Viall. However, after a shocking elimination, she found herself making history as the first-ever Black Bachelorette.
"I'm happy to represent myself as a Black woman in front of America and I'm happy for America to rally behind me and see what it's like for me to be on this journey to find love," she told People at the time. "Honestly, it's not going to be that different from any other season of 'The Bachelorette.'"
As for her feelings toward Viall, she told E! News, "I've moved on since then and time heals all and to be back with family and friends and work, it's a different situation, but I 100 percent would've said yes back then. That was the mind-state that I was in."
On Wednesday, May 17, 31 suitors vying for Lindsay' heart were revealed. Included were a male model, a tickle monster, and a guy who had a crush on Lindsay in elementary school.
Meanwhile, Harrison offered up a spoiler, telling "E! News" viewers can expect to see a lot of tears from the fellas this season. "You have all these type A personalities, some older guys, more professional, because of who Rachel is," he said. "These guys are used to being successful, and good at what they do. And they're not used to having people getting in their face, and so there's some conflict."
ABC's "The Bachelorette" premieres Monday, May 22 (9 p.m. EST).