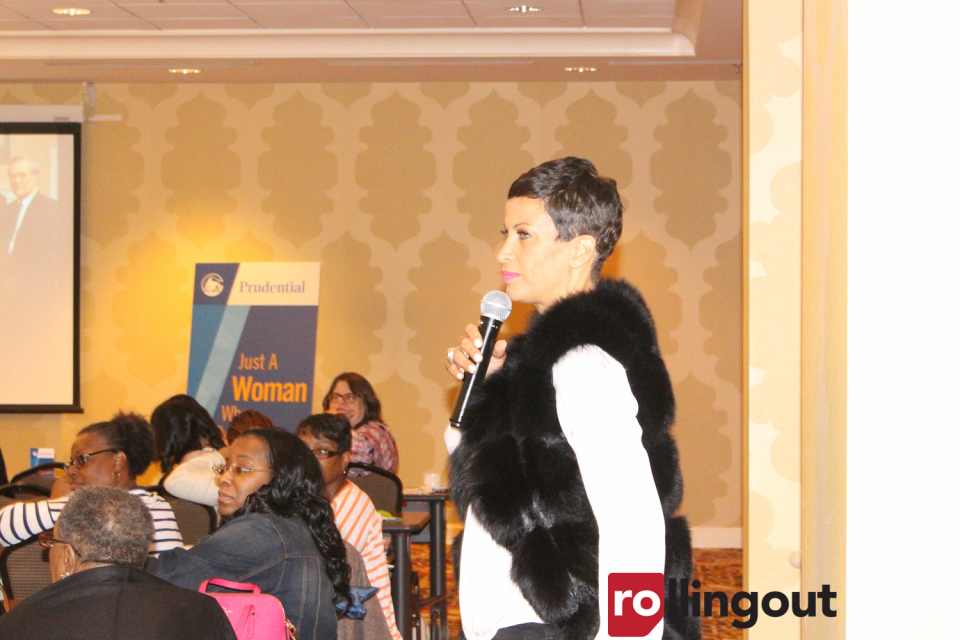 The Motivated Moms tour recently made a stop in the Motor City to encourage and empower mothers to pursue their dreams. The tour, powered by Prudential Financial, Hilton, Coca-Cola and Centric, is the premier destination for entrepreneurial moms, working moms, and stay-at-home moms to network and engage with life-changing content to access their dreams. Founded by LaToyia Dennis, the tour is making its way across the US with its message of keeping moms motivated.
Regina M. Walker, Financial Advisor with Prudential had this to say about the tour: "I am excited that Prudential has partnered with the Motivated Moms, I believe the partnership allows expansion of need financial information that women are looking for. Each one of us has dreams, visions, and opportunities that we would like to embark upon and being financially savvy allows us the opportunity to turn them into reality."
The Director of Resorts and Multicultural Marketing at Hilton, Andrea Richardson, was also available for comment, "Hilton is committed to celebrating and encouraging and empowering the communities that we work, live and travel in. And  so for us, it's just as important for Hilton as an almost 100 year old company to be involved and to be a foundation to be helpful to organizations like Motivated Moms and LaToyia Dennis."
Rolling out also obtained the opportunity to exclusively sit down and chat with Michele Thornton, SVP BET Centric and Author of Stratechic: Life & Career Winning Strategies for Women. We gleaned some jewels from Thornton about what it means to be a motivated mom and we also to discussed with her how women can strategize to win. Check out the exclusive interview below to see what she had so say.
We're sitting here with Michele Thornton, SVP with Centric TV network, and we heard the network is rebranding. Tell us what's going on over at the Centric Network.
Centric is going to be rebranded. It's the same infrastructure, all the same people, but we're rebranding to BET Her to align with our powerhouse big sister BET. So, we're excited about that. We'll still be for Black women, and we'll still have the same mission, but now, our title will definitively say that. So, we're excited about that.
Let's talk about why we're here today: the Motivated Mom's tour. How did you get involved with that?
Prudential has just been so impressive. I'm an advertising executive, and my job at BET Her is to bring in all the revenue for the network. And we have different clients, and Prudential is one of those clients that has been advertising to this audience. But what I love about them is that they actually show up. So, I would go to events and I would see Prudential there so we'd started talking. We felt that my skillset, my mission, my journey to empower women and to help them plan and strategize their lives, that finances should be a big part of that. I love the quote that says "Don't let money prevent you from being the girl who you were born to be." Meaning, don't let something that small when you have the opportunity to build finances. That doesn't mean that you have to be rich, it just means that you have to be smart about your money. If you want to leave your job, have enough to be able to go someplace else. If you want to start a business, know who can loan you the money. So, Prudential liked my story, and we connected through LaToyia Dennis (founder of Motivated Moms) who's just been on a mission to encourage women to be great moms, but also build up your own self and walk in your assignment as part of motherhood. So, it's just a great combination, and I'm proud to be a part of this tour.
One of the things you discussed with the Motivated Moms today is having a "tight circle". What does that mean, and who's needed on our personal board of directors to make that circle tight?
I talked about transform your circle. I encourage all women, and  I talk about this in my book Stratechic, [to] have a board of directors.  Any strong company or entity has a board of directors, and so why shouldn't we have the same? So, a part of my board of directors are a couple friends who I value their opinion, they're truth tellers. On my board of directors is my husband who is my partner in crime. He's the chairman of the board,  and we do so many things together because our family is so important. My boss is on my board of directors from a corporate perspective. So, you get the point. The point is that I've been intentional about thinking [about] who can I surround myself that can help me move my mission and assignment for? And my assignment is my assignment that I feel God has placed upon me. A lot of the time, we just end up with people, and we don't want to just end up with something so important.
You also spoke of having mentors vs. allies. Is there a difference for you? If so, do you value one over the other?
I actually said that I would rather have an advocate, advisor or a sponsor before a mentor, because mentors take a long time to build up. You have to share a lot of information. That doesn't mean that you don't have them, but don't focus on just having a mentor when you'll run into people who can advocate for you all the time. That means that they can write a letter on your behalf or send an email. Or [someone like] an advisor, someone who can give you advice about how to get through a situation. Or [someone like] a sponsor, who's also sometimes really important, who'll actually fund learnings, and trainings and get you to one place or the other. And, so when you meet people, you have to categorize where they should go and how you should use them. And you should be thinking about maybe this person can be a advocate, and can I build a big enough relationship that I can actually ask them to be a reference for me or write a letter on my behalf or can I access their rolodex since mine is only so big. The point is that you have to be intentional about the people you meet and the relationships you build, and if you become that, then you understand how critical it is to have those different folks in your life and how you can begin to define and build those.
Let's talk about networking. How does it play a role in your success and why is it so critical to motivated moms or anyone else out there?
So, this is the beauty about networking now: Networking now can be easy because you can go on Linked In and introduce yourself to people. You can "friend" people there and know that with the evolution of technology there's nobody I can't get to. And I mean nobody. So, we just have to remember we have power sometimes, but more critically, it's the time to make that happen. So, if you have the time and the creativity, you can get to folks. Networking has changed. It's not with the cocktail in your hand, and standing in a venue and waiting in line to meet somebody – I can meet anybody.
Quick story: I was going to an event and I was speaking. A young lady reached out via Linked In, and she described herself and what she would have on, down to a "T", so, when I walked in the door I was looking for her. So, she networked before she even got into the room.
Last question. Give us three things working moms can do to increase their networking skills.
I think, understanding that you have resources to your disposal, so use Linked In, use FaceBook, use Instagram, like people's pictures, send them scripts, do different things before you even get into the room. Let them know that you're going to be there. [Two], when you get there, look the part. Please don't show up and not be ready for your opportunity. And the last thing, and I talk about this in the book, know your story. Don't get there and you're fumbling, and you don't know who they are, or why you're there, or what's going on. There are so many opportunities to investigate people before you get in the room. You can say 'hey, I wanted to meet you. I know your story, I'd love to hear a little bit more. But I do know that you sit on this board, and you've done this, and you've done that, how wonderful. And I hope I can take this opportunity to tell you one or two things about myself that might be meaningful to you'.  I mean, that's how you win, right? You're prepared, you know your story, and you know what you want to get and give.
Photo Gallery Credit: Porsha Monique for Steed Media