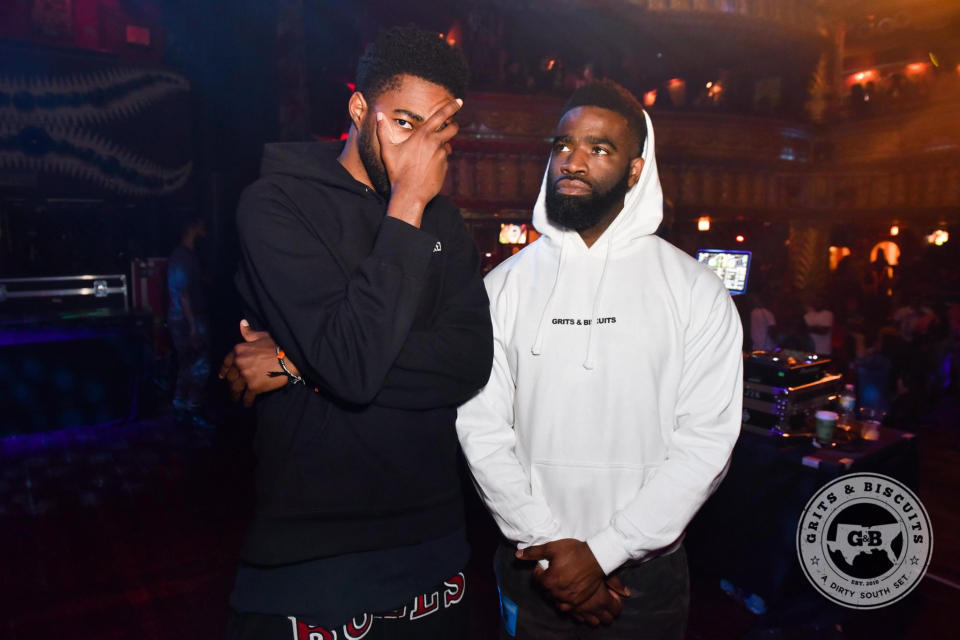 Grits & Biscuits:  A Dirty South Set is one of the hottest, most sought out parties currently on the scene. Trying to secure tickets is like a scene from The Hunger Games and the odds are almost never in your favor if you miss that 10-minute window. It's been categorized by attendees as a college party for professionals. Doctors, lawyers, police officers, and nonprofit employees alike all put their uniforms and business casual threads to the side, throw on some shorts, a tank and sneakers, then head to the party with one thing in mind: To shake som'n!
Some of your favorite Chicago daytime professionals moonlight as video vixens and background dancers for five hours without a care in the world, as they move their bodies to Dirty South hits. Picture taking is expected but partygoers know that if a picture surfaces, all they have to do is contact the Grits team and it'll be taken down immediately. For one, it's a place where everyone can unapologetically be themselves in a comfortable environment with no judgment.
The trio E.Z.Mo Breezy launched Grits & Biscuits in 2010 and have been able to build a momentum that continues to soar to unimaginable heights with a simple formula:  Ericka (E.) knows who to pay, Alzo (Z.) knows what to say, and Maurice (Mo) knows what to play. Rolling out had a few quick minutes to speak with Alzo and Maurice about the humble beginnings of the party giant known as Grits & Biscuits.
How was Grits & Biscuits formed?
Alzo: Grits & Biscuits started seven years ago. In New York, at the time, you could only go to one or two parties; either the club scene that was VIP with a dress code and bottle service. If you were a seemingly unattractive woman, or if there were too many dudes, they wouldn't let you inside. Or there was the super duper bohemian parties where they burned incense and listened to Fela and Stevie, which is fine, but there had to be somewhere to go and shake your a–. We're all God-fearing folks that are out here trying to save the world. We're upwardly mobile and have discretionary income. We can be bougie if we want but every once in a while you just want to get loose and shake som'n. We wanted to have a party like that, and since there wasn't one, we created it.
Why do you think it's grown so big in such a short amount of time?
Maurice:  I think it's the comfort level. When you enter, it feels like a house party. It's a lack of pretentiousness but also a community. Everyone you know is more than likely going to be there; from your family to some of your college friends. It just feels like home.
Plus, it's something that was missing in the nightlife scene from each city. It's funny because we thought it was just in New York but it's like that in every city that we go to — Chicago, LA, Houston, and Detroit, all of them. There was a void that we helped fill. For us to be able to do that is a blessing. I'm happy to see we provide something that the people want and everyone can take part in it.
Alzo:  And New York is such a transient city. When we threw the parties back then in July, the next one wasn't until November and people would travel to New York for them. If you just happened to be in New York and came across this party once you got back to your city, you'd be thinking the whole time that you could use a party like this. People started contacting us, asking if we'd consider bringing this party to their city.
You started in New York and eventually began traveling to other cities.  What made you all finally realize you had a big thing on your hands?
Alzo:  To be clear we never thought we had a big thing on our hands. People would tell us that we had a movement but I've always been suspicious of people with a self-proclaimed movement. You just do the work, provide what you think you'd want, and cater to the consumer; if they like it or don't, they'll tell you. With us it's all about a reciprocal relationship. My brother isn't one of those DJ's that has his head in his laptop. We're both looking at the crowed and absorbing their energy. We're feeding them and they're feeding us.
Do you feel like you're pioneers of the era of traveling parties?
Maurice:  I don't feel like we're pioneers. We're not the first persons to ever throw a party, but we are the first to throw this kind of party that travels to this demographic. Before us there were mad decent block parties. I think our people didn't have anything to gravitate toward, so once we started there were people who saw it too and thought it would be a good idea. I think it's great because we only come to a city 2-3 times a year. We give the people a taste and leave them wanting more, so it's good to have other parties that can serve the same demographic.
What are the future plans for Grits & Biscuits?
Alzo:  A significant focus of ours is working on some international dates. We want to maybe go over to Europe and South Africa and see how they take it.
Maurice:  We also want to focus on growing the Block Party. We started it almost three years ago. It's the outdoor, daytime, festival version of Grits & Biscuits with guest appearances. We want to continue to grow that and possibly come to other cities.
Alzo:  We also have another party we may bring to Chicago called Saturday Morning Cartoons, which is an '80s, '90s party with all old-school hip-hop and R&B.
Head over to Grits & Biscuits' website to see when they'll be coming to your city. Be sure to set your alarms with a ticket sale alert because once the tickets are gone, they're gone!  And this isn't the party you want to experience only through a social media post.
Check out a few photos from the event below: