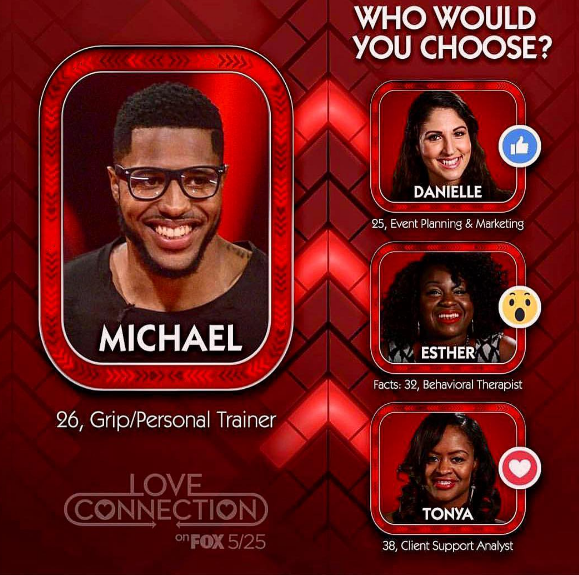 Michael Greene isn't new to lights, cameras, and someone yelling action. Read on to find out how Greene joined FOX's fun dating show "Love Connection," and what he's planning on doing next with his career.
How did you hear about "Love Connection"?
I had a Facebook page a while ago where I had a lot of friends. Eventually, I wanted to make my personal circle smaller so I deleted that page and started a new one. I had about 30 or 50 friends and I received a message from one of the show producers this past January/February and I thought it was spam.
What were you doing before the show?
I work as a grip on the set of Tyler Perry Studios and I am a personal trainer. When I was approached I didn't think It would be weird being on television since I work in a studio. 
Were you nervous to tell family or friends that you were considering being on a dating show?
My family is very supportive. They always told me that I would be the Black bachelor one day. I just did not want to mess up my family's name by going on television doing just anything. 
You went on a date with three different women for the show, were any of them similar to your personality? 
Yes, they were. Esther's personality was spot-on, she made me laugh. Danielle loves to bake and I like that too. Tonya is competitive and I used to play sports, I also have a lot of siblings, so growing up I was very competitive.
You chose Tonya on the show. Are you two dating right now?
It's crazy because on the show if the audience selects that same person you pick, you automatically win the cash prize. I am really happy that I picked Tonya, but no, we are not dating we are just friends. We talk on the phone all the time about life and advice. I still communicate with all three women, actually.
It was mentioned that you still lived with your ex-girlfriend when the show aired, are you still living there?
No, we filmed on a Tuesday, I believe, and the lease really was up that Friday!
What has been the biggest change since the show aired?
I would say my social media. I jumped up [by] 700 followers on Instagram the day after the show aired and my phone is continuously going dead from notifications! I'm also a fitness trainer and I have a lot of women direct messaging me for sessions.
How do you plan on using your platform? Being on reality television can make or break a person.
I looked at "Love Connection" as a way to open doors for me. Acting is what I want to pursue and I plan on using my platform for just that. I also want to convey positivity and uplift as many people as I can.
Any last words?
I would like to say thank you for this interview. I love motivational speaking and you're giving me a platform to do just that. People need to know that you have to speak positivity into your life. God places us on this planet to help other people out. You would be surprised what a smile will do for a person.
To stay up to date with Michael Greene, follow him on social media @therealmikegreene.