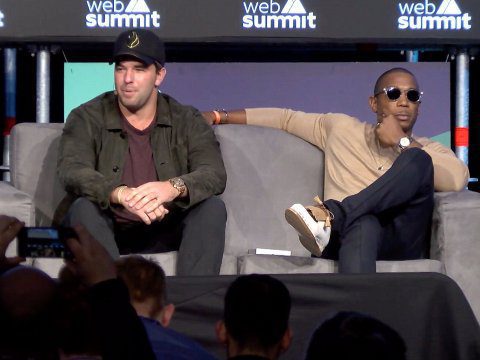 Promoter William McFarland, 25, was arrested in New York by the FBI. The organizer of the #epicfail Fyre Festival is charged with one count of wire fraud. Even though the much-anticipated April fete was backed by big-name millennial A-listers like Bella Hadid, the Fyre Festival, organized by McFarland and Ja Rule left partygoers stranded in the Bahamas. Both McFarland and Ja Rule are facing several lawsuits.
He's charged with claims he used his company Fyre Media to create a scheme to defraud investors. According to court documents, he altered a brokerage agreement to say he owned stock worth $2.5M and faked artist bookings totaling millions of dollars in revenue.
Joon H. Kim, the acting U.S. attorney for the Southern District of New York said on Friday when the arrest was announced, "William McFarland promised a 'life- changing' music festival but in actuality delivered a disaster. McFarland allegedly presented fake documents to induce investors to put over a million dollars into his company and the fiasco called the Fyre Festival.
"Thanks to the investigative efforts of the FBI, McFarland will now have to answer for his crimes."
Kim was accompanied by William F. Sweeney Jr., assistant director-in-charge of the New York Field Office of the FBI, who added, "Under McFarland's direction, Fyre Media created a promoter's marketplace for entertainment bidding. In addition to this initial business venture, McFarland went one step further in establishing a subsidiary of the company, Fyre Festival LLC. But in order to drive the success of both entities, as alleged, McFarland truly put on a show, misrepresenting the financial status of his businesses in order to rake in lucrative investment deals. In the end, the very public failure of the Fyre Festival signaled that something just wasn't right, as we allege in detail today."
Timeline:
Fyre Media, a digital app that would allow individuals organizing commercial events, such as concerts, to bid for artist and celebrity bookings, was founded in 2016.

In late 2016, McFarland established a subsidiary of Fyre Media known as Fyre Festival LLC and began promoting the Fyre Festival.

From on our about July 2016 until April 2017, McFarland reportedly provided false information to investors claiming Fyre Media earned millions of dollars of revenue from thousands of artist bookings. The company actually earned less than $60,000 in revenue from approximately 60 artist bookings.

McFarland allegedly provided at least one investor an altered stock ownership statement to seal the deal. The investor believed he owned shares of a specific stock worth over $2.5 million, which was in reality valued at less than $1,500.

Fyre Festival ticket prices ranged from $1,200 to $200,000.

It was held on land reportedly once owned by Pablo Escobar.
McFarland's expected in court today, July 1, 2017, and faces up to 20 years in prison.