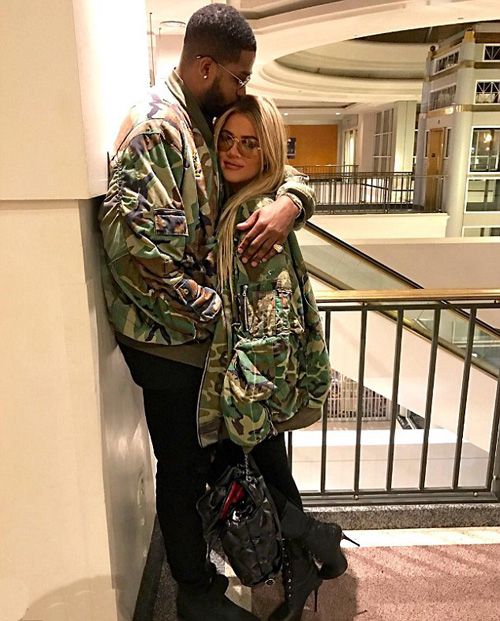 Khloe Kardashian has reportedly agreed to keep her relationship off "Keeping Up With the Kardashians."
The 33-year-old reality star's romance with NBA star Tristan Thompson is going strong, but while the 26-year-old sportsman is keen to tie the knot with his girlfriend, he doesn't want to be a part of the Kardashian media machine, while Khloe is reluctant to make the mistakes she made in her first marriage to Lamar Odom.
A source said, "He is willing to ride this Kardashian wave if Khloe promises to give him some distance from the TV show, mom and sisters.
"Khloe told him she's learned her lesson from her disastrous marriage to Lamar, as well as seeing the negative effect on Kim's marriage and on her mom."
While the pair is not engaged, they are said to have started planning their wedding and won't be sparing any expense. The source told Heat Magazine, "Khloe has been open about wanting this for a while now and Tristan is finally all-in – he realizes that, ultimately, they have something special…
"Khloe's not scrimping on the wedding, which will be a no-holds-barred ceremony with hundreds of guests – they are already running well past 300.
"They're looking at wineries and considering five-star hotels like the Bacara Resort in Santa Barbara, in late summer or early autumn. The final cost could be more than six figures."
Last week, Khloe was thrilled when Tristan threw her a surprise birthday party. Posting a picture of the two of them holding hands on Instagram the day after the event, Khloe wrote, "My birthday was incredible!  Dream like almost! It's actually hard to put into words how special I feel and it's mainly because of this man right here! Thank you baby for treating me like a Queen every single day! Thank you to all of my friends and family for helping surprise me and for being the best anyone could ask for!!"
Tristan also took to Instagram to post a sweet message to Khloe, as he shared some photos from her birthday bash.
He wrote, "Happy bday my love, this picture right here sums up how wild, crazy and how much we love each other. Let's continue to build more memories and cherish them with each other. God bless you, I love
you (sic)"