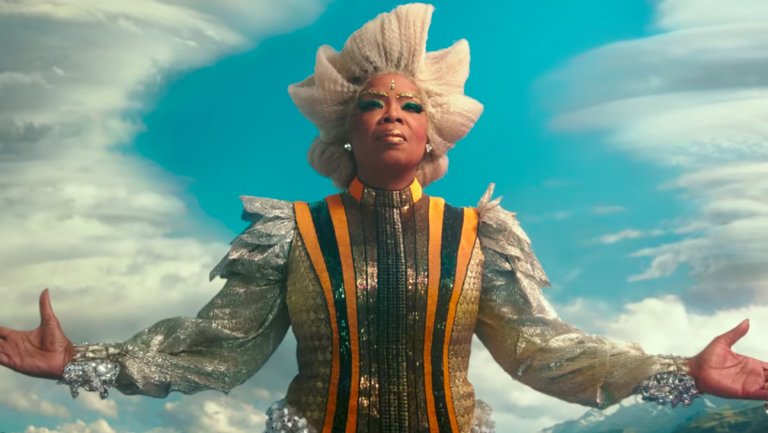 It's time for the first look at the highly anticipated A Wrinkle in Time.
On Saturday, Ava DuVernay's adaptation of the 1963 children's classic by Madeleine L'Engle debuted at D23. The film stars Twelve Years a Slave star Storm Reid as Meg Murry, a young girl whose scientist father, Mr. Murry (played by Star Trek's Chris Pine), went missing while engaged in secret work for the government on a tesseract problem (wrinkle in time).
Meg, with her younger brother Charles Wallace and classmate Calvin O'Keefe set out to search the multiverse for their father. Along the way, they are guided by three mysterious astral travelers named Mrs. Whatsit, Mrs. Who and Mrs. Which.
The cast also stars Oprah Winfrey (Mrs. Which), Reese Witherspoon (Mrs. Whatsit), Zach Galifianakis (Happy Medium), Mindy Kaling (Mrs. Who) and Gugu Mbatha-Raw (Dr. Murry).
"What if we are here for a reason? What if we are part of something truly divine? Imagine, 91 billion light years traveled like that," begins the trailer with Pine trapped in an odd room.
The trailer, set to a cover of "Sweet Dreams," features epic visuals, adrenaline-pumping adventure and futuristic threads — everything and so much more we expect from the revolutionary filmmaker.
"I saw myself in it," DuVernay, who was joined on stage by the film's stars, told the crowd at the expo before unveiling the teaser. "And I saw so many different kinds of people in it and personalities and I thought, gosh, if I could bring my idea of it to the classic novel, maybe we can make something new, And the only place to do that is at Disney. A family story wrapped in an epic adventure where you see worlds you've never seen before—it's the perfect place."
Later on, Witherspoon, a big fan of the book, applauded DuVernay's vision. "I just thought it was so magical, about a young woman at the center of her story, going to other worlds, escaping her earthly bounds, and realizing anything is possible when you think positively and you seek the good out in life."
"When Ava told me it is a character who is one of the wisest women in the universe," added Winfrey. "who wouldn't say yes to that?"
While readers of the classic novel may argue that it left much to the imagination. DuVernay has certainly painted one magical picture.
A Wrinkle in Time hits theaters March 9, 2018. Will you be watching? Sound off in the comment section below.