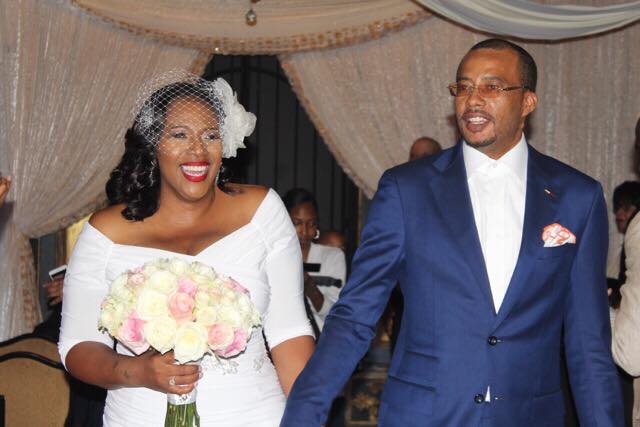 Finding that soul-stirring, fairy tale love for a Black professional female in Atlanta has got to be more obscure than waiting on pigs to fly, but it is possible and Tiphanie Watson and her groom Wendell Johnson are glowing proof. Besides being a professional woman of a certain age, Tiphanie works in entertainment, making her journey toward marriage even more of an impossibility. In a culture where open marriages are prevalent, infidelity is as common as grabbing dinner, and women are encouraged to relax their morality and go with the flow, Tiphanie's dedication to staying true to herself and not compromising probably seemed laughable to her peers. Still, she remained steadfast and single —.very single for a very long time.
If you are a single, professional Black woman between the ages of 30 and 50, you could be tempted to abandon your dreams of finding forever and instead settle for something less. Between constant propaganda on the numbers of unavailable Black men due to prison, into consummate sharing,  or other reasons, one can get caught up believing there is little hope for the Black woman to achieve happily ever after. Thankfully, new bride Tiphanie didn't subscribe to the myths on urban love and as a result, she married her soul mate in a beautifully intimate ceremony this weekend in Atlanta. Tiphanie's story suggests that if one remains true to themselves, the end can definitely justify the means; regardless of how long it takes for that end to appear in sight.
Tiphanie's wedding isn't the type of story that goes viral, so unless you were reading this article you would probably never hear her story. While she has held a glamorous career in entertainment she isn't in front of the spotlight so you wouldn't see her listed on Instagram under #relationshipgoals next to a picture of Jay-Z and Beyoncé. You may not hear her story about how she met this quirky guy while working diligently on her nonprofit and for some reason, he immediately redefined her success as his own. He was determined to help her succeed at any cost. The guy returned every day eager to help her and slowly but surely became an intricate part of her business and her best friend. Because he didn't swoop in and pick her up in a Maybach and post pictures on social media of the designer gifts he bought her you might miss out on this love story and that would be a shame because the way Wendell looked at Tiphanie at their wedding was so full of love and promise that it took the breath of everyone in the audience, this isn't something that happens when viewing makeshift couples on Snapchat seeking revenge on each other by grandstanding. No, if you are looking for that, you may miss the quiet beauty of this union.
Tiphanie's story is the answer to the many Facebook articles and op-ed pieces and tweets on why Black men and Black women aren't connecting. While reciting her vows, Tiphanie acknowledged that many times she didn't know if this day would ever come. Still, something in her wouldn't allow her to give up and surrender her hope to bitterness. Maybe the ability to remain hopeful and open is a far more powerful opponent against negative stats and anti-Black love propaganda.
As I listened to Tiphanie and Wendell recite their vows I realized the magic of their union was that they dared to believe in love. Numbers lie, social media posts can cloud the truth but the feeling that comes from realizing your dream is undeniable. Hopefully, Tiphanie's story of perseverance and patience is one that can give hope to other Black women of a particular age that dare to still believe, in her case, a little hope, and an open heart created something that happens once in a lifetime. Here's to love!