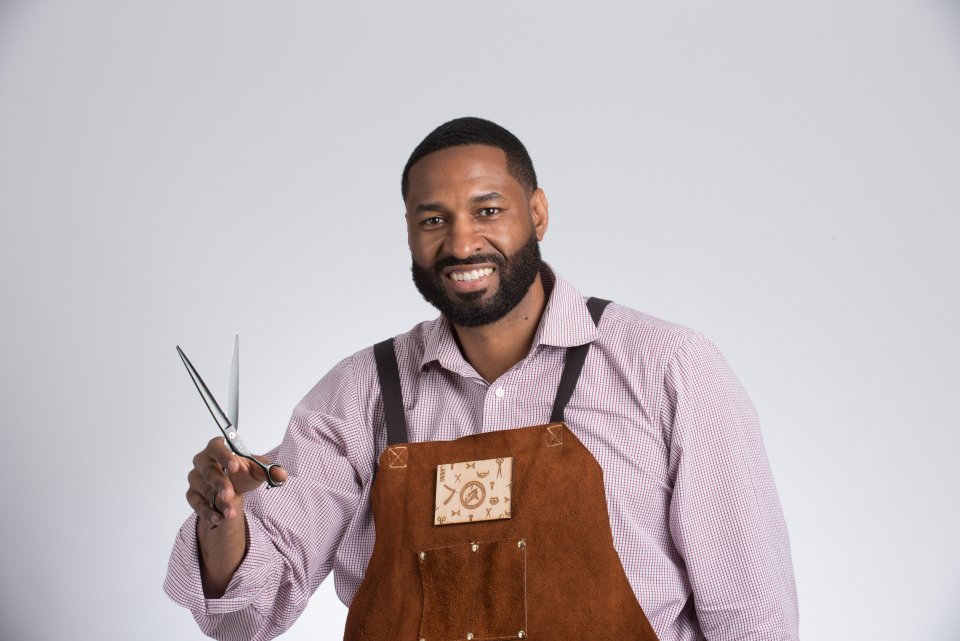 Why did you become a barber?
I developed the skill out of necessity. There weren't any barbershops for Black people in Logan and the White barbershops didn't know how to cut my hair. We received haircuts by people who had a reputation for cutting a fade. That means you went to somebody house and they cut you on the back porch or in the kitchen. Back in the late 80s and early 90s, you went to see P-Nut or Columbo. I watched them work magic with the most basic clippers you could get [your hands on]. These were older teenagers who were hard to catch up to. I started cutting my own hair. I had been watching them do it and learned the skill. Eventually, I got good enough and people started asking me, "Who cut your hair?" One day, Columbo said, "You did a good job on that fade."
My professional career started way later in life, in a round about way. After college, I bounced around from job to job, searching for that right one. I realized that the only job security I was ever going to have would be through something that I own or something I could create. I gravitated to real estate at first. I was really excited about the money I was going to make. Then, I realized it's not that easy. You have to crawl in that game before you walk. One day, I went to the barbershop to get a cut. Usually, I cut my own hair but I was in a time crunch, so I stopped in and there was a wait. I waited and waited. And, over the course of the next hour, I saw a barber cut four heads and made $100 bucks. Then it clicked. I was doing my own hair for a long time. I started looking at the numbers, based on what I saw that day and realized you could make a decent living just by cutting hair. Not to mention, I was better than he was. I understood what it means to provide customer service because of my past work experience. I figured I could apply my experience with my talents and it was a great meeting place for my real estate business. I went to barbering school in 2006 to learn the profession and to be properly trained in all textures of hair. Once, I started barbering as a profession, I never looked for another job and left real estate after my license expired in 2007.
What inspired you to become an entrepreneur?
My grandmother's influence inspired me. She was an entrepreneur in her own way. She operated a storefront where she sold ceramics and crochet. She built her own hair studio. What brought me to entrepreneurship was the desire to have something of my own.
What makes entrepreneurship challenging?
The heavy investments of resources and time away from the family. Depending on the type of business and the capital needed to give it a chance to work, it can be a heavy burden. There is always a chance it may not work.
Tell us about your education and training.
I went to public school In West Virginia, then on to college (graduated Bachelor of Science from Fairmont State University) in West Virginia. I have six years experience with the Army National Guard's combat support. During that time, I found myself in a career of sales and customer service.
What kind of experience should people expect from your services?
They should expect a comfortable and relaxing studio where I can concentrate only on your particular grooming needs. There's no TV noise and the entertainment by the custom sound of XM Satellite Radio. There's no rushing to get to the one that's next cut but serviced with your schedule in mind.
How has men's grooming changed over the years?
I think it is more diverse. Barbers are using technology to connect all around the world. Different cultures, ethnic groups and genders are stepping away from those stereotypes. It doesn't matter if you're Black, white, Asian. etc. People just want a dope barber who's reliable, dependable and service-oriented. The technology of the tools is changing the velocity at which you are able to deliver the best work. How much time will I spend in a chair?
Where can people find out more about you and your business?
Visit www.cutzbycurtis.com or you can come to 429 L'Enfant Plaza SW, Washington DC 20004; Phenix Salon Suites #105. Follow me on Instagram: cutzbycurtis; Twitter: @cutzbycurtis
Where would you like to see your business in the next five years?
I would like to grow and develop a larger studio for education on customer service in our industry and try to promote more professionalism in our craft.