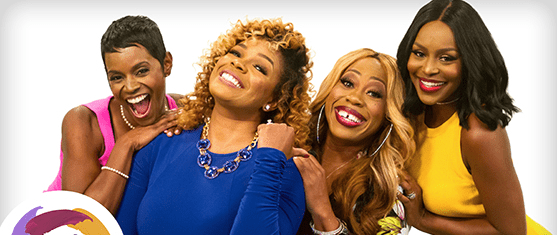 TV One, in collaboration with TEGNA Inc., has announced their first TV talk show, "Sister Circle," a live, daily talk program hosted by a panel of four female hosts. It will premiere on Monday, September 11.
Led by "News One Now," which will expand to 7 a.m. to 9 a.m., "Sister Circle" will air live weekdays from 9 a.m. to 10 a.m. on TV One as part of the morning news and lifestyle programming block, as well as in 12 TEGNA markets. This is the first-time TV One, which reaches 59 million households, will carry original programming from a local station group. "Sister Circle" will be produced out of TEGNA's WATL in Atlanta and reach 60 percent of U.S. television households.
"The collaboration between TV One and TEGNA allows us to present a talk show uniquely tailored to African-American women that will bring the energy and fun of a good get together with your best girlfriends to our daily morning line up," said D'Angela Proctor, head of original programming, TV One. "Watching 'Sister Circle' will be like having brunch with your best girlfriends every day. While the audience will come for the conversation, they'll stay for the sisterhood."
"Sister Circle" will empower and inspire African-American women and include news and insights on relationships, parenting, fitness, personal finances, the latest trends and the joys and frustrations of everyday life, all from the compelling, humorous and sincere perspective of the show's hosts. The show will also feature interviews with celebrity guests and expert opinions on key and relevant issues. "Sister Circle" will also offer multiple ways for the audience to engage in the program, including the launch of a live, interactive polling app, which will help drive discussion across social media 24/7.
The dynamic hosts of "Sister Circle" have spent their careers in journalism, business, music and entertainment. They include: Quad Webb-Lunceford, "Married To Medicine" reality-TV breakout star; Syleena Johnson, a Grammy-award nominated singer and "R&B Divas" TV star; Rashan Ali, TV host, sports reporter and radio show host; and Kiana Dancie, a stand-up comedienne, radio personality and actress. The hosts will be joined by DJ Q, who, when not spinning records, adds a guy's unique POV to the "Sister Circle" discussion.
"We are excited to bring this diverse and groundbreaking live show to audiences across multiple platforms," said Bob Sullivan, senior vice president, programming, TEGNA.
"Audiences will love the chemistry and personalities of our hosts and engaging with them across platforms throughout their day. The show will discuss important issues facing the African-American community and offer insight and perspective that is not easily found on daytime TV. We are excited to bring the show's point of view to our TEGNA communities and thrilled to partner with TV One to air the show nationally. The channel represents the best in Black culture and entertainment and 'Sister Circle' is a perfect fit in their morning news and lifestyle lineup."