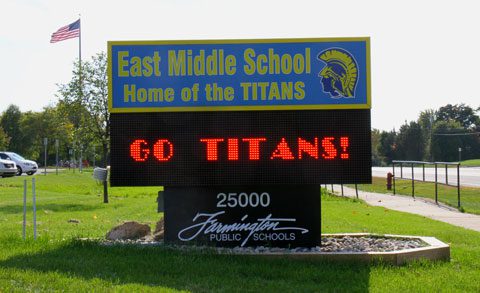 A decision by a Black sixth-grade student in Farmington Hills, Michigan to not stand during the Pledge of Allegiance has led to an assault by a teacher. Stone Chaney started classes at East Middle School recently and told the tale of a teacher who took his personal protest against the flag personally. According to Chaney, the teacher assaulted him when he did not stand for the pledge.
He stated to media outlet Local 4 News in Detroit, "The teacher consultant comes up behind me and snatches me out of my chair violently … I was so confused. I didn't know what was going on."
The next day when he once again chose not to stand, another teacher yelled at him regarding his decision. His parents were justifiably outraged and complained directly to the school board about the assault against their son. His father has stated that he did not force his son to make a decision to stand or not to stand for the Pledge of Allegiance; that was totally Stone's decision. Stone stated to media, "I don't stand because I don't pledge to a flag I pledge to God and family."
The incident occurred Sept. 7, 2017, and the school board has announced their decision in regards to the encounter. The Farmington Public Schools released a statement, which says in part, "The District fully supports the right of each student to participate or not in the daily Pledge. The teacher allegedly involved in the incident has been placed on administrative leave. At this time, the District cannot speculate about the outcome of the pending investigation."
At this time, Chaney and his parents stated they do not know if he will return back to that school. The student has said he does not feel safe and does not know what will happen to him next by school officials. The parents are currently exploring options they have in regards to their son's Constitutional right of freedom of speech being violated.