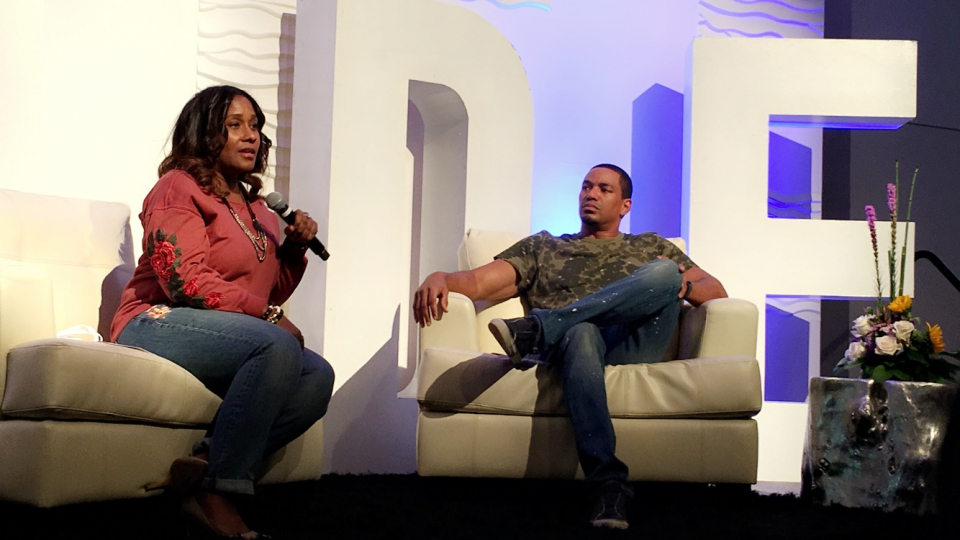 The RIDE inaugural conference came to a close with an acting class hosted by actor Laz Alonso and actress-acting coach Lalanya Masters of AOA Studios. The weekend event attracted attendees interested in tech, thought leadership, entertainment and business. This workshop attracted aspiring actors just getting started in the industry.
Alonso and Masters started the workshop by sharing their past experiences as upcoming actors. The audience engaged as they both told stories of setbacks that inspired them to keep going.
"I remember my first performance. I was such a nervous wreck and I knew I just didn't bring it. It seemed like everybody had brought it except me. I knew I didn't do well … I remember I called Lalanya and she was like the 'Laz whisperer,' and she talked some wisdom into me," Alonso said.
Masters shared her experience filming her first love scene in a movie. Surprisingly, it was with Laz Alonso. She remembered feeling awkward and uncomfortable because they were friends. She explained how Laz comforted her and became the "Lalanya whisperer" as she called it. They both explained how as an actor you must take yourself out of the character and become the character. "It's a process of liberation and learning is important," Masters said.
"What the rest of the world goes to therapy to heal from, as artists we have to be able to tap into that in order to give a real authentic performance. You have to go places that at times can be very painful, for the purpose of serving the character. We are a vehicle in order to play the truth of this character in the moment of this character's life so well that you really believe it's really happening. So when the the character is played, you do not see us," Alonso said.
The acting business
The two successful actors shifted the workshop into a question and answer portion. Both panelists answered questions about the business portion of the acting industry in terms of casting actors for roles.
"I don't believe in sitting at a studio and wasting time and money. If that acting studio is asking for money, do not waste your time unless that studio has a casting director, a producer, director, an acting coach, and more," Masters said.
Impact of the workshop
The workshop was designed to last for two hours, but instead went over the time allotted. Laz and Lalanya were able to work with some aspiring actors and give them personal feedback. Many attendees left with a better perspective of what it takes to be an actor.
"This is our craft, this is our job, and this is what we love. Always bring your best foot forward and leave the drama at the door. You don't steal, as an actor you give. Acting is a community; we all have to shine," Alonso said.
For more, visit ride.rollingout.com