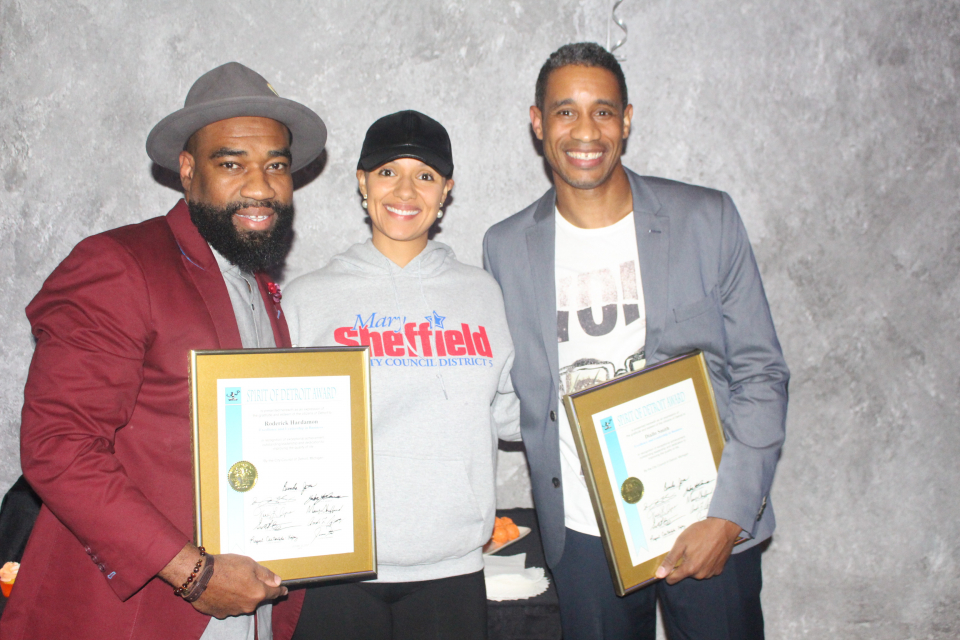 DRIVE 2.0, a Detroit table tennis social club is aiding Detroit's revitalization with the grand reopening of its hit fusion of "table tennis meets nightlife." DRIVE owners Diallo Smith and Roderick Hardamon started DRIVE back in 2012 with the purpose of creating a partnership between the city they love and Detroiters who love to socialize, laugh, help their communities and, of course, play the classic game of ping pong. The first and only of its kind in Michigan, DRIVE opened its doors at its current location on the ground floor of the famed Penobscot Building in downtown Detroit in 2014. It has since become a local favorite among everyday Detroiters, hipsters, Lions and Pistons alums. Pistons great Derrick "DC" Coleman is a huge fan of the hip gaming spot.
Smith and Hardamon kicked off the three-part celebration with a friends and family night on Sept. 29, followed by a corporate client preview before the official grand reopening on Wednesday, Oct. 11. According to Crain Detroit, Hardamon and Smith pumped approximately $200K into renovations to add additional seating in the bar and dining area, a larger, repurposed bar, a floating DJ booth, updated lounge seating, vibrant lighting and private suites in varying sizes to accommodate large as well as small parties, giving the 4,000-square-foot venue a more upscale feel. The swanky renovations also include a revamped food and beverage menu featuring local craft beers from Griffin Claw Brewing Co., Motor City Brewing Works and Dragonmead Microbrewery.
"We are excited about DRIVE's grand reopening," Smith stated. "Downtown is growing and we wanted to provide our returning and new customers with a great atmosphere, great food, and great fun. DRIVE creates a unique, cool vibe where people can enjoy themselves with a healthy dose of competition."
A street performance by the Cass Technical High School marching band welcomed guests to the grand reopening festivities in grand style despite the rain. Custom cocktails sponsored by Tito's Vodka kept the party going until 10 p.m. World-renowned table tennis stars were on hand to show off how champion table tennis is played and to challenge attendees to a friendly game of ping pong. City officials, Detroit business owners, and DRIVE supporters took in the revamped social club with yummy treats and sounds by resident Drive DJ, DJ Boog.  It certainly was a night to remember, yet these two native Detroiters are not finished. They have already set their sights on expansion with other locations in metro Detroit in the crosshairs.
"We have lots of opportunities. Midtown is hot on our list. We're looking at the Ferndale, Royal Oak area as well," Hardamon revealed. "In the long term, I'd love to open up on the Livernois corridor [between 6 Mile Rd and 7 Mile Rd] as Livernois develops. Ultimately, we want to surround the college towns so we plan on expanding to Ann Arbor, Ypsilanti, East Lansing and Grand Rapids where there is that existence of young, vibrant activity."
With a successful relaunch under their belts and DRIVE's undisputable universal appeal, the sky seems to be the limit for hometown heroes, Diallo Smith and Roderick Hardamon.
To learn more about hosting your next party, corporate event or fundraiser at Drive Table Tennis Social Club,  please visit www.drive-detroit.com or follow them on Twitter and Facebook at @drivepingpong.