DeVon Franklin is a ball of positivity. Every handshake, hug and exchange — both with old friends and complete strangers — comes across as unmistakably authentic. But that's just who he is: a really good dude, who doubles as a Hollywood executive.
During a recent interview with rolling out, Franklin shared some of the insights that have transformed him into a solid and growing motivational force in Hollywood. His truths are real, inspiring, and exclusively ours.
What was the inspiration behind your new book, The Hollywood Commandments?
I wanted to write The Hollywood Commandments: A Spiritual Guide to Secular Success as a manual, a how-to. Everyone wants to talk about why you should do something, or what you should do, but there are very few people that will teach you how to do it. I've been in Hollywood for 20 years, and I've been able to find incredible success, but it's been a result of committing to the process, owning who I am, owning my faith, and every day getting up and doing the work. So many people come to me and ask how to become successful, so I wanted to write what I've learned over the 20 years that I've worked in Hollywood and put it in the form of 10 life-changing commandments that anyone, in any industry can read and apply to become successful.
What has the response been, so far?
The response has been amazing. What's interesting is the title itself, because it's led people on social media to hit me up saying, "DeVon you're going too far. There's only one set of commandments." I then explain to them that The Hollywood Commandments is a combination of the sacred, the spiritual, and the secular, and I wanted to write a book on how to do it. The response has been incredible to the point where people from all over the world are buying it; I recently just had someone from France let me know how much the book has blessed them. One thing I'd like to point out is that I do believe this generation is hungry for knowledge, hungry to learn how to do it, and hungry to live out their dreams … I do think that The Hollywood Commandments bridges the gap for them.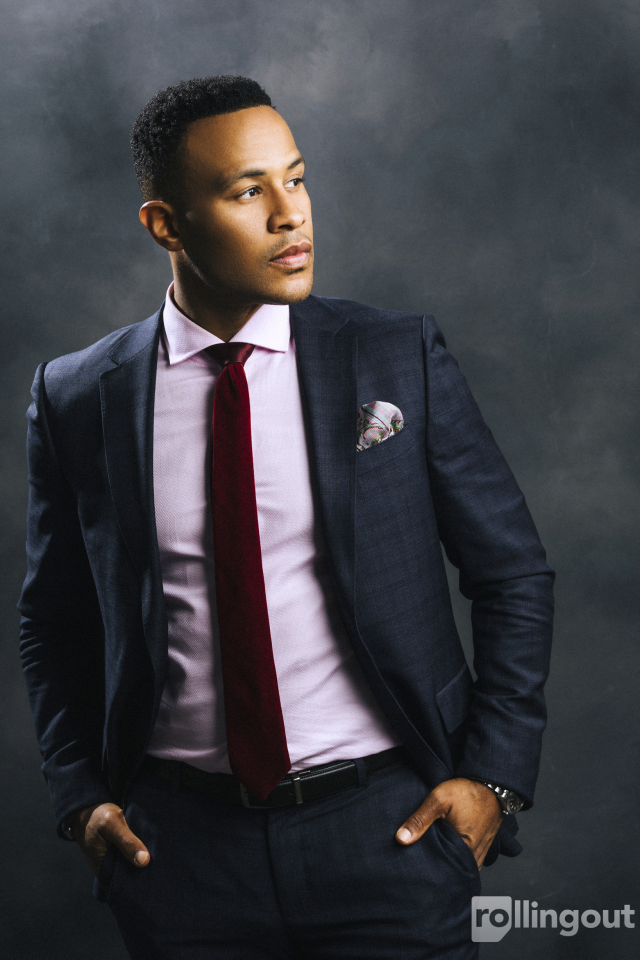 What was it like for you when you first stepped into Hollywood? Were there growing pains during your journey?
Yes, of course. I started at the age of 18. I went to the University of Southern California. I majored in business, and I minored in film. That very first semester I went into an interview for an internship at the management company that managed Will Smith, and I was so excited because I had dreams of working in Hollywood, and this was my first opportunity of getting the chance to do just that. So, there I was in the interview, and she asked me a question. She asked me, "Why do you want to be in entertainment?" I said, well I want to make a change. I want to change the world. I believe that entertainment is one of the most powerful mediums in the world, and if I can be a part of it, I believe I can change people's lives for the better. By the end of the interview, she asked me if there was anything else that I wanted her to know. In that moment, I felt compelled to tell her about my Sabbath commitment. Here I am about to get my foot in the door of Hollywood, yet I'm compelled to not just go through the door in any condition. I'm compelled to evaluate the door and see if the door can fit with who I am and what I believe. I explained to her that Friday night sundown, to Saturday night sundown I cannot work, so if you need me to work during those times, I can't take the job. She was quiet for a moment, then she said they can work around my schedule, offered me the job. Too often, we believe that compromise is the admission price. I didn't believe that I had to compromise who I was. As a matter of fact, I was trying to own who I was, to find out if God was in it. I didn't have a hunger for Hollywood that was greater than my hunger for his will. I do believe that when others are trying to navigate the ins and outs … [they] must identify the admission price. I can tell you, it's hard work, sacrifice, committing to the process, patience, and if there's any job that tells you they cannot hire you because of who you are, then I caution that person not to take the job. I don't believe that there is any industry on this Earth you have to compromise to get into it. If God has called you to it, he will make a way, and the way to get it is to own who you are.
"You may not be where you want to be, but you're farther than where you used to be."
You said that you were just an 18-year-old wanting to make a change. Has your definition of change evolved over time?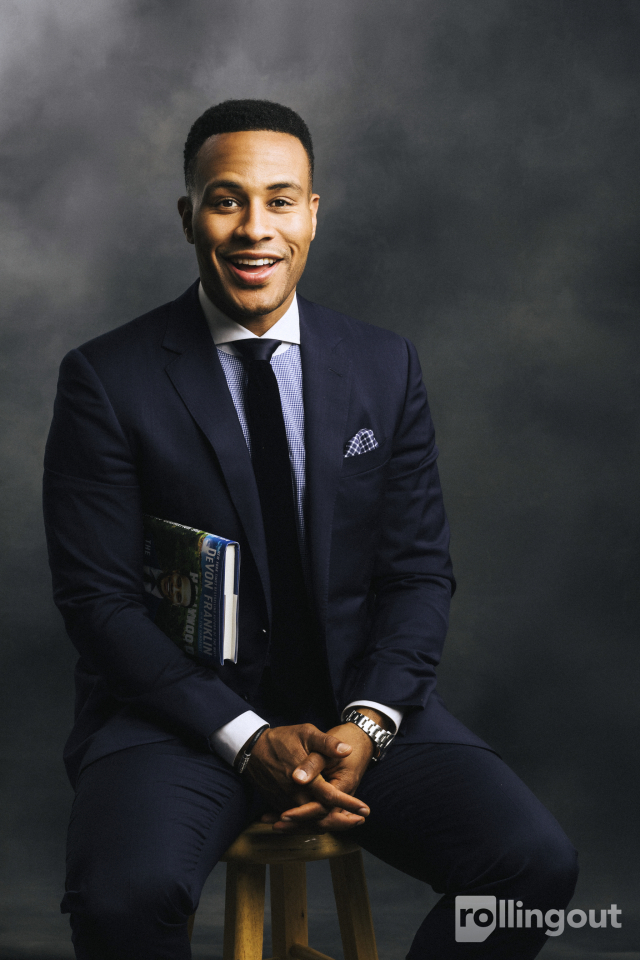 Yes. Oprah talks about the power of intention, and even before I knew that was one of her teachings, it was really something that I was practicing. Going back to that question of why did I want to be in entertainment, it's so important for people in any industry to know why they want to do what they're pursuing. What is your why? If you don't know the why, then you'll compromise the how. As I began [to] pursue my why, it helped me navigate the projects I would be involved in. As I got deeper into my purpose, that hasn't changed; it's gotten clearer. Now as a producer running my own company, I have people always bringing me ideas for projects, but because I know my purpose, I'm able to identify what I need to focus on, and what I need to say no to. Our no is as powerful as our yes. That power of intention has helped me navigate the business, but it's also helped me create a strong identity for people to know what to bring me.
How did you push yourself past those low moments where you felt like things weren't moving at the pace you wanted it to? Did you ever feel like Hollywood didn't get you?
No. It had nothing to do with Hollywood not getting me. That was never the case, it was just I wanted something that I wasn't ready for. So, my faith was strong, yet I had to go through a process to be ready to achieve it. In those moments when I wanted to quit, it was frustrating, because I had a dream and I wanted it. We always have a barometer of how ready we are, and how ready we're not. We have a pure intention of wanting it, yet the process is telling us that we're not ready, or maybe there's something we're not doing that is keeping our dreams from manifesting. I'll never forget being in the offices at my job crying and doubting myself, and God said, "Look around you. You're in the right place. You're learning. You may not be where you want to be, but you're farther than where you used to be. So yes, I'm not allowing the blessing of your future to be released yet because there's still more work that you have to do. So dust yourself off and look at the work that is around you that you can do right now. All your tears and all your frustration is blocking your blessings." In those moments hearing God, it helped me get out of those emotions and get back to the work. In doing that, it ultimately helped bring the very things I was praying for.
If God has called you to it, He will make a way, and the way to get it, is to own who you are.
Tell us about your current project outside of the book.
Yes, my current project and next movie is called The Star. It's the story of the first Christmas from the animals' point of view. It'll be in theaters everywhere on Nov. 17. It's the first animated movie of faith since the Prince of Egypt, which was almost 20 years ago. We have Oprah, Tyler Perry, Tracy Morgan, Anthony Anderson, the list goes on. Mariah Carey just did the lead song, which will give you goosebumps; Fifth Harmony did a song, Kirk Franklin, we have some of the biggest stars in entertainment that have come together to tell this story. My prayer is that this is the inspirational event of the holiday season that reminds us all of the real reason for Christmas.
What advice would you give someone who wants to be a good person, but may not have your same level of faith?
I would encourage that person to stop and do a personal inventory. Look in the mirror and ask yourself, "Do you like what you see?" Put yourself in a process where you begin to write down what you're good at, list your passions, and as you begin to start this personal inventor,y you're going to start to see commonalities. I would also encourage that person to get off social media for a while. Too often we look at other people's lives and it becomes a distraction. Do some internal work, and I guarantee you, you will find many things you've been looking for the whole time; you just needed to start looking for them.