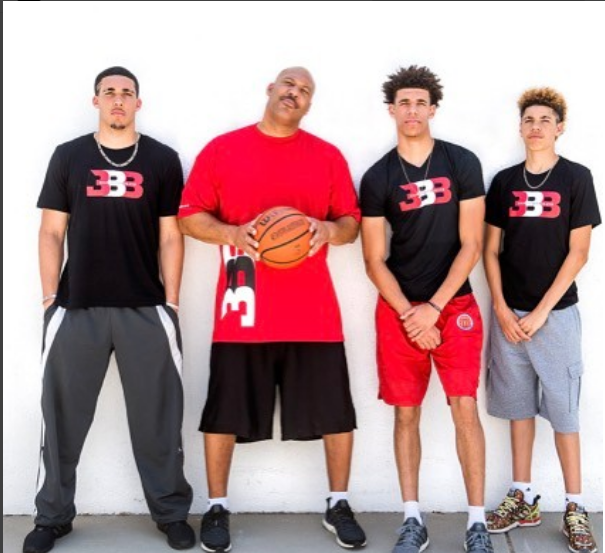 The bold and bombastic Lavar Ball has uttered some crazy and controversial statements in the past year or so regarding his prodigiously talented basketball-playing sons. But this latest occasion of audaciously dismissing President Donald Trump may prove to be one of the most outlandish – and problematic – that he has made to date.
As we've previously reported, Ball's son, UCLA freshmen LiAngelo Ball, and two teammates (Cody Riley and Jalen Hill) created an international incident when they were arrested in China on suspicion of shoplifting high-end sunglasses from elite stores. The trio of alleged thieves were nevertheless allowed to leave the country and landed back in Los Angeles, where they addressed the media the following day before being indefinitely suspended by the team.
Trump returned on Tuesday from a trip throughout Asia, and claims he raised their case with China President Xi Jinping during a visit to Beijing last week. Trump was just being himself when he hopped onto Twitter to wonder aloud when and if the three wayward players would thank him for getting them out of the precarious predicament they were in.
When Lavar Ball was asked about the POTUS' involvement in getting his son released, he responded to ESPN saying, "Who?" Father Ball added, "What was he over there for? Don't tell me nothing. Everybody wants to make it seem like he helped me out."
Not only did Ball downplay Trump's role in the entire situation, but he's also staying strong in defending his son for his actions, as well.
The patriarch barked angrily into the microphone, saying, "As long as my boy's back here, I'm fine. I'm happy with how things were handled. A lot of people like to say a lot of things that they thought happened over there. Like I told him, 'They try to make a big deal out of nothing sometimes.' I'm from L.A. I've seen a lot worse things happen than a guy taking some glasses. My son has built up enough character that one bad decision doesn't define him. Now if you can go back and say when he was 12 years old he was shoplifting and stealing cars and going wild, then that's a different thing."
Regardless of how one feels about Trump and his philosophy and policies, Trump obviously played a large role in getting the players freed from confinement (if you call being detained at a seaside resort hotel as "confinement"), escape the communist country's legal system and return to L.A. Was it wise to dismiss the president so flagrantly? Or did Trump overplay his importance in the matter, which he has done more than once in the past?