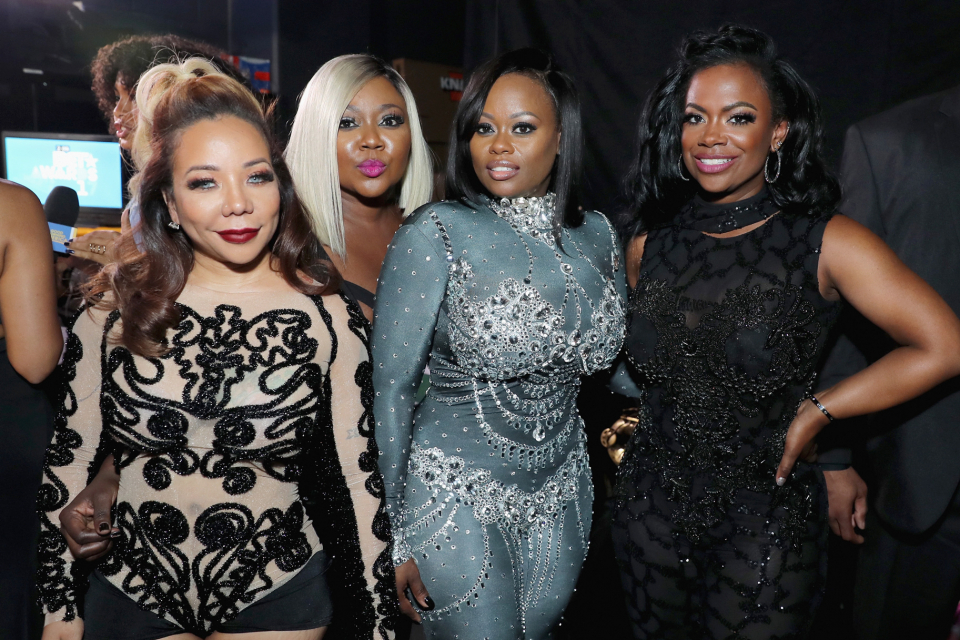 After settling differences with former Xscape front man, Jermaine Dupri, the ladies prepare for their follow up performance to the 2017 BET Awards. They've been invited to do a one-hour set at the 2017 Essence Fest as a headlining act, which is sure to take their talents to the next level, as this will be the first of its kind. Meanwhile, Kandi is hesitant about being a part of the group. The goal is to see how well the remaining performances go and make her final decision from there. Here are the top four moments from the season finale of "Xscape Still Kickin' It."
Tiny regains her confidence
Although the 2017 BET Awards performance was a success, Tiny was still disappointed that her husband was not able to make her first show after 18 years. Although she filed for divorce from TI, she tries hard to not let it affect her because she is ready to get back to herself and her identity as a woman. She is determined to continue to pursue her dreams through being in the group. She is ready to step back out into the world as Tiny of Xscape and be the woman she was meant to be.
Latocha tries to find forgiveness
While in rehearsal for the Essence Festival performance, a man from the past pops in the studio for a visit. Latocha attempts to make amends with former group manager Michal Maulding, who also happens to be Jermaine Dupri's father. He was the head of her solo career but disappeared after owing a large sum of money to the record label. His apology seemed to fall on deaf ears because it also included a business proposal. Latocha is defensive and doesn't feel that his apology was sincere enough after 20 years of leaving her hanging with an incomplete solo album and $300K bill from an unfulfilled budget.
The 2017 Essence Fest performance
If you've ever had the opportunity to go to the Essence Festival, then you know it is all the way turned up, as ESSENCE shows out every year with the hottest live acts Fourth of July weekend in New Orleans. Although a great opportunity, questions arise when Xscape is assigned to a "super lounge" instead of the main stage. The super lounges usually host around four to five thousand people—that's good, right? Wrong. The super lounge was honestly too small for the talented songstresses. Fans overflowed the room and proved that these legendary ladies belonged on the main stage, as the crowd response was overwhelming.
The Detroit Show
No worries about the few hiccups at Essence Fest, because the following night the legendary R&B powerhouse Xscape sold out back to back shows at Chene Park, one of the largest venues in Detroit. Delivering all their greatest hits, as well as surprise duo performances alongside Karen Clark Sheard, gave their fans something to remember and be a part of true history. Tiny's husband, rapper TI, even dropped in and surprised her to finally show her the support she deserves. Last but not least, Tomika's live, emotional public apology on stage in front of all the fans to Kandi closed out the show with a bang. Tomika's sincere, heartfelt words open the doors to healing for the group and finally allows them to move forward.