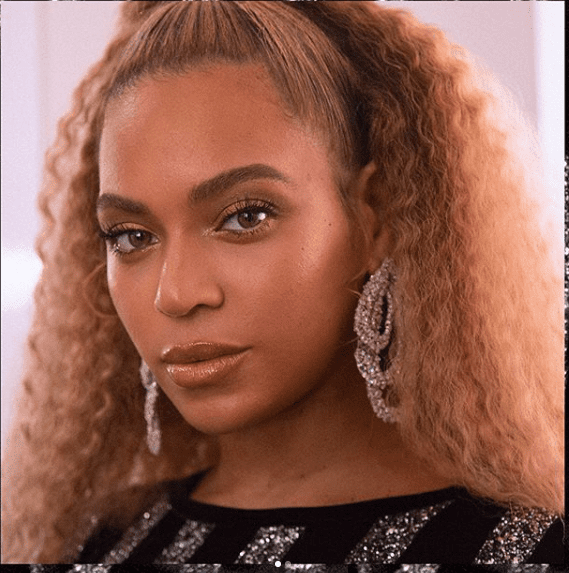 The Queen Bey made a surprise appearance to present the Sports Illustrated Muhammad Ali Legacy Award award to activist and NFL quarterback Colin Kaepernick.
As she always does in her public appearances, Beyoncé killed the game with the look of a formidable femme fatale who was fit and flawless in a body-hugging minidress. 
We recall Queen Bey doing the big chop of her tresses back in 2013, opting for a shorter pixie cut. Since then, we've seen the mother of three floss with a multiplicity of lace front wigs – both on stage and on her plethora of date nights with husband JAY-Z. Now, it appears Beyoncé is opting to go au naturale, and her fans are fawning over the music maven's mane.
Beyoncé's hairstylist, Neal Farinah, popped up on Instagram on this weekend to share photos of his ultra-famous client showcasing her natural look backstage at the Sports Illustrated event on Tuesday.  
One fan, Siyeoforite wrote: She's really natural hair goals… Issa Creole ting!
Beyoncé is not her hair, but it's nice to see her whip it.
One person said that technically Beyonce is wearing her own natural curls because she paid for the weave or the extensions that she had on at the event.
A handful of members of the Bey Hive came out to support their idol by saying that even if she is wearing extensions, the front is her natural hair and she should, therefore, be left alone.
Here are a few of the comments that made headlines on the subject.
A supporter shared: "I can't deal with people! All these beautiful black women are running around here with long beautiful natural hair, and you are shocked about Beyonce. You don't remember when she did the big chop?? Her curls then were the same. And her mom has the same curl pattern. We have to do better! Give her hair props and keep it pushing."
Another claimed: "LMAO, pretty much but it's not a big deal because she looks bomb per usual. But you can clearly see there are a few pieces added which is okay! Making a statement doesn't make you a hater."
How do you feel about the Queen Bey rocking the natural look? Do you like it?