Our favorite "auntie," Congresswoman Maxine Waters, unloaded on Donald Trump like Arnold Schwarzenegger on the cops in one of those 
Terminator
flicks. As soon as it was clear that Trump's alleged pedophile candidate,
Roy Moore
, was going down in ignominy, Waters dashed to her Twitter account and practically proclaimed a national holiday.
How many diet cokes did Trump consume while he gulped and waited for the defeat of his pedophile candidate?? #swishswish

— Maxine Waters (@RepMaxineWaters) December 13, 2017
Fox News, why are you so damn quiet now? Knowing everything, lying on everybody, bullying everybody, claiming to be holy, righteous and loving America more than anybody else. Speak up now – admit you just got your butt kicked royally and MORE to come.

— Maxine Waters (@RepMaxineWaters) December 13, 2017
We usually frown on people gloating and boasting after great victory, like we do when a person dunks on his opponent and then stands over him, but we happily encourage Waters to bathe in this euphoric feeling of trampling all over The Donald and his kook cronies. Hopefully, she will break out in a dance on national TV.
Social media also got lathered up in the victory, spraying figurative victory champagne all over the political landscape after Trump stumped hard for his pervert candidate and then had to languish in the White House like rotting milk and watch his boy lose to the left-wing equality crusader Doug Jones. He becomes the first Democrat to win a Senate seat from the great state of Alabama in 25 years.
Take a look at some of the funniest memes and tweets destroying what's left of the Roy Moore legacy … and the Donald Trump administration.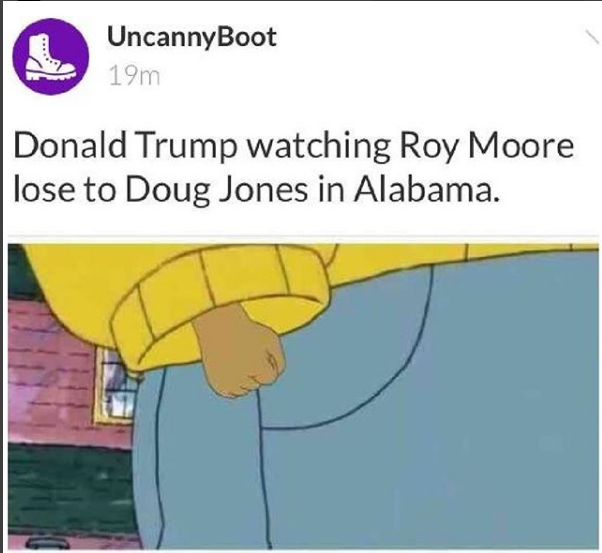 Black women when they left the voting booths in Alabama: pic.twitter.com/pOHefqxAh

— Morgan Jerkins (@MorganJerkins) December 13, 2017
Roy Moore has lost, but he's refusing to concede the race. He says he likes his chances because they're minor.

— Palmer Report (@PalmerReport) December 13, 2017
I'm so happy he rode that stupid horse because now you can literally say: "Fuck you and the horse you rode in on." #RoyMoore #SassyDidNothingWrong

— GHOST+COW FILMS (@GHOSTCOWFILMS) December 13, 2017
Truly, truly, truly, he would've gotten away with it if it hadn't been for those meddling kids https://t.co/iS0zSYYGfX

— Drew Magary (@drewmagary) December 13, 2017
"#RoyMoore wants to do the recount himself, but when he gets to 14 he stops" @HuggyLowdownDC #SweetHomeAlabama 😂😂😂😂

— Jelani Williams (@jelani82) December 13, 2017
Roy Moore bout to pull up to Board of Elections office like this pic.twitter.com/xFccmDNgC9

— … (@CSAviate) December 13, 2017
This tweet's so childish Roy Moore's bout to ask it out. https://t.co/IA6mRY9imF

— Jesse McLaren (@McJesse) December 13, 2017
It's Doug Jizzle from the bottom of the map, I win while my opponent chase ya daughter with them snacks, ayeeee…"

— Jason, Jah, Leezy (@HipHopObama) December 13, 2017
Roy Moore won't concede; says will wait on God to speak. God wasn't registered to vote in AL but the ppl who voted did speak and it wasn't close enough for recount. In elections everyone does NOT get a trophy. I know first hand but it's best to exit with class.

— Gov. Mike Huckabee (@GovMikeHuckabee) December 13, 2017
Looks like Roy Moore has lost this election but is unwilling to concede. How terrible for something to happen to him without his consent.

— erin 🎶gloria🎄 ryan (@morninggloria) December 13, 2017
Let this sink in – Jefferson Beauregard Sessions' Senate seat was taken by a civil rights lawyer who convicted Klansmen. Justice is sweet.

— Lily Adams (@adamslily) December 13, 2017
The reason I originally endorsed Luther Strange (and his numbers went up mightily), is that I said Roy Moore will not be able to win the General Election. I was right! Roy worked hard but the deck was stacked against him!

— Donald J. Trump (@realDonaldTrump) December 13, 2017