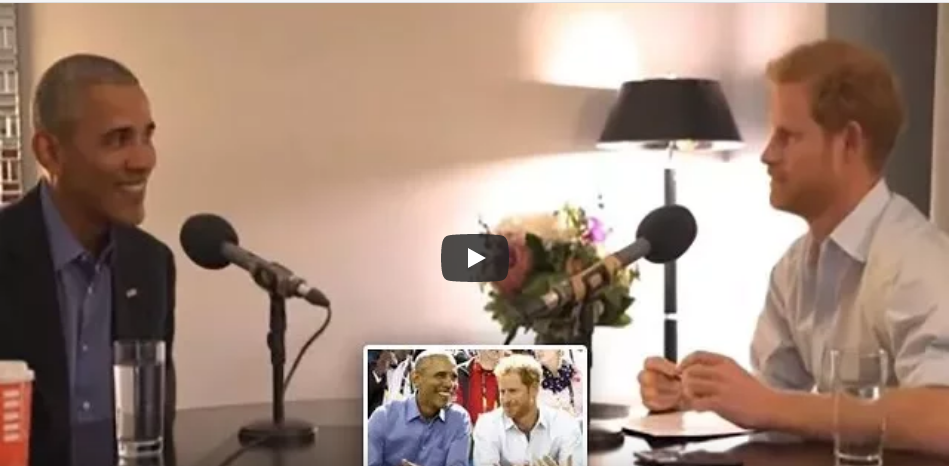 TORONTO — This is the episode of politics where "Harry Met Barry" — the meeting of two cultural titans for a rare, exclusive interview. 
Former President Barack Obama, who used to go by the nickname "Barry" during his Ivy League school years, sat down for an exclusive interview by Prince Harry for BBC. The interview recorded at September's Invictus Games in Toronto will be broadcast on BBC Radio 4 on Dec. 27, the media reports. 
In a teaser released Sunday, the two traded quips while Prince Harry explained his editorial process, USA Today reports. 
The interview is for BBC Radio 4's "Today" and before they got started, Obama openly mocked himself for being a slow, painstakingly deliberate speaker. He offered to use a British accent if it would help, but Harry threatened to give him "the face."
After Harry displays a mock-stern face, Obama grins before responding, "I don't want to see that face."
Kensington Palace said the conversation focuses on the pair's "shared interest in building platforms for the next generation of young leaders."
Obama talked to Harry about his memories of leaving office and ventured into his post-presidential work with the Obama Foundation, according to the palace.
You can tell the Prince was very nervous — he conducted the interview as part of a guest editorship with the BBC.
The disarming and charismatic Obama quickly reassured Harry and that was by offering to flip the script: he would offer to interview Prince Harry. Harry declined. 
The Prince and former president have been friends for several years. They were captured on camera laughing during this year's Invictus Games in Canada. Harry, a military veteran, founded the event three years ago. Before Toronto, previous Games were held in London and Orlando, Florida.
Last year, Obama and his wife, Michelle, poked jokingly at Harry and his English competitors "to bring it" ahead of the event in Orlando. Harry enlisted his grandmother, the Queen, for his comical response. 
Since Obama left the Oval Office, he has met Harry a number of times including stopping into Kensington Palace in May while he was touring Europe. During that meeting, they discussed shared interests around veterans and empowering young people.
In addition to the December 27 broadcast, Kensington Palace said the interview will also be released as a podcast. Check out the preview: 
Here is a sneak preview of when @BarackObama met Prince Harry for the interview. Listen to the full interview on 27th December on @BBCr4today. pic.twitter.com/p5I1dUdyhx

— Kensington Palace (@KensingtonRoyal) December 17, 2017
The conversation with @BarackObama includes his memories of the day he left office and his hopes for his post-presidential life, including his plans to focus on cultivating the next generation of leadership through the @ObamaFoundation.

— Kensington Palace (@KensingtonRoyal) December 17, 2017
https://www.youtube.com/watch?v=xa2LxGIQ1DQ
Source: YouTube/Latest News