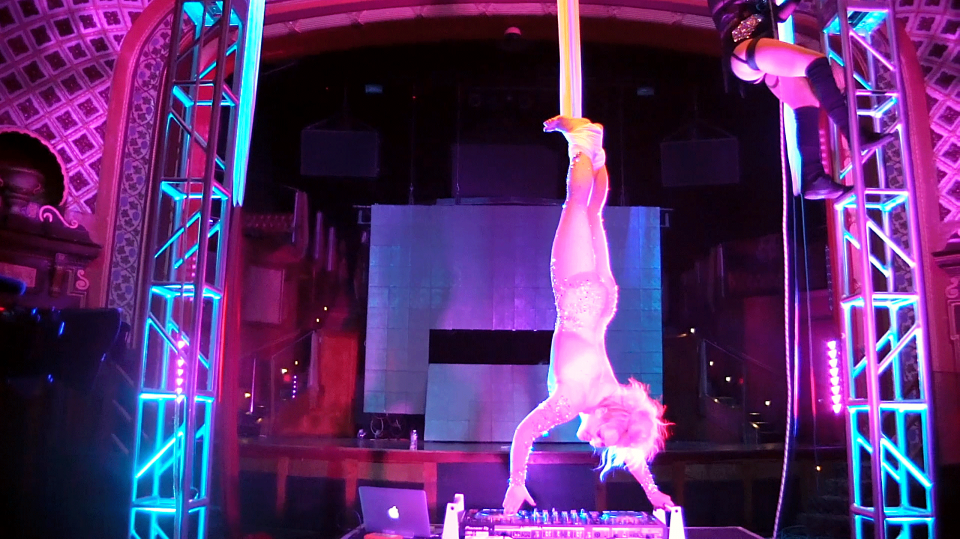 When having a night out at an event or club, there are a few things you expect: an inviting ambiance, good food, and of course, impeccable music to get you through the night. A DJ's song selection through their set can either make or break your night but DJ Mami Chula is taking her set to a new level.
Unlike any other, Mami Chula is an aerialist DJ that literally soars through her set. Not only does she get the nightclubs bumping, she also creates the perfect playlist for workouts with Fitness app Fit Radio.
Rolling out caught up with Mami Chula to discuss what it's like being a female DJ and how exactly did she come up with the idea to mix songs while hanging upside down.
How did you get into DJing?
I started in college. I went to the radio station [saw] the Technic 1200s and fell in love.
How long have you been DJing? How have you seen yourself evolve?
I have been DJing a long dang time, ten plus years. I started with "Hot 107.9" moved to "955 The Beat" then after they flipped the beat, I got hired with "Wild 105.7 & 96.7" and then that got flipped and I had a short stay at "Power 96.1." When I started at "955 The Beat" I became an open format DJ who plays everything, and I loved it. So when I need to cater to different crowds, I have the music catalog to DJ any party or event. I was getting bored with my DJ career, and I wanted to do something no other DJ has done so I created "Aerial DJing" Most people are like what does that mean.  I DJ upside down, and yes I am really mixing.  I have a full show that can be catered to any event with some amazing girls that are sexy and can go into beast mode. Oh, and aerial silks is what I mean by aerial DJing, its the same thing P!nk does in her show.
The DJ industry is male-dominated. What are some challenges you have overcome as a female DJ?
Over the years I get asked this question a lot and its the same since I started. Letting the guys and promoters know you don't have to have a penis to rock a crowd. But now honestly it's not just the male-dominated thing that you have to overcome, its the fake DJ you have to fight. I don't think this is as big in the Hip Hop world but in the open format and EDM, the fake DJs are everywhere. If you are a model or celebrity, you can get a job as a DJ.
How did you get the idea to connect DJing and health?
I work for Fit Radio that is an app that hosts workout mixes.  We are amazing, and I am addicted to working out with our app. We just added cardio coaching; we tell you when to up inclines, add speed and interval times. If you're looking for something to help you get started to get in shape you need this in your life!
What is your fitness regimen?
I have lost 10 pounds and can feel my body getting tone and firm in all the right places. I make sure I do Fit Radio cardio at least 3 to 4 times a week, and I will go to aerial practice 3 to 4 times a week as well, which is a lot of core and upper body strength.
How did you get into joining the aerial arts with your DJ set?
I really can't say I have always tried to come up with crazy things, but I really made this happen. I went to the intro class at Sky Gym and fell in love just like DJing, and I had to go thru a lot of things to figure out what would work and what didn't. When I got the first cheers and wow's, I knew I had something special.
Name your top three DJs you look to for inspiration.
Jazzy Jeff, DJ Khaled – He has heart and hustle, and DJ Craze.
What is your dream event you'd like to DJ for? 
I have a few- Putting these in the universe: All aerial DJing events. I will go on a world tour with a big artist. I want to do a full show in Vegas. I would love to do a 5 to 6 city tour in the biggest clubs. I want to DJ major corporate events for Apple, Coca-Cola, Mercedes Benz, and major sports events such as Superbowl, All-Star Weekend, etc. Last but not least, I want to go on Ellen and Jimmy Fallon show. My show is nothing like a regular DJ or aerialist show we use songs like Beyonce formation, Ginuwine Pony, Sorry Not Sorry Demi Lovato, and we are adding the best of 70's, 80's and 90's show. So In my head booking us is a no-brainer if you want something unique and fun.
What are some of your biggest accomplishments, thus far?
Well, I have had a great career and have gotten to DJ with some amazing artist like Ciara, The Game, Jagged Edge, and tour with Snoop Dogg. I was blessed with my own mix show Monday – Friday on Wild 105.7 & 96.7, and I had the freedom to play anything I wanted. And now I'm creating something no one has ever done, and I am so proud of that.
What do you have planned for 2018?
I am working my butt off in 2018 to grow my show and get it all over the world. I also am super excited about creating a new DJ Duo with DJ Speedy. He is an amazing producer, and we are going to go hard this year with new music and shows.  I want to get my body and mind physically strong and really try to push the limits. Okay, so I recently started doing my booty workouts, so I really want to see if this will help me get a bubble butt in 2018.