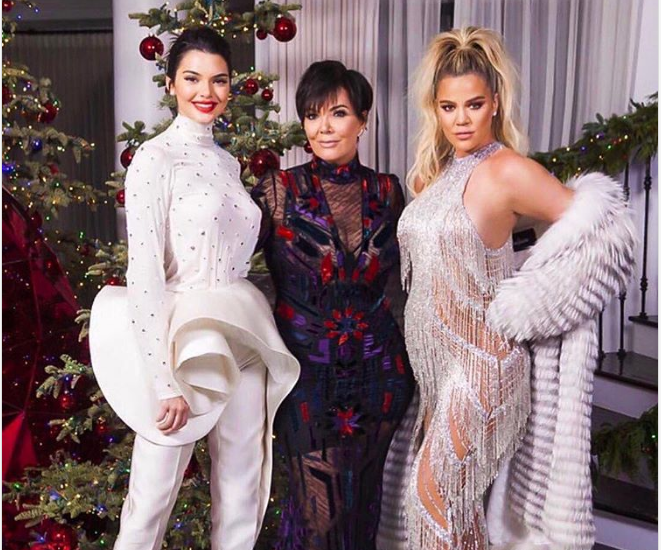 There had been an unofficial search party for the whereabouts of the very pregnant Kylie Jenner and Khloe Kardashian in recent months, and why they had not participated in the family Christmas celebrations, including the holiday photo shoots.
According to reports, Jenner was at the Kardashian Christmas Day party and confirmed in Khloe Kardashian's snap story. She is still hiding her bump in photos and videos posted about the gathering. 
Though she used to be ubiquitous on social media, Jenner, 20, has kept a very low profile since news hit that she was expecting a baby with boyfriend, rapper Travis Scott.
While the other four ladies and their mom, Kris Jenner, were all over Kim and Khloe Kardashian's Snapchats during the family's lavish Christmas Eve party, Kylie Jenner wasn't seen, leaving fans wondering if she attended at all.
Sister Khloe Kardashian made sure to point that out while documenting their Christmas celebrations the next morning.
"People think you weren't there last night," Kardashian said to the camera after she and Kylie Jenner wished fans a merry Christmas.
"I was!" Kylie replied.
"She's a secret little bunny," Kardashian joked before blowing a kiss.
Obviously, Kardashian, 33, was given instructions on not capturing a full body image of Kylie Jenner. Kardashian filmed her from the chest up, so any signs of a baby bump on Kylie Jenner were obscured. 
Kardashian also filmed her other camera-shy sibling Rob Kardashian on Christmas morning, though he wasn't seen at the Sunday night soiree either. 
"Look at Kim (Kardashian) in the background stuffing her face!" Khloe Kardashian giggled while trying to take a selfie with her brother.
The whole clan was decked out in designer Christmas pajamas outfits, though Khloe Kardashian used a filter on all of her snaps that altered their voices — but the bunny ear jingle bell hats were pretty cute.
Kim Kardashian, Kendall Jenner and Kourtney Kardashian were also in the holiday mix, as were the littlest members of the family — Kim's kids, 4-year-old North and 2-year-old Saint, and Kourtney's children, 8-year-old Mason, 5-year-old Penelope and 3-year-old Reign, who all excitedly ran to the Christmas tree to open their presents.