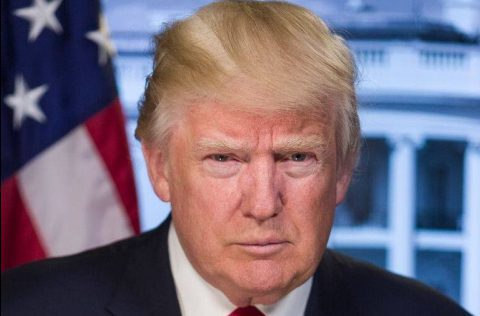 As his administration wraps up its first year, Donald Trump has been emboldened to speak more bluntly, and unabashedly racist, particularly when pontificating on his proposed immigration policy.
"What do we want Haitians here for?" the president asked, according to the people briefed, the New York Daily News reports. "Why do we want all these people from Africa here? Why do we want all these people from s—hole countries?"
Never mind the fact that Africa is not a country but the second largest continent in the world, Trump nevertheless made his feelings known concerning countries of color. 
The president then proffered a more homogeneous immigration policy: "We should have people from places like Norway," Trump said.
When the White House was questioned about Trump's words, they did not try to deny it, but just said Trump would "always fight for the American people."
Trump believes America should shift its immigration policy away from poorer, developing countries, and instead import educated immigrants, especially from Europe, who speak English and have professional or technical skills needed in the United States.
That Trump speaks so poorly of these countries demonstrates how difficult it will be for Congress to protect over 700K young immigrants when the Deferred Action for Childhood Arrivals (DACA) program ends in March — and ICE (Immigration and Customs Enforcement) agents start detaining folks by the hundreds. 
The White House will not considered including the Dream Act, which would expand the existing program, according to Sen. Tom Cotton, R-Arkansas. Instead, the administration is seeking to protect a more narrow universe of young immigrants who already have temporary DACA protections.
"I think we still have a ways to go," White House legislative director Marc Short said. "We're pleased the bipartisan members are talking."
A federal judge this week halted Trump's plans to end DACA, providing the immigrants with temporary relief. The administration plans to appeal, the New York Daily News reported.
More than 1K DACA recipients will face deportation every day beginning in March, anti-deportation activists state, according to the Daily News. Most are young immigrants who were brought to the United States illegally as children, but have temporary permits under DACA to work, attend school or serve in the military. 
The Senate group's proposal focused on the elements that had been agreed to during a meeting Trump convened with lawmakers earlier this week at the White House. Their proposal centered on a deal that would offer Dream Act-like deportation protections for the young immigrants in exchange for border security measures and new limits on legal immigration through family unification visas and the diversity lottery.
Cotton said the border security measures were insufficient, though, and only included one year of funding for development of Trump's proposed border wall, far short of the $18B the White House has requested from Congress. The proposal would have provided $1.6B for border security.