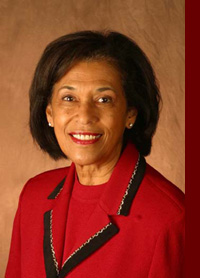 Mona Humphries Bailey, who served as the 17th national president (1979–1983) of Delta Sigma Theta Sorority, Inc. and the first Miss FAMU (prior they were Miss FAMC) passed away on Friday, January 12, 2018, "she passed away peacefully after a long illness," according to a statement issued by the Sorority.
BA Soror Mona Humphries Bailey our 17th National President pic.twitter.com/WdpnsAmJ

— Keshia Walker (@insightsKW) January 14, 2013
Bailey served in many positions in the field of education, including Deputy Superintendent of the Seattle Public Schools, Assistant State Superintendent of Public Instruction for the State of Washington, and as a faculty member at University of Washington and Seattle University. A chemist by profession, Bailey received a Bachelor of Science Degree in Chemistry from FAMU in 1954. She continued her education at Oregon State University where she earned a Master of Science in Science Education. Subsequent to that she pursued the Ph.D. Program in Educational Administration at the University of Washington.
She served as the Chair of the State Board for the Washington MESA Program (Mathematics, Engineering, Science, Achievement); a member of the several Boards including: Delta Research and Educational Foundation, Delta Sigma Theta Sorority, Inc., The National Network of Sacred Heart Schools, and the Forest Ridge School; and, an Associate of the Pacific Science Center Foundation. Her previous public service include serving on the National Board of TransAfrica; the Mary McLeod Bethune Memorial Museum Foundation; The American Civil Liberties Union National Advisory Committee; Washington State Vendor Rates Advisory Committee; the Washington State Crime and Delinquency Board; Seattle's University Preparatory Academy Board of Trustees; Women + Business Board of Directors; Pacific Science Center Board of Trustees; the City of Seattle Advisory Committee for the African American Heritage Museum; Board of Directors for the Washington Special Olympics; In Roads of Puget Sound; Mothers Against Violence; The Northwest Regional Laboratory's Advisory Committee on the Education Profession and Improving the Outcome of Schooling; and the Pacific Science Center Foundation Advisory Committee.
Bailey was honored by Delta Sigma Theta Sorority with the highest award bestowed upon its members, The Mary Church Terrell Award Bailey was selected and honored by Florida A and M University as one of the 100 most influential FAMUANS of the century (1999), one of 100 outstanding FAMUANS selected to receive the Centennial Medallion (1987) and received the Meritorious Achievement Award from Florida A&M University, the highest award bestowed by the University (1987), among a plethora of honors.
Bailey and her husband William Peter Bailey have two sons: Major Peter Govan Bailey, United States Air Force; and Christopher Evans Bailey; and twin grandsons, Tre and Taylor Bailey.