Tafari K. Stevenson-Howard is a Detroit area award-winning photographer with deep creative roots and a vision for the future. His impressive work has been seen in the New York Times as well as the Los Angeles Times, and recently all over Detroit, as he just debuted The Couch: Beautiful, An Exploration of Black Women.
As a natural artist, photography became an easily integrated component of his graphic arts background, allowing him to express himself creatively by producing a final product that goes beyond expectations.
While Stevenson-Howard's photographic work is diverse and heavily focused on kick-a** portraits, his passion lies in floral macros and his images represent hidden elements from his garden that easily go unseen by a first or second look.
Rolling out caught up with the profound photographer to find out what The Couch Beautiful series is all about, and to also see how he felt when the Shonda Rhimes shouted him out on social media for his brilliant work.
How did The Couch Beautiful series come about?
The Couch series was something that came out of nowhere. I didn't plan it. Wasn't thinking about it and to be honest, in 2017, I was severely depressed and out of love with my craft. Fast-forward, I shop when I'm blue and I had been looking at this same couch for a few years. I decided to bite the bullet and purchase sight unseen and tested. The couch that I ordered was burgundy, which was perfect! Almost one and a half months or so later, my new couch arrived in the evening and it looked great! The next day, Verlisa (my cousin) came over to see the couch and the first thing she said was "why do you have that pink a** couch!?" I looked over at it and strangely enough, the couch looked totally different than it did the night before. A totally different color. It was strange. I then asked her to sit on the couch for a photo and she did. Later, some more family came over and I took photos of them on the couch as well, then posted the images online (IG and FB). People started to react to the photos immediately.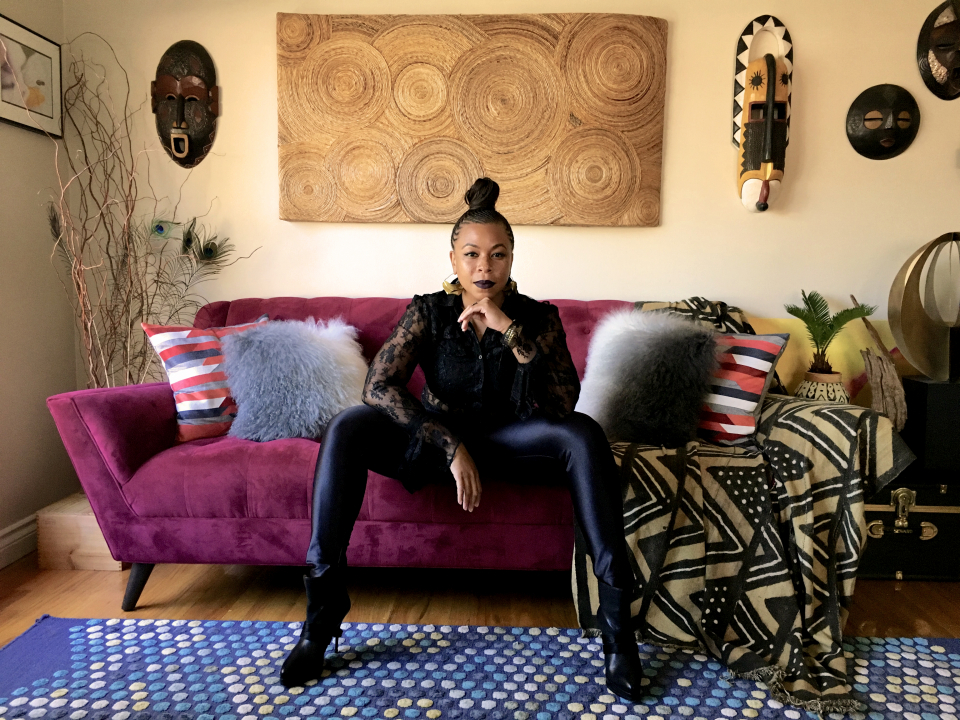 You just recently opened an exhibit that's curated by world-renowned artist Sydney James. The launch was held on Saturday, Feb. 10 at Brix Wine Bar in Detroit. Tell us about the event, the exhibit and how long people can view the exhibit.
Ohhhhh, the exhibit opening was one for the record books! Out of over 50 images of Black women from my series The Couch, Sydney James selected 15 images of the featured women to create The Couch: Beautiful, An Exploration of Black Women. The event kicked off at 6 p.m. with a private reception which was followed by an 8 p.m. opening. Approximately 200 guests came to Brix Wine & Charcuterie Boutique to view the exhibit, which is amazing considering the humongous snowfall we received in Detroit over [that] weekend. Art lovers were not stopped! Making the night more special was DJ Righteous Knowledge. He really set the party mood. People danced nonstop from 8 p.m. [to] 2 a.m., all while supporting my project. It was amazing and very Black, then it was very Black and sexy! The room was filled with love from some of Detroit's progressive tastemakers, art lovers, music lovers, lovers, and people who just appreciate beauty. I could not have asked for a better showing. The word is out on the streets. You can see the exhibit through April 2018.
You've profiled some influential women in the city of Detroit, how did you select your subjects?
I didn't have to look far. Everyone that I photographed is actually a good friend of mine. The entire body of work includes my friends who are Detroiters and Detroiters making a difference from those who provide funding for Detroit based initiatives to the Wayne County Prosecutors Office to Grammy-nominated artists. I'm pretty lucky to have so many wonderful people in my life; people who have helped me push the vision of this project.
Shonda Rhimes shouted you out on her social media. How did it feel being recognized by such a celebrity figure?
It felt amazing! I knew that the story on my project and exhibit would be the feature story but I didn't expect Shonda Rhimes to hit me up directly, but she did! When I got the notification, I thought it was a joke, to be honest, then I logged onto Twitter and it was indeed real! Then moments later, all of my social accounts were buzzing like I hit the Mega Millions jackpot. It was funny and needless to say, I got very little done that day! Too much excitement! But overall, it felt great to help shed the light on this project and specifically spread the message on how Black women in Detroit are making things happen for themselves and our community.
If you had your choice of all of the women in the world, who would you like to capture on the couch?
Detroit expat and ESPN personality, Jemele Hill. She's amazing, tough, and a fresh voice of change. When she announced on Twitter recently an initiative to get Detroit students to the theater to see Black Panther, I said to myself … "I love this woman!" She is leveraging her network for something good and fun. What about in the city of Detroit? Piper Carter! She's a force! She's grassroots. She fights for her community, for women, for music. I have always seen her as a creative agent of change and I appreciate her voice. And she's a bad photographer who [has] inspired me many years ago when I started my interest and career as a photographer.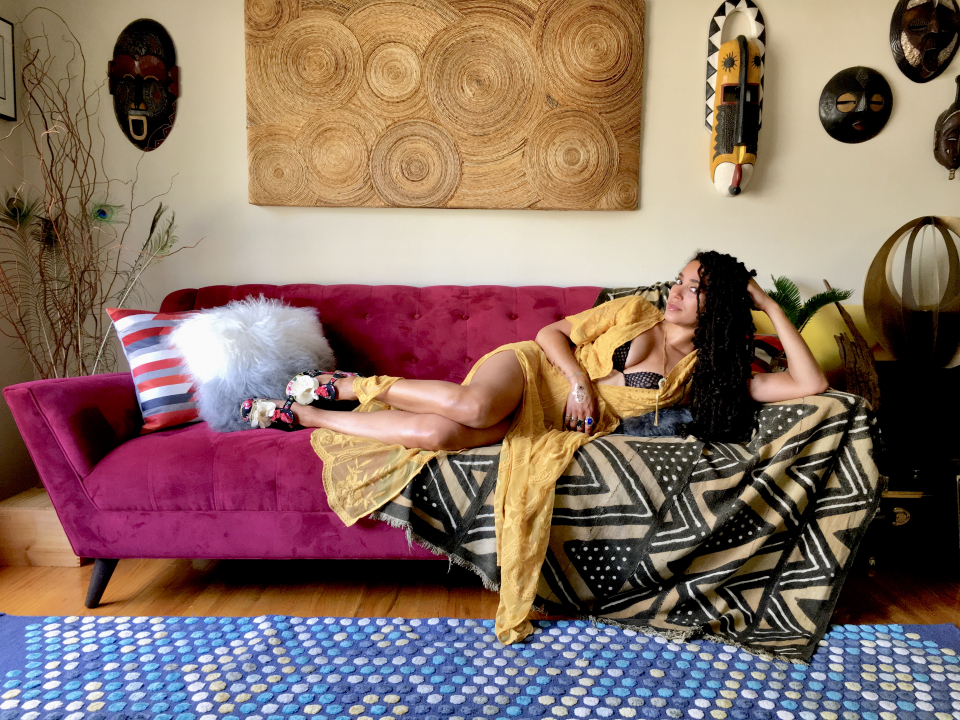 What color is the couch anyway?
Technically, the couch is "Bella Merlot" but you can see from the photos, it trends from fuchsia to some shade of dark red but … poet, Jessica Care Moore and visual artist Sabrina Nelson officially determined that the couch is Black. "It's so Black." According to Sabrina, "it's Blackity Black Black Black."
What's next for you and the couch series? A national tour maybe?
I do hope to travel with the exhibit and have my fingers crossed as we speak! Conversations are happening! Locally, I have two projects that will come to life spring 2018. The first will be a pop-up photography party called the Pop Up Powershoot. This will be my second time hosting the event here in Detroit. It's an event where participants can get headshots done with other professional services in a hot location with music, food, drink and some random surprises. My other project will be a nude portrait series, which no doubt will be quite provocative.
Where can our readers keep up with you and the couch on social media?
Check me out online at www.photographybytafari.com and Instagram @iamhuskybae.
Check out some of his dope work from the exhibit below.
Photo Gallery Credit: Tafari K. Stevenson-Howard