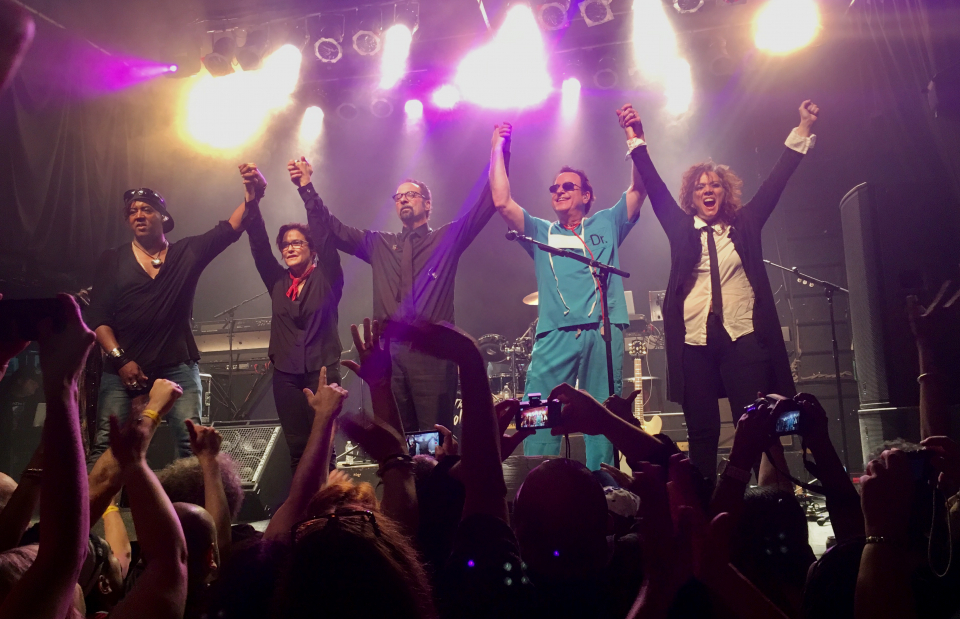 For Prince's former band The Revolution, their much-anticipated concert at The Tabernacle in Atlanta on Feb. 24 is both a homecoming celebration and closure for their loss of their leader.
The Grammy-winning, Diamond-certified quintet comprised of bassist BrownMark, keyboardists "Dr." Matt Fink and Lisa Coleman, guitarist Wendy Melvoin and drummer Bobby "Z." Rivkin intentionally curated a set list different from their previous live shows. Fans can expect to sing along to an extraordinary catalog of hits ("Let's Go Crazy," "1999," "Kiss" "Anotherloverholenyohead" and "Purple Rain") along with some B-sides ("Erotic City"), outtakes and rarities from the vault ("All Day All Night").
"We're sharing all of the energy that we gave back in the heyday and have an interaction with the audience to bring the music back to life," a hearty-voiced Rivkin said via phone.
Dr. Fink agrees. "Our goal is to give the fans a great show," the scrubs, sunglasses and labcoat-wearing instrumentalist said. "We've tweaked our set even further from what we did in 2017. We really wanted to get there [to Atlanta] sooner than what was planned."
The Revolution's current reunion came to fruition following The Purple One's untimely death on April 21, 2016. A week prior to Prince's passing, the multi-talented entertainer performed two memorable "Piano and a Microphone" shows at The Fox Theatre. Several attempts had been made since 2003 to reassemble the only band, BrownMark proclaims, Prince was a member of.
Prior to 2003, it had been 17 years since The Revolution played together. The ensemble players Prince originally envisioned and assembled in the early-1980s to be "a funkier version of Sly & the Family Stone and Fleetwood Mac" knew it was time to rejoin forces. The Revolution considers their initial three-show residency at First Avenue, the venue featured in the 1984 blockbuster hit "Purple Rain," in Minneapolis in September 2016, bittersweet.
"We'd get onstage, and we would be boohooing in the back because it's so surreal that he was gone," BrownMark, now a resident in Stockbridge, GA, said. "Every night we get up onstage, it was evident that we were healing more and more. We're not trying to replace anyone or anything; we just get up there, sing and have a good time doing what we know how to do."
Returning to Atlanta also reminds The Revolution of the moment they realized they were household names. When the "Purple Rain" tour came to what was then The Omni in 1985, the band minus Prince, their teased hairstyles and colorful stage costumes was chased around a shopping mall by euphoric fans. Not too far from The Revolution in the restaurant where they escaped for lunch was rock star Bruce Springsteen, inconspicuously dressed in a trenchcoat: dodging a mass of screaming fans, too.
"No matter how hard we tried, we still got recognized," Dr. Fink recalls. "That was an interesting moment for us on that tour."
Rivkin, who began performing with an unsigned Prince in 1976, reflects on how mesmerized audiences were to catch Prince live at both The Fox Theatre and The Omni at various points in his career. "Atlanta really helped Prince grow every step of the way," the drummer said. "It's fun to use all of these Prince sounds and bring it back to the people."
Despite tragic circumstances, playing together again onstage has reinvigorated The Revolution's chemistry. The band's stop through Atlanta will immerse the audience in a paisley-coated rock/funk/soul trip down memory lane mirroring the way the five-piece outfit remembers in the studio and onstage.
The music's thunderous, industrial-sounding Linn LM-1 drum cadences under slick guitar chops, grooving bass riffs and whirring Oberheim OB-X synthesizer keystrokes is the soundtrack to the generation mesmerized by the "Purple Rain," "Around the World in a Day," and "Parade: Music from Under the Cherry Moon" albums.
Though each member lives in various parts of America, The Revolution reiterates how the Atlanta show particularly resembles their jam sessions at the height of their success. "Everyone is going to be really pleased," a confident BrownMark says.
"It's gonna feel like you're in 1985-86. What we wanted to do [as The Revolution] is to show people what that sounds like. We went back and recreated what we'd done in the mid-'80s. We put together a set that has the same feel and energy."
Dr. Fink concludes and concurs. "We're doing this not only to let us heal from his passing but also for the fans. We're just going to continue to carry on his legacy because we can."
–christopher daniel