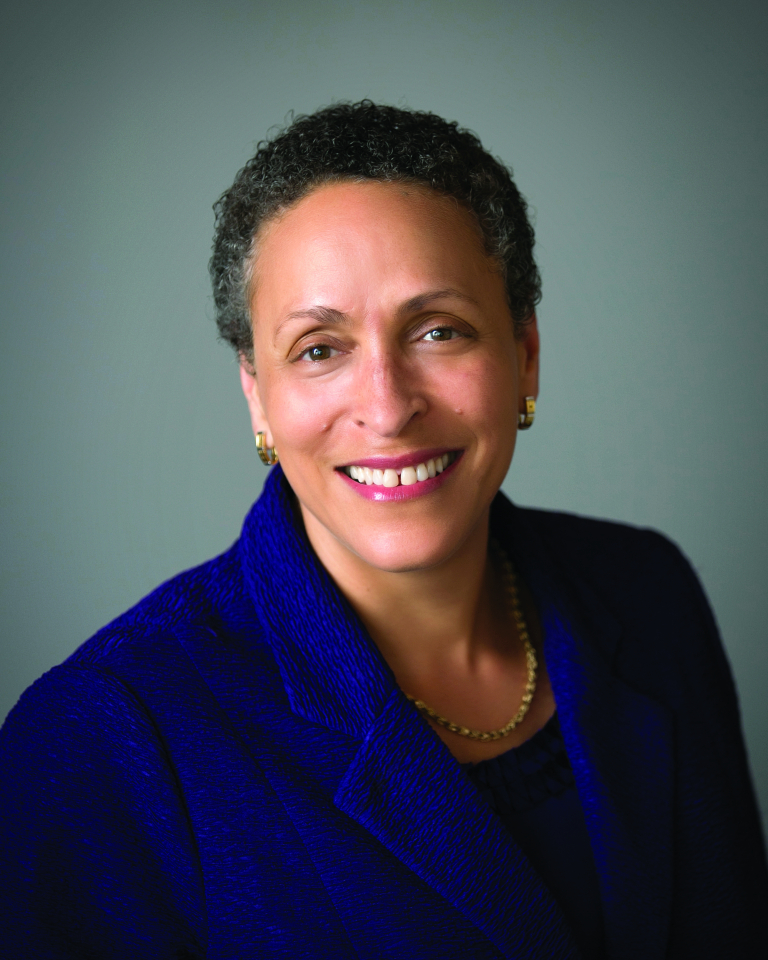 "YWCA St. Paul is dedicated to eliminating racism, empowering women, and promoting peace, justice, freedom and dignity for all," says its chief executive officer Gaye Adams Massey, who's been at the helm since July 2015.
Massey says she was "drawn to this opportunity because of the YWCA's long-standing commitment to eliminating racism and empowering women — two vital imperatives for social justice today."
Massey earned her law degree at Harvard and is a trustee of the Lawyers' Committee for Civil Rights Under Law and fellow of the American Bar Foundation.
She adds, "I am honored to serve an organization that is a key resource for services that equip and empower women, strengthen their families and contribute to a stronger community. The importance and urgency of the YWCA's mission to eliminate racism can be easily appreciated as our nation copes with the tragic results of racist violence."
Here, she shares why she shows up at work every day and why this work is important to her.
What is your day-to-day like at work?
As CEO, I'm responsible for ensuring our organization is advancing our mission in the community and living our mission internally. So, I focus my time in a few key areas – program impact for the individuals we serve and for the community, fundraising and financial stewardship, working with our board of directors, and ensuring effective and efficient internal operations within a work environment that reflects our organizational values.
YWCA St. Paul has worked for racial and gender equity for more than 110 years. Our programs advance racial equity by helping low-income individuals — especially women and youth of color — overcome barriers to access and achieve success in areas characterized by significant racial disparities: housing, income and employment, and youth academic achievement. Our housing program provides stable housing and tailored support services to homeless families; our employment and economic development programs provide a pathway to employment and increased income, and our youth programs support the leadership, achievement and employment of older youth. We also operate a fitness center that supports our members in meeting their goals for health and wellness.
What inspires you to show up at work every day?
I'm inspired by our mission, by the successes of our program participants, and by the passion of my colleagues. It's rewarding to work in a place where you can see the impact of your efforts in people's lives. The work is hard and the challenges are constant, but the rewards are equally great.
I'm also inspired to be a part of the work for racial justice and gender equity. The YWCA mission is so relevant and important at this time in our history. Our goals are big and not easily accomplished, but they are critical to our local communities and to our nation. It's exciting to be part of a movement working to achieve something so important.
How did you determine your career path?
Nonprofit leadership is my second career. I trained as a lawyer and was a health care lawyer and general counsel for many years. I really enjoyed my work in health law and I enjoyed the intellectual stimulation of corporate legal practice. But a few years ago I decided that I was ready for a different kind of challenge. My first professional position was at the Children's Defense Fund, and I've been involved with various nonprofits throughout my career — as a board member, pro bono counsel or as a volunteer. I knew that I wanted to go back to the nonprofit sector, and was so pleased to have the opportunity to lead the YWCA St. Paul.
Community success based on what you do in the community means what to you?
Community success is really the goal of all the work we do at YWCA St. Paul. Our work with individuals to support access to jobs, education and housing strengthens families, and strong families translate into stronger communities. We also bring people together to discuss mission-related issues that affect their lives (e.g. domestic violence, racial disparities, sexual harassment, etc) – and these conversations foster relationships, broader understanding and stronger communities. Like everyone else, I want to live in a healthy community, and it's up to each of us to contribute to that.
What role does technology play in your daily life?
Technology has made it easier to get more done at work, but it can also be a tether that makes it harder to get away. I really like being able to easily access entertainment, manage bills and do other things online. I'm addicted to word games and love watching my favorite shows whenever it's convenient, but I try to limit my time online. I need quiet to think and reflect, and constant connectedness can make that harder.
If you could change one thing about the world, what would it be?
I'd go for something big — like ending war or poverty.
If you could change one thing about yourself, what would it be?
I've always wished I could sing. I think having an amazing voice that others enjoy hearing would be lots of fun.