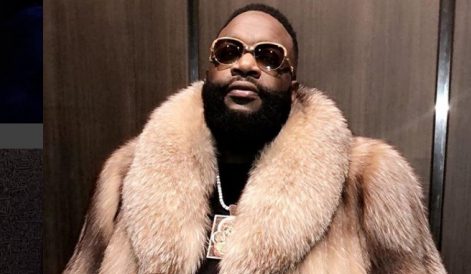 On Saturday, music mogul Rick Ross reportedly remained on a breathing machine in a Miami hospital for a severe medical malady that may be life threatening. Although many celebrities took to social media to offer prayers, 50 Cent actually took time to post a horrible message to his ailing arch-rival.
50 Cent recently posted a still frame of the character Ivan Drago from the film Rocky IV to his Instagram page. In that particular movie scene, the boxer says, "If he dies, he dies" after knocking out his opponent Apollo Creed.
About an hour later, 50 Cent shared another picture featuring Al Pacino's Scarface, writing, "Yeah I'm different."
While the uploads did not mention Ross, many across the internet speculate the "In Da Club" rapper was targeting the Maybach Music head, who he'd been beefing with for years
The two emcees have publicly feuded since 2009 by explicitly condemning each other in several songs and interviews. The ongoing fight has included cartoons, alleged sex tapes leaks and even lawsuits.
On Friday night, Ross was rushed to the hospital after reportedly suffering a heart attack. He was reportedly found unresponsive and drooling from the mouth. Family members rushed in from around the country to be at his side. But Ross' current status has not been officially confirmed by family.
This is not the first time Ricky Rozay, 42, has stared death in face. In 2011, he suffered two seizures within hours and later openly discussed his poor health habits. Following those episodes, he underwent a massive weight loss challenge and dropped 100 pounds.
Many people believe Curtis Jackson took shots at Rick Ross when he is currently not able to defend himself, something that many fans don't seem to be surprised about:
50 Cent is crazy lmao look at what he said about Rick Ross pic.twitter.com/M7Q8GlKO5z

— Alex (@Dubs408) March 2, 2018
50 cent got beef with his own CHILD. of course he doesn't care if Rick Ross died or not

— alex smith got 71 million (@ELITEbreak_) March 3, 2018
Rick Ross in the hospital and 50 Cent posted this of Ivan Drago after he says the famous line "If he dies he dies" in a classic Rocky film. If you beef with Kanan you better believe he gon beef with you even while you on ya last breath🤦🏾‍♂️ pic.twitter.com/yBOyXnNzdW

— Chris Jericho (@chrisxadkins) March 3, 2018
I'm not saying that 50 Cent making jokes about Rick Ross when he's hospitalised is okay but where were you lot with your energy when Rick Ross was bringing up the fact that 50 got shot 9 times, made jokes and said he should have died. Both are wrong but don't choose sides.

— M Ⓥ (@Milaniniho) March 3, 2018
bruh that 50 Cent Ivan Drago post directed at Rick Ross is Cold Looooool 50 so so petty LOOOOL … Both r Legendz

— Asensio'sLeftFoot (@ToryLanez1023) March 3, 2018
BRUH 50 Cent is a fucking savage. Smh🤦🏽‍♂️ pic.twitter.com/eBYN9wxZMb

— IAMTOONS (@KartoonMGMT) March 3, 2018
50 cent standing over Rick Ross hospital bed like pic.twitter.com/bOVkVta2PN

— smiley (@jessegallapagos) March 2, 2018
How cold! Praying @50cent never experiences grave circumstances again and the favor is returned. He needs much prayer. #RickRoss WE stand with you! Get better soon.

— Ebony #NeverAgain (@BrandMeEbony) March 3, 2018