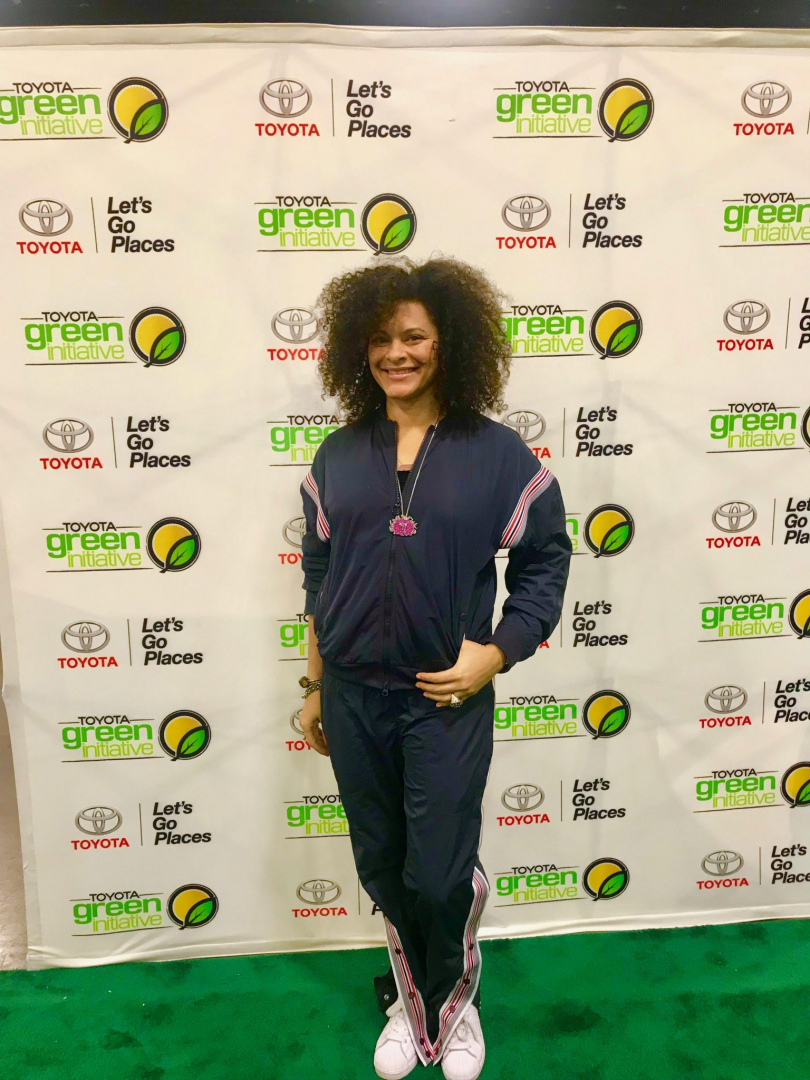 Tree Sound Studios COO and celebrity chef Mali Hunter at the Toyota Green Initiative panel discussion during CIAA 2018.
This past weekend the Queen City, Charlotte, North Carolina, was painted with pride from past present and future university goers visiting for The Central Intercollegiate Athletic Association Tournament (CIAA). This year's CIAA kicked off in a big way with tournament matchups and family-friendly events.
During tournament weekend, rolling out attended The Toyota Green Initiative panel discussion hosted by actor Laz Alonso. The panel featured Yoli's Green Living CEO Yoli Ouiya, Trap Garden founder Robert "Rob Veggies" Horton, Tree Sound Studios COO and celebrity chef Mali Hunter, and RBG founder and hip-hop artist-producer Stick.
The Toyota Green Initiative is an environmental stewardship platform that started in 2010 designed to help people adopt a sustainable lifestyle. The panelist discussed the importance of sustainability in the African American Community. They shared the initial steps to take when going green; benefits of a healthy lifestyle and how it directly affects mental health.
After the event, we had the opportunity to have girl talk in a Toyota with Mali Hunter.
Why are these type of events important for our community?
It's very important for me to give back to the community because I care about it so much. Toyota and their Green Initiative have taken a liken to our community and they care about our health and wellness. I've been with the initiative for two years. For me, it's important to be able to share my knowledge of healthy eating and sustainability.
Tell us about some of the celebrities you've worked with.
Tree Sound Studios has been in business for 27 years, we started out doing records; but basically, the whole LaFace Records has recorded with us. OutKast, TLC, Usher, Toni Braxton, Whitney Houston. To modern day Justin Bieber, Drake, Future, Lil Wayne (We shot Lollipop in our building). We've worked with T.I. on Troubleman and beyond. For me, it's a blessing because these guys have taught me how to cook with sustainability but with flavor. You know we have to have that flavor.
How do you incorporate sustainability into your own life?
When it comes to me, I feel like this is the temple that carries me around. There were times in my life where I wasn't really caring for myself first. I was just trying to do my job and get money to pay the bills. I was just eating whatever I could at the time. So my job is to create food for myself and my family that they like but it's also healthy. The Tree Sound Family is my family and the community has become my family. I like to take time to understand what I am putting into my body and what I am sharing with them.
For anyone looking to get started, what's the best way to approach a healthy lifestyle and sustainable living?
Drink more water. That's the first start, start off small. The first thing you do is, you want to take care of your mind. When you are not healthy and hydrated your gray and white matter in your mind is depressed so it makes you a depressed person. I would say start with drinking more water, find organic products and try to eat better.
Photos by Quintin Mozee