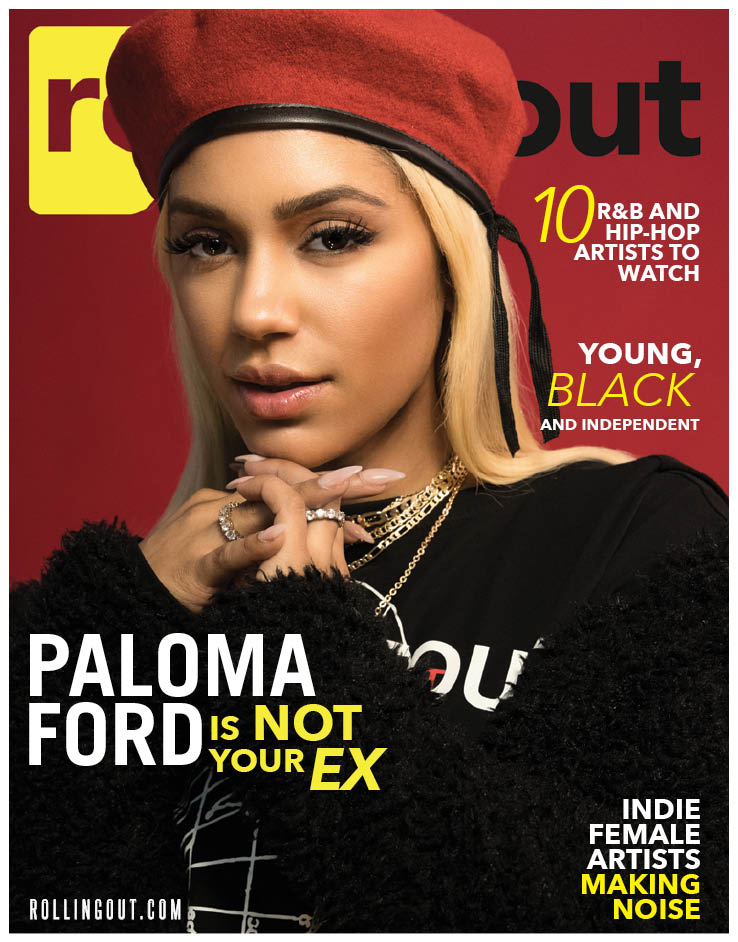 California native and independent artist Paloma Ford is all about making music her own way. In just a short amount of time, she's already racked up major industry-cred as she's worked with some notable artists, starting right out of high school with Macy Gray. She collaborated with Meek Mill on the hot single "I Don't Know," and with East Harlem rapper Dave East on "Waves." Ford has also worked with some of hip-hop's royalty, including Snoop Dogg, who mentored her, and Master P, who served as her manager for a while.
The blonde bombshell is a self-proclaimed valley girl. Born in Long Beach, California, but raised in the valley, she has both looks and intelligence, and an unapologetic sound. Her edgy vibe keeps fans wanting to know, and hear more. In addition to her distinctive style, she's fodder for Hollywood as she's already been known for dating L.A. Laker Nick Young for a short while, and was also rumored to be involved with rapper Drake. She's single right now; however, as we know with Hollywood, that may not last too long.
We sat down with the rising vocalist to get to know her better. We discussed dating in Hollywood, who she's worked with in the industry, and when she's dropping new music.
We heard you're from Long Beach, California.
Well, I wasn't raised in Long Beach. I was born in Long Beach. My whole family is from Long Beach on my father's side. I was mostly raised in the valley, so I'm technically a valley girl, but major love to Long Beach; those are my roots.
What was your first introduction to music?
Professionally, my first introduction to music was right out of high school, working with Macy Gray. But on a personal level, I was raised around music every single day. My [parents] always played music in the home, in the car, so I've always had music around me.
How did you get the opportunity to work with Macy Gray?
It was mostly being at the right place, at the right time, from hanging out in the studio when I was probably not supposed to. Her background singers couldn't make it one day and she needed some harmonies, and background [vocals] done on her album. She liked what I did and she invited me back and the rest is kind of history. I didn't end up going on tour. You know I thought I was just like ready for the big time after that, so I started working, writing and working on my solo project.
We also know that you've worked with Snoop. How did that come about?
Well, I worked on the song called "Summer in California," and it had the essence of Dr. Dre, Snoop, a '90s feel. So, I thought it would be a perfect song to send to Snoop and see if he wanted to get on. We were already friends, but I just wanted to wait for the perfect song, and he loved it, he hopped on; iAmSu from the Bay [Area] hopped on, and yeah, [it was] pretty dope.
How did Snoop help shape your career?
Well, my cousin is actually one of Snoop's childhood friends, so once we made that establishment, he just kind of took me in. He introduced me to 1500, so those guys were one of my first production partners. He's always looked out. He does that for everybody. He's such a great person, and a great person to be mentored by because he has done everything at the top level and then he's from Long Beach, so it just makes it that much better.
How did that connection with Meek Mill come about?
The producers that I was working with had done some stuff for Meek, so we were submitting records with my hooks on them and Meek heard it and liked it, and he invited me to the studio. He happened to have the song "Suicidal" and he asked me if I wanted to take a shot at it and I did. They called me the next day and said it was going to be a single.
You also worked with Master P. What was the deal with that?
So, I was actually introduced to Master P by Meek Mill's manager, and he thought that he would be somebody great to mentor me, as well. I was really interested in getting into film. He was working on a couple of independent film projects at the time, and we just connected. He's an independent artist, and so am I, so who better to mentor you through the independent game than him? We still talk and work together, but he came in on the management end.
Another rapper who's hot in the game right now is Dave East. You both recently just put out a song, "Waves," that's huge. How did that come about?
Yes. I did the song, and we sampled Janet Jackson. I wasn't sure if we were going to get a sample clearance, but I really, really loved the song. At the time, Dave was getting ready to drop his EP and it seemed like perfect timing. We hooked up in LA. He loved the song and hopped on it the next day. I think people love "Waves," organically. Then we dropped the video, and it was really hot. I co-directed it and it's still working itself.
What advice would you give to women coming into the game?
You gotta have tough skin. You gotta be able to hear no more than you're ever going to hear yes. Believe in yourself. Keep positive people around you because we are naturally sensitive and it's hard for a woman. It's much harder for a woman than it is a man, because it's a man's world, so you have to know that going into it. Stand your ground, and just be you. Most importantly, it's just believing in yourself, and never losing your sense of self because a lot of people out here will try to pull you in one direction or the other, or make you feel like you're not worthy. I'm learning. I'm taking my time, but [I haven't blown up yet] because I've really stood my ground and stood for what I believe in, so it might take a little bit longer, but I'll still get there.
Dating in Hollywood. What's the best part of it, and what's the worst part of it?
I don't know what the best part of it is. I know the worst part: people being in your business and always having something to say. I haven't learned what the best part about dating in Hollywood is, so I'll let you know when I figure that out.
When it comes to beauty and your style, how do you find inspiration? Give us some beauty tips.
Keep it natural, baby. I feel like natural always wins. I use all natural products on my face and I drink a lot of water. So, that's my beauty tip.
How do you feel about innovation when it's applied to your career, style, music, and so forth?
I really pride myself on being innovative on the creative side with my fashion, with my music videos. I'm getting ready to shoot two music videos, and I'm constantly comparing to what I've done before. I always want to give you something that you've never seen before. I hope that every time you see a new video or visual or anything of me, it would be like "we didn't expect her to go there." So, innovation is a big part of everything I do.
Tell us about the new music you have coming out.
As of now, my mixtape that I'll be dropping soon is called Not Your Ex Tape. It came about when I was playing music for A&Rs. The feedback that I kept getting was that they wanted to hear personal stories. They wanted people to be able to connect with me more.
I feel like we as [people] want to connect on a personal level. What have we been through, what kind of heartache and personal things have we been through? [When it comes to relationships] I'm such a lover. I've been in a relationship for five years, and then I was in a public relationship for a short amount of time. So, [with] my last relationship, I kept on hearing "so-and-so's ex," but I was like, "No, I'm Paloma Ford. I was [me] before I dated this person." So, that's kind of how Not Your Ex Tape came about. It's a short story about some of the situations I've been through in my relationships. It's really just for my fans while I'm working on some other stuff. It should be about seven songs, and it's pretty much done.