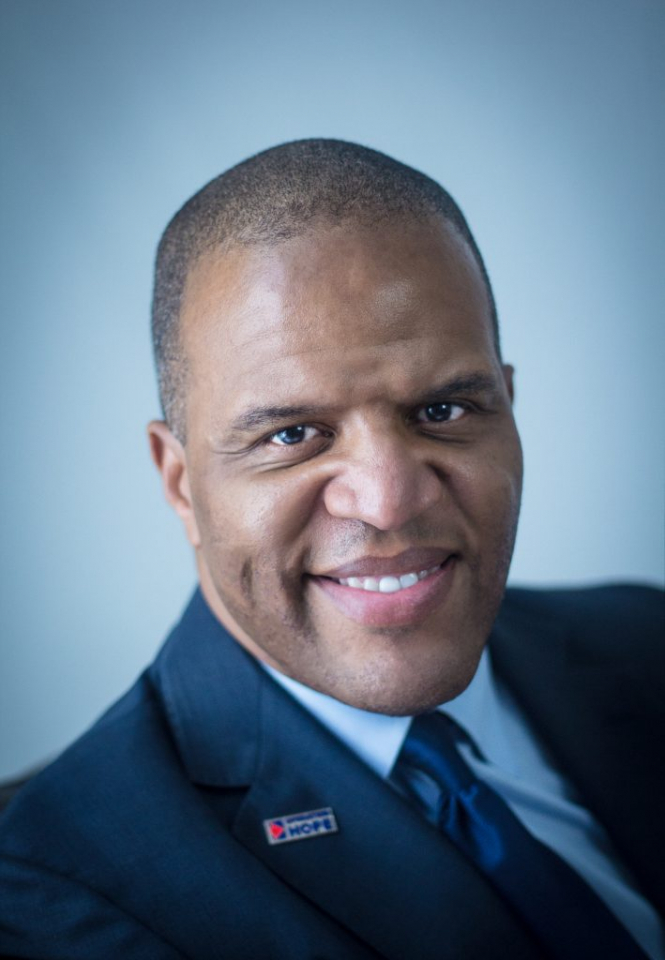 The HOPEGlobal Forums are a community of events that serve as a call to action to reimagine the global economy so the benefits and opportunities of free enterprise can be extended to everyone. The initiative is curated through a series of conferences, events, and policy programs designed to foster leadership around this critical issue.
Next Monday, March 26-28, the HOPE Global Forums | 2018 Annual Meeting — the largest gathering of global thought leaders and influencers on financial inclusion and empowering the underserved — will convene in Atlanta at the Marriott Marquis.
With the theme "Navigating a New World Order," the 2018 Annual Meeting will challenge more than 3,700 delegates to outline a vision for a new, global economy — where the poor, underserved, and dislocated middle class — are viewed as untapped assets for entrepreneurship, job creation and economic growth.
Confirmed speakers include Tom Brokaw, special correspondent, NBC News; Joseph Otting, Comptroller of the Currency; the Rev. Jesse Jackson Sr., founder and president, Rainbow PUSH Coalition; Raphael Bostic, president and chief executive officer, Federal Reserve Bank of Atlanta; Ed Bastian, chief executive officer, Delta Airlines; Janice Bryant Howroyd, founder and chief executive officer, ACT•1 Group; Raj Sisodia, co-founder and chairman emeritus, Conscious Capitalism; Amy Goldstein, national health care policy writer, The Washington Post; and John Donovan, chief executive officer, AT&T Communications.
Rolling out recently spoke with financial literacy entrepreneur and businessman John Hope Bryant, convener of the Hope Global Forums and chairman and CEO of Operation Hope.
This April marks the 50th anniversary of the assassination of Dr. Martin Luther King Jr. During this year's Hope Global Forums, you will join a historic conversation titled "Civil Rights to Silver Rights", with two of Dr. King's closest aides, Ambassador Andrew Young and Rev. Jesse Jackson Sr. Why did you choose to include them in the Annual Meeting deeply centered on New World Order?
There are too many conversations in our world today where it's either this or that. You're either for free enterprise and capitalism or you want socialism and communism. Either you are a victor or a victim. Either you are civil rights or you are silver rights. Either you're persecuted or someone else is getting over.
Black people don't understand White people. White people don't understand Black people. Republicans and Democrats can't stay in the same room. In Washington, D.C., we can't even agree on what justice looks like; someone says, nah, that's Republican justice and someone else says it's Democratic justice. We are being defined increasingly by what we are against, not what we are for.
It may not be obvious but there is an intergenerational conversation here. Ambassador Andrew Young is like a father figure to Rev. Jesse Jackson, even though Jackson has vaulted to a legend and an elder statesman, he was a child coming up in the Civil Rights Movement. He was the young buck in the movement. He looked to Ambassador Young as a father figure while working with Dr. King. As a result, there was a little dynamic tension there. Some people don't realize Jackson was pivoting toward economics, with Operation Bread Basket in Chicago, now he does the Wall Street Project. Dr. King, later on, had pivoted toward economics. It's how he became fascinated with the Poor People's Campaign and the sanitation workers.
When you get them all in one room, there is one dynamic, elegant conversation about civil rights and silver rights. Economics was always a part of the civil rights movement. It was snuffed out before it got legs with Dr. King's death. It is not in isolation or conflict with the civil rights movement. It is in collaboration and in partnership. Let's have an intergenerational conversation — Ambassador Young, Rev. Jackson and I — that connects civil rights and silver rights and explain how you can speak on ownership, opportunity, dignity, respect and civil rights in the same breath.
Taking intergenerational collaboration into consideration, has Operation HOPE and Black Lives Matter found synergy?
I don't have permission to give details but we've met and found a lot of common ground. The one difference is I am trying to make the best of the current system and Black Lives Matter would like to see a different system. There is general acknowledgment that we need to focus on what we are for rather than what we are against. I have nothing but respect for what they've done.
What set the pace for this year's New World Order, disruption tone and theme for Hope Global Forums 2018 Annual Meeting?
It's the one big tent where everyone can come and have a voice – Republicans, Democrats, billionaires, millionaires, hundred-aires, and people who have no aires. Black, white, rich and poor, working class and middle class come together and feel comfortable. This environment is extremely important [to] me.
We are arming people with tools to raise your credit score, position you to create a job if you can't get a job and become a small-business owner, become an entrepreneur, start a daycare, start a church, start a network of hair salons and barber shops, create jobs in your neighborhood. The result will be economic security for your community, your neighborhood, your family.
For a conference first-timer, how should they prepare and show up?
With an open mind and a pen with full ink. This is not a Ph.D. conference for talkers. This is a Ph.Do conference for doers. It's about moving our communities forward. The last movement was in the streets, civil rights. This new movement is in the suites, silver rights. The last movement was about race and the color lines, which are still unfortunately real issues. The issue today is really class and poverty. It's what the folks with Black Lives Matter and I agree on. Whether you are Black, white, red or yellow, you want to see more green.
In a strange way, the thing we have in common with our white, rural brothers and sisters is they were so economically frustrated. They arrived at the ballot box to put certain people in office because they felt no one paid them any attention when their small towns witnessed factories walk away. Black and Brown folk could have done a better job of paying attention to that White woman who'd worked at Walmart for 20 years in that small town, who was struggling. We should have said we are backing your interests too. Black folks were riding for justice in Flint and Ferguson on the streets, while other folks are riding at ballot boxes. It's all riding in a 500-credit score neighborhoods with a check casher, next door to a payday lender, next to a rent to own store, next to a title lender, next to a liquor store with a church down the street trying to make things better. The issue is economics, not necessarily racial. The fear of that causes us to be emotional. What we are doing is winning battles but losing the war. What would happen if we say the issue is a number. If I could raise the credit score in your life 120 points. There has never been a riot in a 700-credit score neighborhood in American history. People will laugh at this and ask John is it all about credit scores? No. It's about overall energy. Economic stability. Hope. Confidence. Believing in yourself. The credit score is simply a trending indicator.
You visit Boston and the average net worth of Blacks is $8. It was reported in the Boston Globe. If this were only about race, the Caribbean Blacks' net worth wouldn't be higher than American Blacks.
According to "The Color of Wealth in Boston Report," the household median net worth was $247,500 for whites; $8 for US Blacks (the lowest of all five cities); $12,000 for Caribbean Blacks; $3,020 for Puerto Ricans; and $0 for Dominicans.
Net worth is determined by calculating assets, liabilities, financial resources, personal savings, and investment activities. In this instance, both financial (savings and checking accounts, money market funds, government bonds, stocks, retirement accounts, business equity, and life insurance) and tangible (houses, vehicles, and other real estate) assets were included. The debts included were credit card balances; student, installment, and car loans; medical debt; and mortgages.
"A lot of people have the impression that the major way in which people amass wealth is through savings out of their income," said William A. Darity Jr., a professor of public policy at Duke University who was one of the lead investigators of the study.
That's not the case.
Net worth, the report said, is determined by "subtracting debts from assets." (source: Boston Globe)