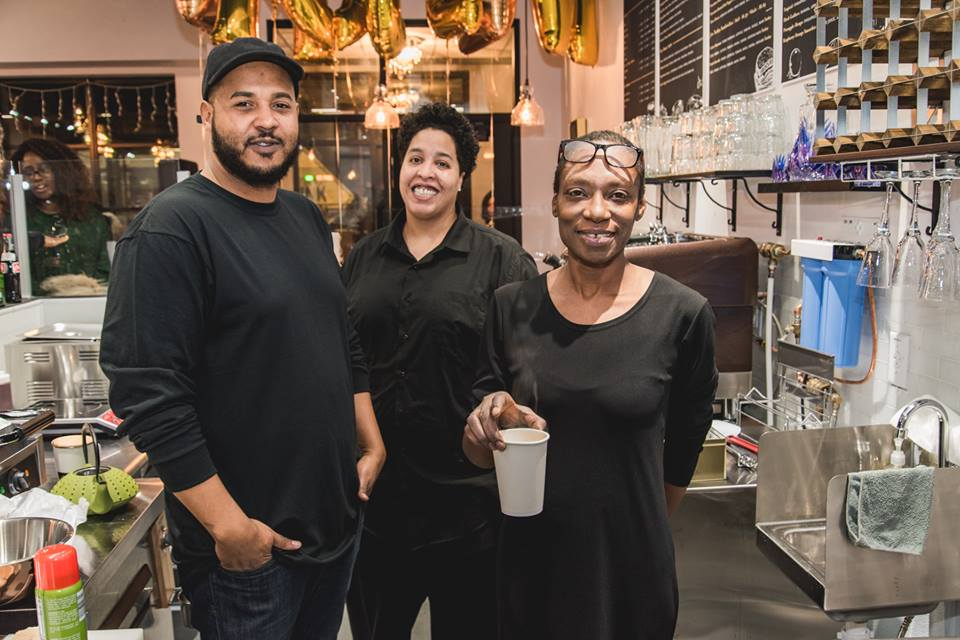 Raeisha Williams and Rosemary "Mama Rosa" Nevils-Williams are owners of the Twin Cities' favorite tea place, Heritage Tea House Boutique. Located in the heart of Saint Paul, this brick-and-mortar business is filled with multicultural artists, public officials, organizers, and intergenerational professionals. Each customer who walks through the door receives the standard greeting, "Welcome to the Tea House" so they know that they are welcome. Heritage Tea house boutique is coined as the community's "home away from home" and won the 2018 Peoples Choice Award from Saint Paul Best Business Council.
How did you come up with the name Heritage Tea House?
I wanted something that spoke to the African American culture and history of Minnesota. When you walk into the space you know you are met with African and African American culture. I thought and thought and one of the missions was to highlight and feature our community and my family's heritage in Minnesota.
What inspired you to open a tea house?
First, I wanted to do a full-fledged restaurant and I'm glad I didn't start off that way. The goal is to do one in the future, but realistically starting small was a better fit for us as a company. I have an appreciation for loose leaf tea and the health properties. While living in Washington, D.C., one of my favorite working spots was Calabash Tea Cafe. It was this cute little tea house owned by a beautiful sister. Her space gave me inspiration to create my own atmosphere here in the Twin Cities, and to incorporate food and a variety of menu items. 
As a Black woman, what do you consider your superpower to be?
I think Black women are fly, effortlessly! Even the most awkward nerdiest socially aware sista women has an internal swag about her. We just have this flyness. If we're rocking our hair short or long, if we're 20 pounds over weight or 20 pounds under weight, we just rock it. So I think all Black women have this innate energy that shines through no matter what. We coined it as "Black girl magic." It comes naturally to us. 
Why is it important for Black women to lead in entrepreneurship?
Oftentimes, we achieve the highest level of education in our community yet have some of the highest financial and health disparities. I think it is important that we have women such as myself, executive women for all of us to look up to. We know that when Black women are in leadership roles they tend to be successful based on our strong backgrounds in being the caregiver at home and in the community. We bring that strength to the office and projects. We are fair, work extremely hard, and have high expectations.
What is your mission as an experienced business owner?
It's my mission to provide community with a beautiful quality business that provides the highest level of quality service. Things we naturally deserve, but often time don't get as one of the highest consumers of the nation. My mom owned a floral shop with her mother for 10 years off 38th and Nicollet in South Minneapolis. Heritage Tea house is a second generation of women to own a business. Lessons I learned was to depend on the best technology and to hire staff that are capable and willing learn and work hard. I learned that I can't do everything myself. My number one lesson inspired by both my grandmother and mother is to have faith and tenacity to keep going.
Describe innovative methods you apply to your business and life.
Like any current business owner in today age, we're all using apps that really help the business. I can log on and look at my security camera from anywhere around the country. Square is a really accessible technology to help me understand my sales and financial projections. Social media has been my strongest tool marketing and promotions for the business.
What self-care practices do you utilize in your daily routine? 
I wear stones on my body. It depends on where I'm at in that phase in life. Sometimes I feel like I need to balance more love so I wear my rose quartz or my clear quartz. Sometimes I need to have more balance or a stronger business mind I'll put on my blood stone or my agate. I can tell a huge difference when I'm not wearing them. Those two stones have really helped me balance. I do have a desire to do morning affirmations, getting back into my mediation, and work but I haven't had a chance to be in that space since the business has opened up.
Three songs that inspire you …
"Ordinary Girl" –SZA
"Good Morning Heartache" -Jill Scott
"Lemonade" –Rihanna feat. N.E.R.D