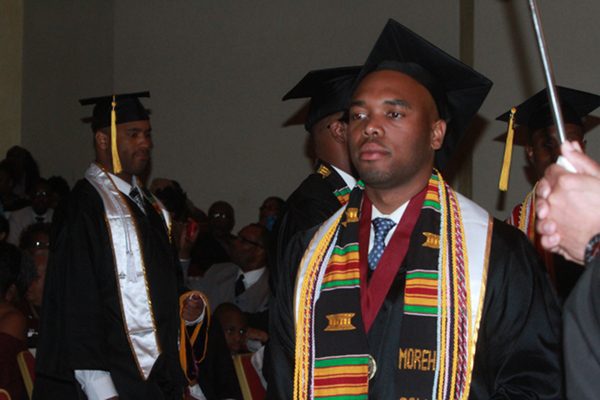 It's that time of year again. Graduation season is here and students everywhere are making decisions that have the power to shape the outcome of their entire lives. In the coming months, high schools seniors, in particular, will be forced to make some major decisions regarding the college of their choice, and what major they may feel fits best for them. Considering both expected growth rate in a career and average salaries, here's a list compiled of 10 degrees graduates of 2018 should consider.
Management Information Systems
As a budding but demanding field, management and information systems is one of the best majors to study in school. A remarkably high expected growth rate paired with an average annual salary of $135,800 combine to make an extremely desired field of study. Management information systems combines the study of computer technology and business, producing analysts and administrators necessary for the efficiency of businesses.
Marketing
Marketing is the backbone of company's sales and service, holding a major weight in the income of  a business or organization. Having a degree in marketing is not only especially valuable, but versatile as well. Because the degree is broad, finding a career that falls within the umbrella of marketing is not a challenge. With an average salary of $131,180, Marketing earns its spot in a list of degrees worth pursuing.
Physics
A physics degree has the possibility for expansion into many different fields a person views possible – whether that be automobile manufacturing and engineering or astronomy and space. For those interested in research science and healthcare services, physics is the study of choice. Physics majors earn an average of $44,870 per year, while the rate in which the field grows steadily increases. It is a sure-fire degree to guarantee a bright future.
Computer Science
Receiving a degree in computer science gives students the chance to embrace the job market, as well as the great pay that comes along with it. A degree in computer science grants students an average pay of $111,840. With such a high pay grade comes hard work, but students willing to put the effort in find the pay out is much greater than the buy-in.
Mathematics
Careers in mathematics can range from teacher to manager, giving students freedom to choose as they please in a field of value. Mathematics is on the rise, and with an expected growth rate as high as 28 percent, the industry has no intention of slowing up. Math may not be in most favorite subjects, but it does rake in the money.
Economics
Though its growth rate is not exceptionally high like its peers, a degree in economics is still just as beneficial. The process of things being made and sold entail economics, making it not just a useful but an interesting source of information and income. If money is your forte- that being counting it or making it- economics may be the field to be in.
Business Management
Business management can fall under any broad number of topics, but students with fresh ideas on how to increase profit in a company, or give reasonable solutions to unforeseen problems, may fit well with business management. The leadership abilities required raises the pay grade to an admirable $97,230 per year, making it one of the most significant degrees today.
Engineering
Though a student with an engineering degree may not be in  as high demand as a student with a math degree, engineering majors tend to come out with salaries as high as $83,540 per year. A wide range of industries require the specific expertise of engineers, especially for those of civil engineers. Choosing a STEM major will hardly ever steer you wrong.
Statistics
Statistics, with a whopping expectant growth rate of 34 percent, is a field that will likely never fade. Information is collected every day, and our choices are polled just as often. Statistics take numbers, analyze them, and compile them to make them make sense. With an annual salary of $80,500, pursuing a degree in statistics is a solid way to go.
Information Technologies
Students with degrees in information technologies develop software and applications useful on computers and smartphones alike. With the way we use technology today, there will always be a need for people to develop and sell software meant to make our lives better. Making $82,860 each year, and being confident in the field expanding, information technology is a major more students should opt into today.