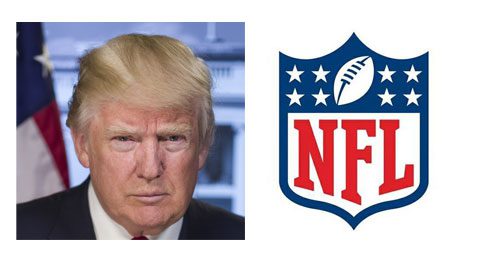 The case of Colin Kaepernick's alleged banishment from the NFL just got real.
The exiled NFL quarterback and his legal team plan to haul Donald Trump before the courts because the former San Francisco 49ers quarterback says he's going to prove that Trump broke the law by illegally using the office of the presidency to illegally influence private business dealings.
The Kaepernick camp accuse Trump of breaking federal law by influencing NFL team owners not to sign Kaepernick after Trump called for NFL owners to fire players who kneeled during the national anthem before games.
Kaep's attorney's, Mark Geragos and Ben Meislas, believe Trump's public and private influence over the NFL violates federal law. U.S. Code 227, which says members of Congress or the executive branch cannot "wrongfully influence a private entity's employment decision … solely on the basis of partisan political affiliation."
And Kaepernick is coming with receipts that Trump did just that.
For example, Dallas Cowboys owner Jerry Jones said in a sworn deposition that Trump told him, "Tell everybody [in the NFL], you can't win this one. This one lifts me."
As rolling out previously reported, NFL owners unanimously voted in May 2018 to implement a policy that will require all NFL players and staff to stand during the playing of the Star-Spangled Banner.
According to Yahoo Sports, these are several instances that Kaepernick's legal team believe could get Trump subpoenaed into court:
• In August 2016, Trump, then a Republican presidential nominee, told Seattle radio station KIRO what he thougtht of Kaepernick protesting during the national anthem: "I think it's personally not a good thing, I think it's a terrible thing. And, you know, maybe he should find a country that works better for him."
• In March 2017, following a flight on Air Force One with New England Patriots owner Robert Kraft, Trump appeared the next day at an event in Kentucky where he boasted NFL owners were not going to sign Kaepernick because they were afraid of Trump, Yahoo Sports reports.
"Your San Francisco quarterback, I'm sure nobody ever heard of him," the president said. "… There was an article today that was reported that NFL owners don't want to pick him up because they don't want to get a nasty tweet from Donald Trump. Do you believe that? I just saw that. I just saw that."
In another deposition in the Kaepernick case, Miami Dolphins owner Stephen Ross said Kraft told NFL owners he had a conversation with Trump about players kneeling during the anthem, the Associated Press reported.
• In September 2017, powerful Dallas Cowboys owner Jerry Jones said in a deposition that the president told him, "Tell everybody [in the NFL], you can't win this one. This one lifts me," and that the player-kneeling issue was a "very winning, strong issue for me [politically]."
• In September 2017, Trump excoriated kneeling NFL players in front of a raucous crowd in Alabama, which many believe is the very definition of demagoguery.  "Wouldn't you love to see one of these NFL owners, when somebody disrespects our flag, to say, 'Get that son of a bitch off the field right now. Out! He's fired. He's fired!' " Trump said at the rally, according to Yahoo Sports. 
• In October 2017, Trump spoke against Kaepernick in an interview on "Fox News": "I watched Colin Kaepernick [in 2016], and I thought it was terrible, and then it got bigger and bigger and started mushrooming, and frankly the NFL should have suspended him for one game, and he would have never done it again," Trump said to Fox's Sean Hannity. "They could have then suspended him for two games, and they could have suspended him if he did it a third time, for the season, and you would never have had a problem. But I will tell you, you cannot disrespect our country, our flag, our anthem. You cannot do that."
• In October 2017, Trump allegedly admitted to proudly orchestrating a walkout before the San Francisco 49ers played the Indianapolis Colts game that was carried out by Vice President Mike Pence. Pence attended the game briefly and then ensured the cameras were on him as he left the stadium when players knelt during the national anthem.
• In a late October 2017 meeting that was reportedly taped secretly and leaked to the New York Times, some NFL owners met with a handful of players in New York. According to Yahoo Sports, Kraft is reportedly heard saying the issue of kneeling is the "elephant in the room":
"The problem we have is, we have a president who will use that as fodder to do his mission that I don't feel is in the best interests of America," Kraft is recorded as saying, according to the Times. "It's divisive and it's horrible."
The NY Times reported that it had spoken with other owners, particularly Philadelphia Eagles owner Jeff Lurie, who reportedly said, "We've got to be careful not to be baited by Trump or whomever else." Buffalo Bills owner Terry Pegula, reportedly said, "All Donald needs to do is to start to do this again. We need some kind of immediate plan because of what's going on in society. All of us now, we need to put a Band-Aid on what's going on in the country."
• In March 2018, Miami Dolphins owner Stephen Ross reportedly admitted to the New York Daily News that Trump had influenced him to quit supporting players who knelt before games — the first time that an NFL owner had publicly said what was going on behind the scenes.
"I think initially I totally supported the players in what they were doing, because it's America – people should be able to really speak about their choices and show them [in] doing that," Ross said. "But I think when you change the message, about, is it support of our country or the military, it's a different message. When that message changed, and everybody was interpreting it as that was the reason, then I was against the kneeling. …[Trump's] message became what kneeling was all about. From that standpoint, that's the way the public is interpreting it. So I think that's really incumbent upon us to adopt that, because that's how I think the country is now interpreting the kneeling issue."
• In May 2018, after the NFL owners unanimously voted to enact the policy to mandate all players stand for the national anthem, some owners finally admitted Trump had impacted the league's decision. Furthermore, since he was unable to contain himself, Trump publicly took credit for the NFL's new rule and even questioned whether the protesting players should be a U.S. citizen anymore.
"You have to stand proudly for the national anthem or you shouldn't be playing – you shouldn't be there," Trump said in an interview with "Fox & Friends". "Maybe you shouldn't be in the country."
Many leaders and public figures had already said what Trump was doing the past 18 months was in violation of federal statutes: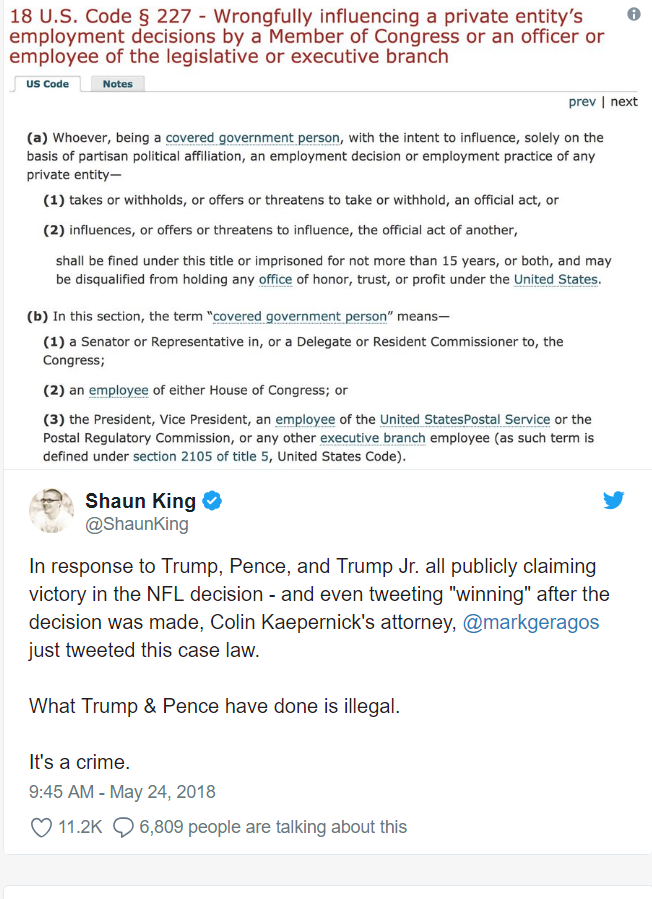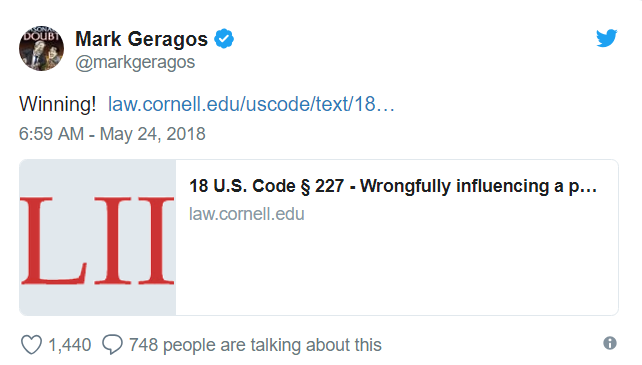 What do you think about Kaepernick trying to take the president of the United States to court?